Dayton Drug & Alcohol Rehab, Detox & Treatment Resources
Dayton, the birthplace of Orville Wright, is also home to the National Museum of the United States Air Force. But just as Dayton is known for its aerospace history, it's also become known around the country as the number one spot for the most opioid abuse deaths in 2017. At one point in early 2017, it was reported that the Montgomery County coroner's office had custody of 13 bodies, and 12 of them were there due to opioid overdoses.
Sadly, the culprit for this scourge of deaths in Montgomery County is more than just heroin. Another issue here is the drug fentanyl, along with one of its analogs, carfentanil. According to the Ohio Department of Health, the number of fentanyl-related deaths in the state rose from 84 in 2013 to 503 in 2014 and then again to 1,155 in 2015. Fentanyl is 30 to 50 percent more potent than heroin. Carfentanil is one of the most potent fentanyl analogs. It's thousands of times stronger than heroin because it's a tranquilizer used on large animals such as elephants and horses. Unfortunately, fentanyl and carfentanil are both sold as heroin, and it's also showing up mixed with cocaine.
According to the United States Drug Enforcement Administration, carfentanil is becoming an even larger problem than fentanyl is. Carfentanil is mostly manufactured in China and has infiltrated the U.S. drug market. The DEA reports that overseas labs in China are mass-producing fentanyl and fentanyl-related compounds like carfentanil and selling them to drug trafficking groups in Mexico, Canada and the United States, and it ends up in the hands of Ohio residents. Thankfully, if you struggle with a substance use disorder, you can reach out for help at a drug rehab center in Dayton, OH or to an alcohol rehab center in Dayton, OH. There are also options available in different cities and states.
Our Closest Facility:
Just a short drive down the road, The Recovery Village Columbus Drug & Alcohol Rehab is centrally located to solve any addiction problems you may have. Accepting all major insurance providers including medicaid and medicare, get admitted today and solve your addiction issues.
Dayton, Ohio Drug Rehab Centers and Alcohol Rehab Centers
Dayton, Ohio Alcohol Rehab Centers and Drug Centers
There are several options for drug rehab in Dayton, OH and alcohol rehab in Dayton, OH. Detoxification can be completed in an inpatient program, allowing a team of experts to attend to you while preventing health risks and preventing relapse. You also have other treatment options that allow you to maintain your day-to-day routines. One or a combination of multiple types of treatment may be right for your needs.
Residential Treatment Programs
Residential treatment programs offer structured 24-hour care at a live-in facility. Inpatient facilities provide a place of temporary residency where patients begin with the medical process of detoxification. While attending a residential clinic, a patient may receive both group and individual behavioral therapy and participate in activities like sports, nutritional planning and stress management in an effort to teach the patient that it's possible to reduce the risk of relapse. Through meditation, yoga, relapse-prevention aids, educational services, social-technique skills and traditional 12-step recovery programs, patients can begin to heal.
Partial Hospitalization Programs
Partial hospitalization programs offer more autonomy than residential treatment programs. Partial hospitalization is a recovery treatment where individuals don't reside on-site during their time in the clinic. partial hospitalization programs offer several of the same provisions that an inpatient program provides, including therapy, and patients who meet the criteria for this type of program should have a sound support network at home.
Outpatient Treatment Programs
Outpatient treatment programs can be intensive, but they're also much less restrictive for patients in terms of daily living. Although they don't live at a treatment facility in this type of program, patients do need to adhere to appointments and meetings. Patients meet several times a week for a few hours at a time. Outpatient treatment programs allow individuals to maintain their responsibilities to work, family or education while experiencing similar elements, such as a supportive network and therapy, that residential facilities provide. Patients are still immersed in their daily lives, and it's up to them to restrict their use of alcohol and drugs.
Each potential program has its strengths and weaknesses. Honestly evaluate which situation may be most effective for your recovery needs and long-term health. When you're considering Dayton drug treatment facilities or Dayton alcohol treatment facilities, it's best to consider what will be most healing for your situation. Rather than staying in town, you also have the option of traveling and starting treatment in a new environment. For some people, this can be invigorating.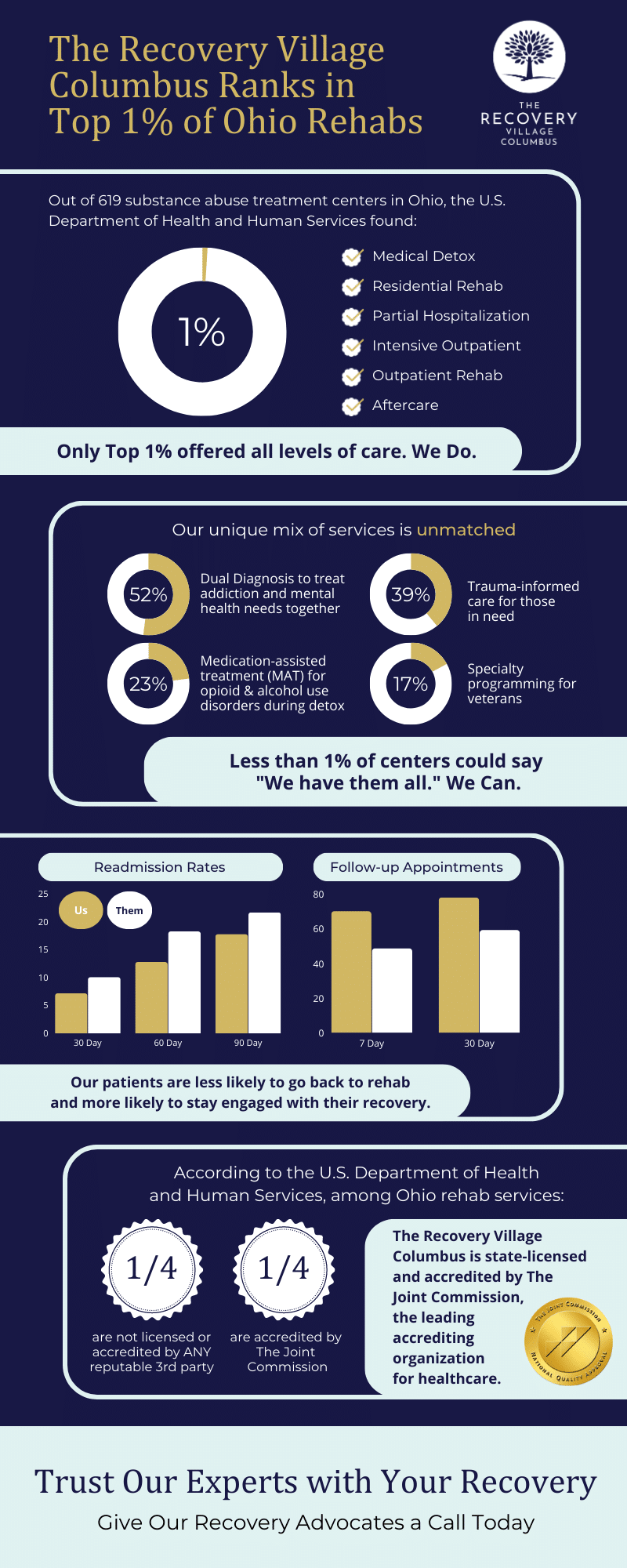 Detox Centers
Acknowledging you have a problem with alcohol or drugs is the first step in your recovery. It's easy to deny that you've been misusing because it's frightening to think that your substance abuse has put you into potentially life-threatening circumstances. Sobriety may feel far away while you're struggling with the addiction, but with the correct support network, you can feel relief and readiness to overcome your disease and gain control over your life.
Detoxification is one of the necessary first steps in recovery. Your body may go through the process of eliminating substances that you've become reliant upon. Detox can be a strenuous and difficult process that you want to achieve with the aid of addiction treatment professionals who can keep you safe and as comfortable as possible. Patients who receive professional care are much more likely to achieve sobriety for life.
Never attempt to detox on your own. There are several Dayton drug detox and Dayton alcohol detox centers, but it may be wise to turn to a well-known facility outside the Dayton area, like The Recovery Village. You can complete detoxification in an inpatient program, allowing a team of experts to attend to you while preventing health risks and preventing relapse.
Recovery Meetings Near You
The belief in your capability to overcome addiction is critical to your success. There are groups to help with your journey to sobriety, including welcoming communities such as Alcoholics Anonymous and SMART Recovery, which rely on meetings, and each other, as sources of strength. Once you attend your first meeting, you may meet others who understand what you're going through and your needs.
There are many Dayton alcohol rehab and Dayton drug rehab options for yourself or for a loved one. Substance abuse centers and clinics help you tackle your alcohol and substance abuse. There are alternative drug programs near Dayton that may meet your needs, too. To further support your detox efforts and sober living as you continue addiction counseling, consider residential care or a community where you can remain after leaving a facility.
Addiction Resources in Nearby Ohio Cities
For those who are seeking alcohol and drug treatment facilities outside of Dayton, Ohio, there are also many drug rehab resources across the state of Ohio: