Findlay is in the northwest part of the state, and it's the second-largest city in this area of the state. Findlay is located in Hancock County, around 40 miles south of Toledo.
Hancock County has unfortunately seen first-hand the effects of the opioid epidemic. According to The Courier, a local media outlet, over seven years, Hancock County lost almost 2,000 years of life expectancy due to opioid overdoses. Ohio is the state with the second-highest rate of opioid overdose deaths in the nation as well.
As well as opioids, other substance abuse issues people face in Findlay include alcohol, stimulants like methamphetamines, and prescription drugs such as benzodiazepines.
For someone who struggles with substance abuse in Findlay, there are local resources. These include detox programs, inpatient and outpatient rehab programs, and support groups for people in recovery.
Findlay Drug and Alcohol Rehabilitation and Treatment
When someone struggles with substance abuse, they may first begin their treatment plan in medical detox. During this time, they can receive treatment for symptoms of withdrawal. Following medical detox, the next steps of their treatment plan may include one or several of the following types of programs:
Drug and Alcohol Detox Programs and Treatment Centers in Findlay, OH
When someone seeks treatment for drug or alcohol addiction, they can attend a local treatment program near Findlay. They might also travel elsewhere in Ohio or go out-of-state for treatment. Within 50 miles of Findlay, there are 32 substance abuse treatment programs. Within 100 miles of Findlay, there are hundreds of programs, including inpatient and outpatient treatment. Some of the programs are specialized and work with people who have unique needs as well.
As the first step of treatment, drug and alcohol detox helps people cleanse their bodies of harmful substances. Although there may not be any detox programs currently in Findlay, there may be options in nearby cities.
Findlay, OH Residential Treatment Programs
Residential treatment programs offer a lot of benefits. For example, in an inpatient rehab facility, patients have access to both mental health care and physical health care. The environment of an inpatient alcohol rehab or drug addiction treatment center is also monitored, stable and secure.
Inpatient treatment can include in-depth therapy and intensive treatment that someone might not have access to in an outpatient program. The length of a program depends on the patient's needs, and during that time, they live at the facility.
There are currently six programs with residential treatment within 50 miles of Findlay. The Recovery Village Columbus is also an Ohio treatment center offering different types of residential rehab.
Findlay Partial Hospitalization Programs
During partial hospitalization programs (PHPs), participants receive much of the same care as someone in residential treatment, although they don't have to stay at the treatment facility overnight. For that reason, it's often called day treatment.
With a partial hospitalization program, patients receive treatment geared toward helping them transition back to their daily life. A good candidate for a PHP will have already completed a higher level of care or will be reasonably expected to make improvements in a PHP.
Six programs within 50 miles of Findlay currently offer partial hospitalization, and The Recovery Village Columbus does as well.
Findlay Outpatient Treatment Programs
Outpatient drug treatment or alcohol treatment doesn't require patients to live at the treatment center. It's not as intensive as inpatient programs or partial hospitalization. There is a sense of flexibility with outpatient treatment so that participants can continue living their daily lives and keeping up with responsibilities.
An outpatient treatment program can last anywhere from one to three months in many cases, although everyone's plan is unique. Some activities that might occur in outpatient treatment include one-on-one therapy and counseling, group and family therapy sessions, and relapse prevention planning and strategies.
There are currently two outpatient detox programs within 50 miles of Findlay, both of which are in Toledo. There are 28 regular outpatient treatment programs within 50 miles, including in Fostoria, Ottawa, and Bowling Green. There are 21 intensive outpatient programs within 50 miles of Findlay.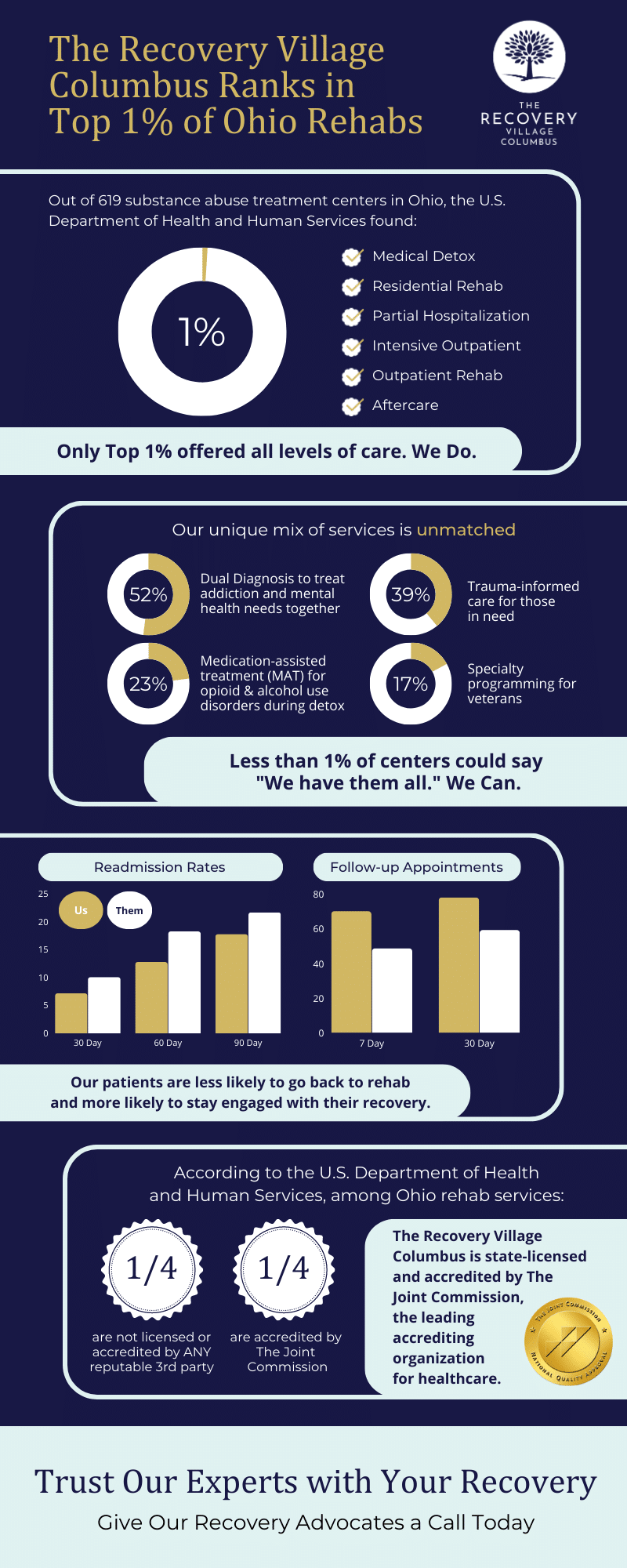 Sober Living and Rehab Aftercare Programs in Findlay
Rehab is only one phase of a full treatment plan, although it is an important one. Continuing care and aftercare planning are very important, as well. Aftercare technically starts when you leave rehab, but the planning should be in place as soon as you get to treatment and go through an intake assessment.
Many people who are able to remain drug- and alcohol-free over the long-term believe it's in large part to their participation in drug rehab aftercare programs.
Aftercare programs can include sober living homes, checking in for regular therapy at aftercare facilities, rehab alumni programs and ongoing participation in support and recovery groups.
Specialized Treatment Programs in Findlay
For some people, they are more comfortable in a specialized treatment program such as a single-gender rehab, or they may have specialized treatment needs.
Treatment programs near Findlay offering specialty care include:
What Is the Process Like in a Drug Detox and Rehab Facility?
One of the most important factors to keep in mind when choosing a rehab facility or substance abuse treatment program is that they offer individualized care, meaning that everyone is treated uniquely based on their needs. At the same time, knowing what to expect during the drug treatment process can be useful.
The drug and alcohol treatment process may include the following phases:
Finding the Best Rehab Program for You
Finding a program where you feel comfortable, and that's well-matched to your needs is important to help increase the likelihood that you complete it.
Some of the questions to think about when you compare the best rehabs and find one for you include:
Along with thinking about your personal needs, you will have to consider the quality of treatment provided by a program and its reputation before making a final decision.
What Questions Should You Ask When Considering a Treatment Program?
As you compare addiction treatment programs, the following are some questions to ask representatives from the center as far as the quality of treatment provided.
Exploring Treatment Options Near Findlay
As someone starts thinking about treatment facility either for themselves or someone they love, they also have to decide where to go. There are treatment centers near Findlay and in other areas of Ohio, such as The Recovery Village Columbus. There are also out-of-state treatment centers. Which is the best option? There are pros and cons to each.
If you stay near Findlay for treatment, it can be less stressful because you don't have to arrange travel. If your family and loved ones are nearby, there may be options for them to visit the treatment center if you stay nearby, and some rehabs include family therapy as part of treatment. Your insurance plan may also only cover in-state treatment.
On the other hand, if you travel for treatment, there are benefits also. If you aren't close to home, you're less likely to leave your program early. You may also find there are advantages to separating yourself from your home environment, mentally and physically. Leaving for rehab can mean more types of treatment and programs are open to you as well.
Additional Addiction and Rehabilitation Resources in Findlay
In addition to rehab programs, there are other ways you can find help if you struggle with addiction in Findlay. There are local resources such as recovery meetings and non-profit organizations that you can turn to whether you're in active addiction, or you've already received treatment and you're returning home.
Recovery Meetings Near You in Findlay
Recovery meetings are a way to integrate social support into your life if you are recovering from an addiction to drugs or alcohol. Research shows that participating in recovery meetings can significantly improve the likelihood of long-term sobriety. These meetings can also provide a sense of accountability in addition to social support.
Non-Profit Organizations in Findlay, OH
Non-profit organizations in Findlay and nearby may be able to provide you with quick assistance, particularly if you're in a difficult situation. These non-profit organizations may also be able to help connect you with substance abuse and mental health help and resources.
Findlay Substance Abuse Hotlines
The following are phone numbers for people in Findlay struggling with substance abuse or mental health issues. If you are in a situation where you have questions about substance abuse or treatment and it's not an emergency, you can also reach out to The Recovery Village Columbus anytime.
The City of Findlay, OH
Findlay, Ohio is a city in Northwest Ohio. Around 40 miles south of Toledo, it's in Hancock County, and it's home to the University of Findlay. Findlay is headquarters to companies including Cooper Tire and Rubber, and a Whirlpool dishwasher manufacturing plant and distribution center. Yearly activities in Findlay include the Springtime in Ohio Craft Show in May, the Flag City BalloonFest in August and Oktoberfest. The Findlay population is estimated at 41,300 people and it's located at 41.0442° N, 83.6499° W.
Addiction Resources in Nearby Ohio Cities
For those who are seeking alcohol and drug treatment facilities outside of Findlay, Ohio, there are also many drug rehab resources across the state of Ohio:
Medical Disclaimer
The Recovery Village aims to improve the quality of life for people struggling with substance use or mental health disorder with fact-based content about the nature of behavioral health conditions, treatment options and their related outcomes. We publish material that is researched, cited, edited and reviewed by licensed medical professionals. The information we provide is not intended to be a substitute for professional medical advice, diagnosis or treatment. It should not be used in place of the advice of your physician or other qualified healthcare providers.
Reach out now
We can help answer your questions and talk through any concerns.