Akron Drug & Alcohol Rehab, Detox & Treatment Resources
Northeast Ohio has been plagued by a significant increase in drug and alcohol abuse in recent years. In the past two years, Ohio has had more documented overdoses than any other state in the country. Heroin addiction and the use of other opioids has been one of the largest factors contributing to this increase. In 2015 alone there were over 3,000 overdoses in the state of Ohio, and in the past two years, this number has continued to increase.
The disease of addiction has become a serious problem, and the stigma surrounding it has kept many people suffering from it from seeking or receiving the proper treatment needed to begin the road to recovery. The negative public opinion of those suffering from drug or alcohol misuse has left victims feeling as though they can't ask for the help they need. Regardless of public opinion, people suffering from drug and alcohol misuse suffer from a disease that requires treatment, the same as any other illness or disease.
With so many stories in the news and a growing stigma surrounding drug misuse, some may feel that there's no hope for them, but that isn't true. There are recovery resources in the state of Ohio, including Akron, for those suffering from drug addiction or alcohol use problems.
Our Closest Facility:
Just a short drive down the road, The Recovery Village Columbus Drug & Alcohol Rehab is centrally located to solve any addiction problems you may have. Accepting all major insurance providers including medicaid and medicare, get admitted today and solve your addiction issues.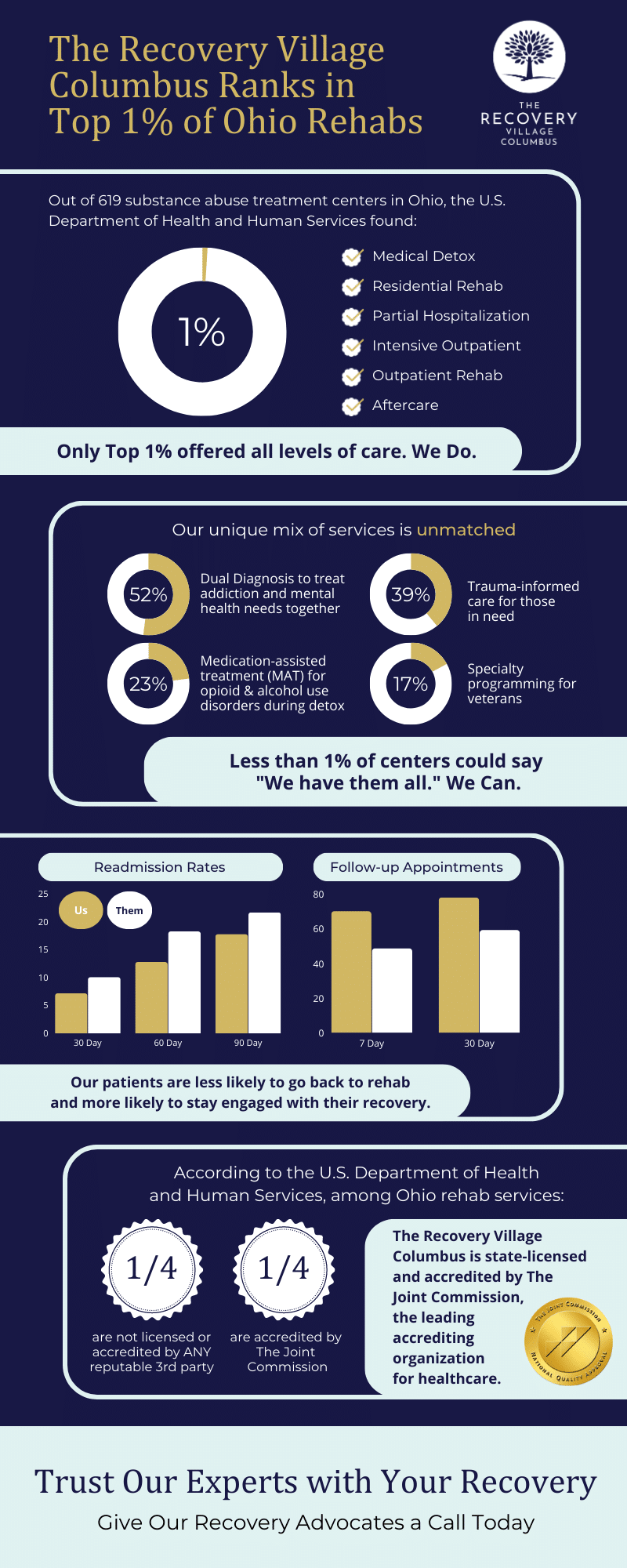 Finding Drug and Alcohol Rehab in Akron, Ohio
Akron, Ohio Alcohol Rehab Centers and Drug Centers
Akron, Ohio is the birthplace of one of the first and most famous recovery and treatment programs in the world, Alcoholics Anonymous. The twelve-step based recovery program has helped millions of people and has gone on to spark the creation of many other treatment programs. There is a wide range of Akron alcohol rehab centers and drug treatment facilities for people who struggle with drug and alcohol addiction.
Residential Treatment Programs
A residential treatment program, sometimes called an in-patient program, consists of patients staying in a treatment facility where they have access to physicians and counselors around the clock. These types of treatment programs are generally one month or longer and are best suited to those who have been using for a long time or are suffering from a severe drug or alcohol dependence. A patient is usually admitted into a residential program once they have completed detox.
Partial Hospitalization Programs
Partial hospitalization programs are less intense than residential treatment. During this time the patient attends meetings, is examined by medical staff, and goes to educational classes and lectures surrounding addiction and recovery. Sometimes those with less severe dependencies will go to PHP rather than a residential program, and sometimes a patient is sent to PHP following their completion of an inpatient program.
Outpatient Treatment Programs
Outpatient programs are for people who have gone through the higher levels of treatment successfully, or those with a much less severe dependence on drugs or alcohol. These programs consist of group therapy, one-on-one counseling, and other recovery treatment options. When attending an outpatient program, the patient may live at home if the environment is safe and stable, or in housing provided by the treatment facility.
If you're looking for drug or alcohol treatment in Akron, consider all of your options carefully. Take into consideration factors like insurance coverage, length of substance abuse, whether or not medical detox is required, and the severity of your situation.
Detox Centers
The use of many substances, like prescription pain killers and alcohol, may require medical detox care. You can find a wide variety of Akron drug detox centers and Akron drug treatment facilities that offer detox services. The goal of detox is to rid your body of the substance you've been using, monitor your withdrawal, and help you to get through that period without using drugs or alcohol.
Recovery Meetings Near You
Attending regular recovery meetings is essential to avoiding relapse and continuing your care. Akron, Ohio has a long list of available meetings for you to attend. In fact, because Alcoholics Anonymous was founded here, the city has some of the oldest meetings in the country. Recovery meetings are a good option for those who are just being introduced to alcohol or drug treatment in Akron, as well as those who have completed treatment and are looking to maintain their recovery.
If you or a loved one is seeking a drug rehab center in Akron, or a facility offering alcohol treatment, there is hope. With plenty of options to choose from in the area, you can find recovery options that are right for you. Take a look at the alcohol and drug treatment in Akron, or search for other options in nearby cities.
Addiction Resources in Nearby Ohio Cities
For those who are seeking alcohol and drug treatment facilities outside of Akron, Ohio, there are also many drug rehab resources across the state of Ohio: