Groveport Drug & Alcohol Rehab, Detox & Treatment Resources
Groveport, Ohio is about a 20-minute drive southeast of the state capital, Columbus. The city of fewer than 6,000 is the headquarters to several big companies, and with 10 schools and a median family income above $51,000, it is family focused and has the motto, "Central Ohio's Hometown." It is close enough that residents can enjoy the city life and amenities in Columbus.
Unfortunately, as is the case with many cities around the nation, drug addiction is a problem that affects too many individuals and families.
Cocaine, heroin, methamphetamine, prescription opioids and other drugs all are readily available in the Columbus area. Law enforcement and emergency services report that the drug abuse problem is an epidemic. As authorities deal with drug availability and overdoses, people who become addicted find themselves struggling with daily living, and some find that the way forward is to reach out and get help achieving sobriety.
Our Closest Facility:
Just a short drive down the road, The Recovery Village Columbus Drug & Alcohol Rehab is centrally located to solve any addiction problems you may have. Accepting all major insurance providers including medicaid and medicare, get admitted today and solve your addiction issues.
Finding Help & Recovery in Groveport, OH
Alcohol & Drug Rehab Centers in Groveport, Ohio
If you are interested in taking the first step toward finding drug or alcohol treatment Groveport, you have made the first big decision toward sobriety. It isn't an easy journey, but the results can be serenity, a new focus on life goals and improved relationships with loved ones. While few Groveport drug rehab programs for alcohol or drug addictions are available, nearby Columbus has 20 or so such programs.
Groveport Residential Treatment Programs
Residential or inpatient drug rehab Groveport, OH, whether short- or long-term, can be very effective, especially for patients with severe addictions or with co-occurring problems such as depression or anxiety, or with other health problems. Medication can help ease the transition to sobriety and decrease cravings, as well as treat other problems. Professionals at Groveport alcohol treatment facilities can monitor the patient in drug and alcohol avoidance, teach behavior modification skills, sometimes employ family and personal therapy and lead group therapy sessions.
Groveport Partial Hospitalization Programs
Partial hospitalization can be helpful when the patient needs to maintain a job or attend school. It can include the intense treatment options useful in severe cases of addiction, as well as the counseling and treatment that can pave the way toward recovery. The most successful path depends on the individual.
Groveport Outpatient Treatment Programs
Outpatient drug rehab Groveport, OH includes individual or group therapy and counseling at regularly scheduled sessions. Drug treatment in Groveport might include cognitive-behavioral therapy or motivational therapy, both of which are positive reinforcement for giving up drugs or alcohol. Family therapy is also a component as the patient learns to understand the dynamics that have affected or been affected by the addiction.
Whether the patient chooses inpatient, outpatient or longer-term residential treatment, it can be the first step toward dealing with a medical problem that has had a big impact on life. Deciding on sobriety is the first step in a lifetime process; the rewards that can follow are huge. Following-up with a recovery program, whether a 12-Step group or another method, continues to reinforce new ways of thinking and living one day at a time, for a lifetime of sobriety.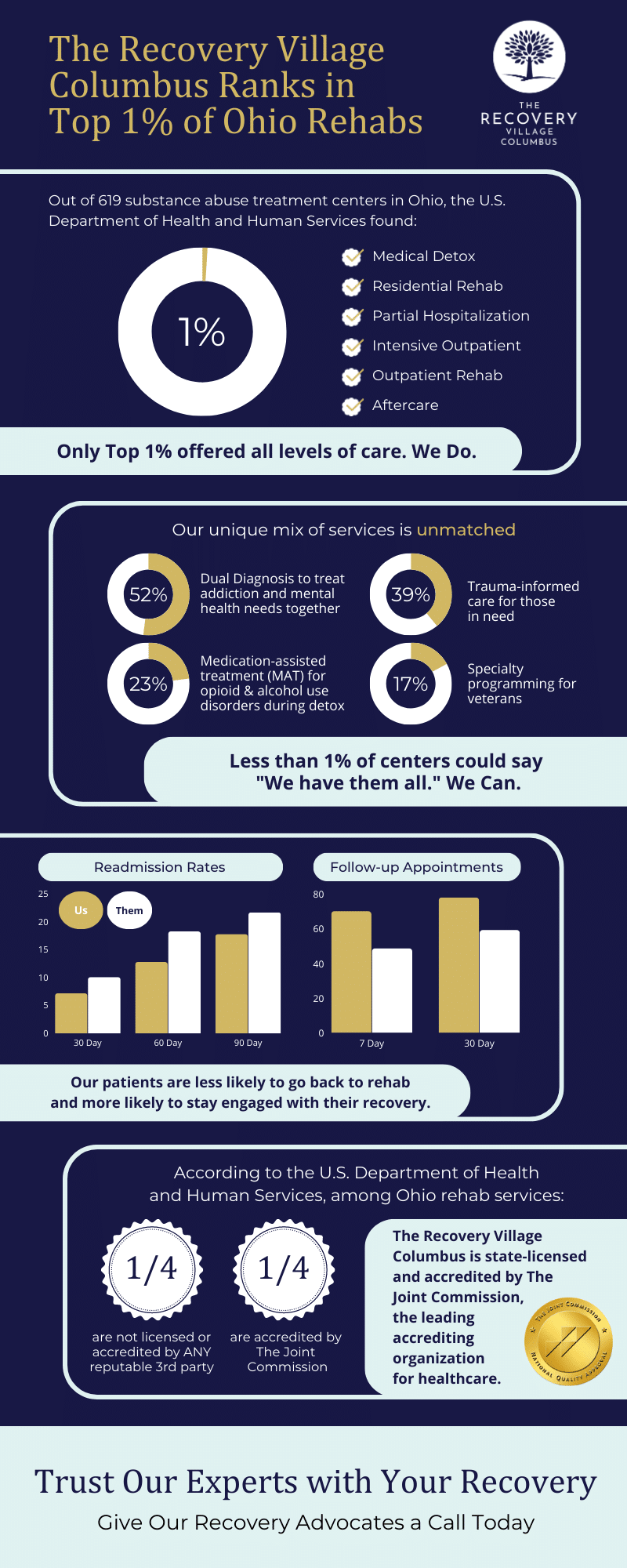 Groveport Drug & Alcohol Detox Centers
For some patients, the first step toward giving up drugs or alcohol needs to be detoxification. If abruptly stopping drinking or drug use would lead to dangerous medical problems, a medical team needs to supervise the individual at a Groveport drug detox center. Use of medicines can ease the transition and withdrawal symptoms. Medical help is also necessary when patients have been using more than one drug in combination. Once detox is accomplished, studies show, further treatment is usually necessary for the patient to understand his or her addiction and to develop new ways of thinking and coping.
Recovery Meetings Near You in Groveport
Since Alcoholics Anonymous has been around for 75 years, 12-step support groups have been a follow-up component of alcohol rehab in Groveport, Ohio for many people in their treatment of alcohol and drug misuse. In addition, family groups can help loved ones adjust to their changing behavior and deal with their feelings as they cope. Groveport is not a big city, but it does have several meetings. Nearby cities also have resources for those looking for a 12-step group.
Recovering patients and their families may also find online meetings that meet their needs if time or distance prevent them from attending in person. Once you've decided to give up alcohol and drugs, the first step may be the hardest, but it can be a life-changing one. Addiction is not a choice, it is an illness, and a multifaceted approach of medicine, therapy and support at a drug and alcohol rehab center can bring success. If you're ready to start the journey toward sobriety, you don't have to go it alone.
Addiction Resources in Nearby Ohio Cities
For those who are seeking alcohol and drug treatment facilities outside of Groveport, Ohio, there are also many drug rehab resources across the state of Ohio: