Massillon Drug & Alcohol Rehab, Detox & Treatment Resources
The drug abuse problem in Ohio has reached a deadly level, with drug-related fatalities reaching staggering heights over the past decade. In 2015, Ohio was one of the five states with the highest drug overdose rates in the country. In fact, one in nine heroin-related deaths happen in Ohio, and one in 14 opioid-related deaths in the nation occur in Ohio.
Abuse of opioids is a serious problem in Massillon. Carfentanil and fentanyl, which is an opioid that is up to 100 times more potent than morphine, often end up mixed with heroin, unbeknownst to users, resulting in an often deadly and highly addictive combination. In 2016, 85 people died of overdoses of heroin, fentanyl or carfentanil in Stark County alone.
Our Closest Facility:
Just a short drive down the road, The Recovery Village Columbus Drug & Alcohol Rehab is centrally located to solve any addiction problems you may have. Accepting all major insurance providers including medicaid and medicare, get admitted today and solve your addiction issues.
Even as the authorities try to get a grip on the drug problem of Ohio, it can feel even more overwhelming for those battling dependence on drugs. Addiction can feel like a difficult disease to address because society seems to condemn those in recovery instead of helping them. However, help is available, and substance misuse disorders are treatable just like any other health-related problem faced by the residents of Ohio.
There are many options for those in search of drug addiction help in Massillon. Throughout the state of Ohio, there are excellent treatment centers and programs available to those in need. It is possible to receive the necessary help, and this guide can help you find the program options that are best for you. If you'd like to speak with someone about your options, call The Recovery Village. An intake coordinator can give you more information on Ohio rehab and:
Massillon drug rehab
Massillon alcohol rehab
Massillon drug treatment facilities
Massillon alcohol treatment facilities
Massillon drug detox
Massillon alcohol detox
Inpatient drug rehab (Massillon, OH)
Outpatient drug rehab (Massillon, OH)
Finding Drug and Alcohol Rehab in Massillon, Ohio
Massillon, Ohio Alcohol Rehab Centers and Drug Centers
Locally, there are many different options for addressing a substance misuse issue. Depending on your life situation, as well as what works best for you and your loved ones, there are several levels of service to consider. From inpatient treatment, also known as a residential program, to partial hospitalization and even less intensive outpatient programs, there is help available for folks in any situation. Consider the different types of programs available before you choose a path.
Residential Treatment Programs
Residential treatment programs are ideal for those who are suffering from severe addictions and have a long, difficult relationship with substance misuse. These impatient programs offer around-the-clock access to doctors or other medical professionals who specialize in addressing these particular disorders. Often, a patient who comes to a residential treatment program has already gone through the detox process to remove the drugs from his or her system.
Partial Hospitalization Programs
A partial hospitalization program is a slightly less intensive treatment plan. Patients address their substance misuse problems through a therapy program and medical care during the day, for a specific number of hours each week. Those working through these programs are able to stay at home, as long as it is a safe and healthy environment.
Outpatient Treatment Programs
If a patient has a less severe level of addiction, or he or she has already completed a more intensive program, an outpatient program is a viable option. Patients stay at home or in safe, stable housing available on campus.
It's important to look at the many options that are available for treatment to determine the best choice for you and those around you. Factors to consider include how long the addiction has been present in your life, the types and number of substances of misuse and if medical detox is necessary. Patients should also consider what their insurance will cover or what kind of treatment is affordable. Overall, understanding the issue fully makes it easier to discuss with an addiction specialist.
The Recovery Village offers a national network of treatment facilities for those addressing substance misuse situations. Our centers contain professionals who are able to help you determine the right options for your situation.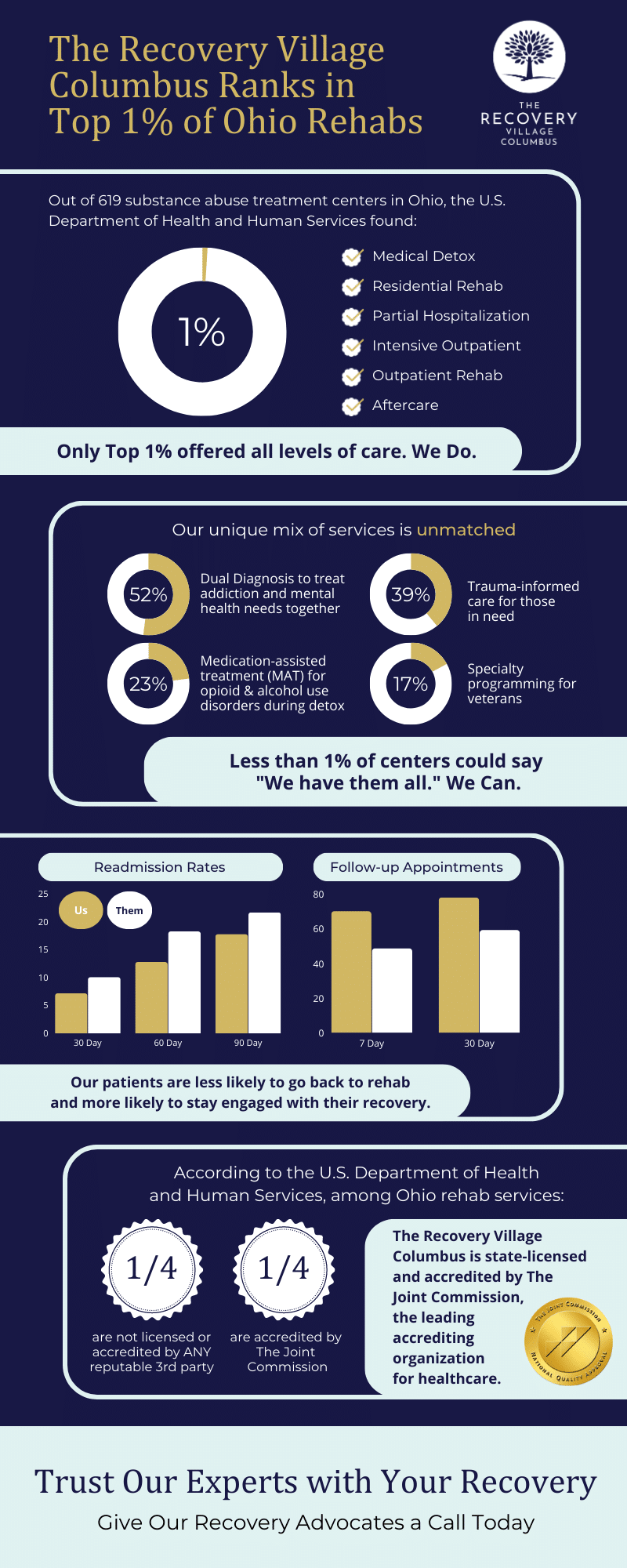 Detox Centers
There are many detox centers in Massillon, and eliminating the toxic substances from your body is the first step to recovering from addiction. This is not an easy process, and often, medical assistance is necessary to reduce withdrawal symptoms. It's important to treat the detox process carefully so that symptoms aren't so bad that the patient is tempted to use drugs to abate them.
Detoxing is only the first step, though. It may be necessary to work with medical professionals at a treatment center, and many centers have supervised detoxification as an option. Along with physical addiction, there are often many underlying reasons and situations that also need attention to recover from a substance misuse disorder.
The stigma surrounding drug addiction can add to the difficulty of the treatment process, but working hand-in-hand with dedicated medical professionals can help you start your efforts in an effective, focused way that can result in success.
Recovery Meetings Near You
Recovery meetings such as Alcoholics Anonymous and SMART Recovery can be a crucial part of the after-care process. In these structured, group settings, patients can receive the support and help needed to avoid a relapse and create new habits to help in their success. There are surely many options available for recovery meetings near you.
For those seeking help with a substance misuse problem, treatment is available in Massillon as well as in neighboring areas. Sometimes, it's strategic for long-term success to look at nearby cities for professional help and supervision. The Recovery Village offers several full-service treatment centers throughout Ohio and elsewhere in the United States. Connecting with The Recovery Village can start you on a path toward health and away from addition.
Addiction Resources in Nearby Ohio Cities
For those who are seeking alcohol and drug treatment facilities outside of Massillon, Ohio, there are also many drug rehab resources across the state of Ohio: