Located in Jackson County, Wellston, Ohio, is in the southeastern part of the state. Wellston is around an hour-and-a-half drive from Columbus.
The entire state of Ohio, including Wellston and other cities and towns, has been greatly impacted by the ongoing opioid epidemic. According to the National Institute on Drug Abuse, the state of Ohio had the second-highest rate of opioid overdose deaths in the United States in 2017.
It's important for people affected by not only opioids like heroin and prescription drugs, but other substances as well to understand that help is available. There are detox and rehab programs near Wellston and in other parts of Ohio. People from Wellston may also opt to travel for substance abuse treatment.
Our Closest Facility:
Just a short drive down the road, The Recovery Village Columbus Drug & Alcohol Rehab is centrally located to solve any addiction problems you may have. Accepting all major insurance providers including medicaid and medicare, get admitted today and solve your addiction issues.
Wellston Drug and Alcohol Rehabilitation and Treatment
Drug and alcohol rehab and treatment can occur in different phases and settings. For a lot of people, they may participate in different levels of care along the way, known as a continuum of care.
Some of the different types of programs a person may participate in include:
Inpatient or outpatient supervised detox for the treatment of withdrawal symptoms
Rehabilitation in an inpatient setting
Partial hospitalization programs
Outpatient rehab including intensive outpatient programs
Support groups and recovery groups like a 12-step program or SMART Recovery
Drug and Alcohol Detox Programs and Treatment Centers in Wellston, OH
When someone struggles with an addiction to drugs or alcohol, they can opt to receive treatment locally near Wellston, or they can travel elsewhere for treatment. There are many programs near Wellston, including in Columbus and nearby areas, such as The Recovery Village Columbus. Currently, 63 programs for substance abuse treatment are within 50 miles of Wellston, and within 25 miles there are eight programs. These include specialized rehab programs as well as inpatient and outpatient facilities.
Wellston, OH Residential Treatment Programs
The first step in a treatment continuum of care for many people is staying on-site at a residential treatment program. Residential treatment offers the opportunity for intensive care in a safe and supportive environment. Different approaches can be used, and it can reduce the risk of relapse when someone is in an inpatient rehab facility. Inpatient alcohol rehab or drug addiction treatment can last different lengths of time, usually starting at around 30 days and going up from there.
There aren't any residential treatment programs within 25 miles of Wellston currently, but within 50 miles there are 14 residential programs. The Recovery Village Columbus also offers different individualized inpatient treatment programs.
Wellston Partial Hospitalization Programs
Partial hospitalization, also sometimes called day treatment, is a type of rehab program where participants receive much of the same treatment as they would in inpatient care. The big difference is that during a partial hospitalization program, participants can return home in the evenings if their home is safe and substance-free. Returning home at night depends on the facility requirements.
Within 50 miles of Wellston, there are 16 programs with partial hospitalization treatment. The Recovery Village Columbus also offers partial hospitalization programs.
Wellston Outpatient Treatment Programs
Outpatient treatment programs can be the first phase of treatment for someone who can't go to inpatient rehab for any reason. Outpatient treatment programs may also be a phase of treatment someone participates in after completing a higher level of care. Outpatient treatment can include one-on-one and group therapy, medication management, and family counseling.
Nine programs within 50 miles of Wellston include outpatient detox, including in Chillicothe and Logan. Currently, 54 programs offer regular outpatient drug treatment and alcohol treatment. There are also 34 programs that include intensive outpatient treatment. The Recovery Village Columbus offers outpatient rehab, including intensive outpatient treatment, too.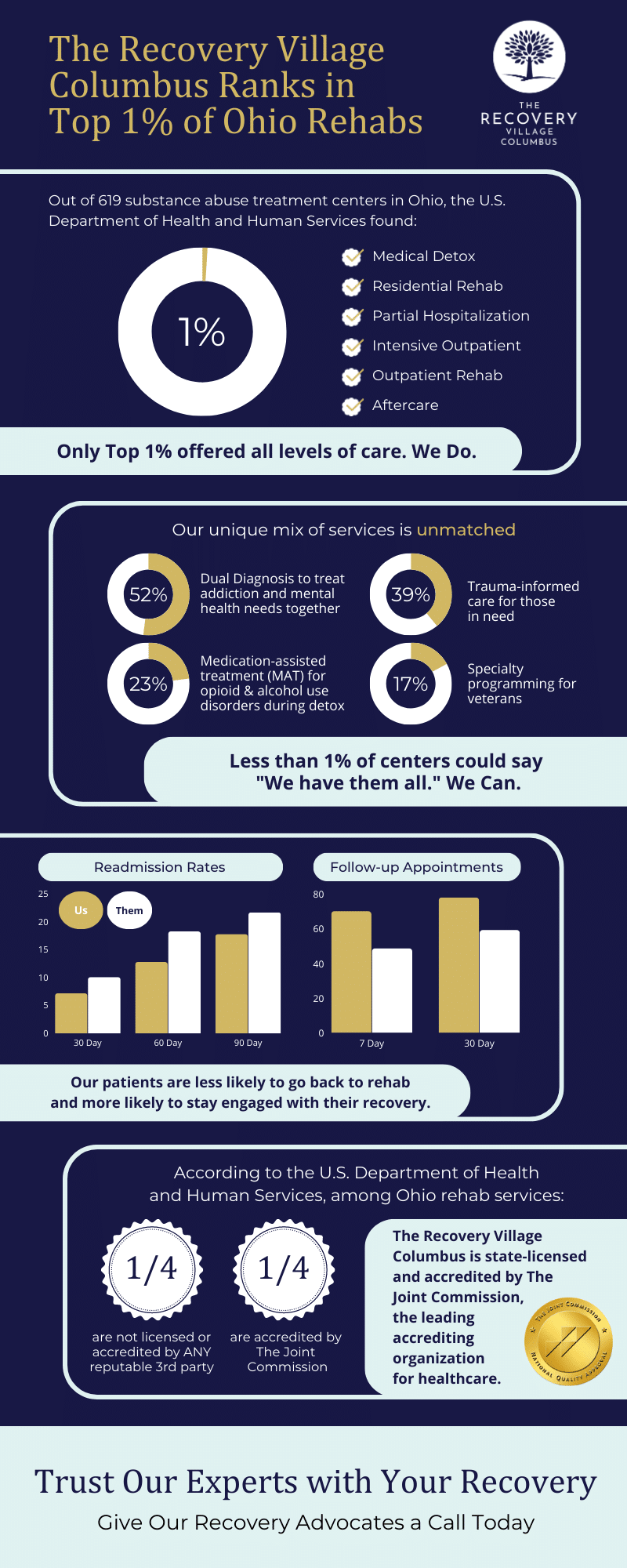 Sober Living and Rehab Aftercare Programs in Wellston
When someone participates in a rehab program, their individualized treatment plan should include aftercare planning. Continuing care can help a person transition back into society and their daily lives. Continuing care can include time in sober living homes or programs at aftercare facilities such as outpatient rehab. Drug rehab aftercare programs can also include one-on-one therapy, rehab alumni programs and support group participation.
All programs at The Recovery Village Columbus include aftercare planning and implementation.
Specialized Treatment Programs in Wellston
Sometimes when a person struggles with substance abuse, what may work best for them is a specialized treatment program.
Specialized addiction treatment programs near Wellston include:
Ten programs within 50 miles of Wellston offer rehab for the LGBT community
There are eight substance abuse programs with rehab for veterans within 50 miles of Wellston including in Athens, Chillicothe and Circleville, OH
17 substance abuse programs near Wellston including in Albany, Waverly and Athens include rehab for teens and treatment for adolescents
Within a 50-mile radius of Wellston, 37 programs offer women's rehab centers. These programs are in cities including Jackson and Waverly.
19 substance abuse programs near Wellston offer rehab for pregnant women and postpartum women
25 substance abuse programs within 50 miles of Wellston work with clients referred from the court and criminal justice systems
14 treatment centers near Wellston offer specialized care for people who are victims of sexual abuse
People who have experienced trauma have access to 24 programs within 50 miles, including rehab for PTSD
What Is the Process Like in a Drug Detox and Rehab Facility?
If you or someone you love struggles with drugs or alcohol, it's natural to feel resistant to receiving treatment. Some of that resistance may stem from not understanding what the treatment process is like, or what to expect.
Upon arriving at a drug detox and rehab facility, the first step is typically an assessment. This intake assessment may include all of the professionals who will part of your treatment team including doctors, therapists, and support staff. Their goal in this assessment is to get to know your medical and mental health history, as well as your history with substance abuse. This evaluation helps them know how to create your treatment plan.
The next phase for many people, once they go through their assessment, is supervised detox. Some residential treatment programs offer on-site detox, which can be convenient. Detox is when someone goes through withdrawal from any substances they use. Medical detox can help reduce the likelihood of complications occurring during this time and help keep you safe.
Once you fully detox, you can begin the next phase of your treatment, which is rehabilitation. Rehabilitation includes therapy sessions held throughout the day. You may often participate in group sessions as well as one-on-one therapy. Recreational therapy may be included in treatment, as are holistic approaches to treatment such as nutritional counseling.
Once someone completes their individualized treatment plan, they begin to incorporate their aftercare plans into their daily lives.
Find more details about what to expect during detox and rehab on this page from The Recovery Village.
Finding the Best Rehab Program for You
One of the biggest determinants of successful long-term outcomes, when someone goes to addiction treatment, is how long they stay in treatment. Staying in treatment for the entirety of a program is helped significantly by feeling comfortable and choosing a rehab that's a good fit for you personally.
Factors to think about as you compare the best rehabs and find the right program for you include:
What level of care do you likely need, particularly in the beginning? For example, if you have a severe, long-term addiction or you've been through other rehabs and relapsed, you may need to choose a rehab center that offers intensive inpatient programs.
Do you have physical or mental health needs that need to be considered during your treatment program?
Is your family planning to be part of the process, and if so, how will a treatment center integrate them and what kinds of family support programs are available?
Will your insurance cover a treatment program and are they in-network with the centers you're considering?
What Questions Should You Ask When Considering a Treatment Program?
As well as the above considerations, which are personal to you and your unique situation, there are other questions to ask rehab centers when choosing a program. These questions are more about the qualifications of a treatment facility and how prepared they are to provide high-level, effective care.
What treatment approaches are used?
First and foremost, when you're comparing rehab centers, the foundation of their programming should be evidence-based. Addiction is a chronic disease, and treatment should be based on the disease model and updated scientific and medical research. Beyond that, there are many types of treatment approaches that can be used, and a lot of centers will use multiple approaches.
Are you accredited?
At the very least, an addiction treatment program needs to have state licensing. Beyond that, accreditation from third-party organizations can be a good indicator of quality care. Your insurance company may also want to see accreditation before they reimburse you for your addiction treatment.
Is dual diagnosis treatment available?
It's very common for someone who struggles with substance abuse to also have co-occurring mental health disorders. For the best treatment outcomes, care needs to be available for both, and this is known as dual-diagnosis treatment.
How long will treatment last?
Until your intake assessment, a rehab facility may not be able to tell you exactly how long your treatment program will last. However, if you call a center, they should be able to give you a better idea of the length of their programs and also if they would be a good fit for you. There are short- and long-term residential treatment programs available at many centers.
Visit this page from The Recovery Village to find more rehab-related answers to frequently asked questions.
Exploring Treatment Options Near Wellston
There are substance abuse treatment programs available near Wellston, in areas such as Columbus. Another option is to travel out of state.
Traveling out of state can bring benefits, including the following:
When you travel for rehab, it expands the number and type of programs available to you, so you can find one that's an ideal fit for your needs.
Leaving your hometown and state can help give you a sense of separation from your active addiction. You can feel as if you're starting fresh when you leave that environment that surrounding your addiction to drugs or alcohol.
Staying in treatment for the full length of your program is essential. If you're away from home, you're less likely to leave early.
Of course, there can be benefits to going to treatment locally as well. For example:
Your family or loved ones may be able to be part of your treatment program.
If you're not able to travel for rehab, you may need to stay close to home.
Your insurance may only cover treatment you receive in your home state.
Additional Addiction and Rehabilitation Resources in Wellston
Connecting with local addiction and rehab resources in Wellston is important and valuable whether you go to rehab or not. Local addiction resources can help you find social support, and if you're in recovery, these resources can help you maintain that and avoid potential relapse. Local Wellston resources may also be an important part of your aftercare plan if you've attended a treatment program.
Recovery Meetings Near You in Wellston
Recovery meetings are a way for people who are sober from drugs or alcohol to meet one another, share stories and provide support. Many people credit recovery meetings as one of their biggest sources of strength in recovery and a necessary tool for relapse prevention. Recovery meetings are also convenient and accessible for most people. Frequently, 12-step programs are the most common recovery meetings, but there are also alternatives.
Non-Profit Organizations in Wellston, OH
Wellston non-profit organizations can be helpful for people struggling with mental health or substance abuse issues. If you have already completed a rehab program, contacting non-profit organizations in Wellston can also help you maintain your recovery. Non-profit organizations in Wellston or near Wellston include:
The City of Wellston, OH
Wellston, Ohio is a small city in Jackson County named after Harvey Wells, who was part of the Ohio Constitutional Convention. The demographics in Wellston are 98% White and 0.36% African American. The nearest major airport to Wellston is Tri-State Airport. The population of Wellston is around 5,500 people and it's located at 39.1234° N, 82.5329° W.
Addiction Resources in Nearby Ohio Cities
For those who are seeking alcohol and drug treatment facilities outside of Wellston, Ohio, there are also many drug rehab resources across the state of Ohio: