Springfield Drug & Alcohol Rehab, Detox & Treatment Resources
Springfield is in the heart of Ohio's Clark County. Rich in history, residents and visitors alike experience the story the town has to tell as they stroll down the city's streets. Many of the early railroads and mills that graced Springfield in the early 1800s can still be seen today. However, while this is a quiet town that boasts all the amenities of the big cities, there is an underlying problem that exists in the area.
The misuse of drugs is taking its toll on the people that call Springfield, Ohio, home. While there were a total of 3,050 total deaths due to drug overdoses throughout Ohio in 2016, 361 of those fatal overdoses occurred in Springfield. According to the city coroner, by April 2017 the city had seen a total of 368 fatal overdoses for the four-month span. The increase in drug misuse cases throughout the town is skyrocketing and people of all ages and backgrounds are not immune from the epidemic that is spreading.
The Ohio Bureau of Criminal Investigation, which houses an investigation lab in Springfield, is vamping up their efforts in the fight against illegal street drugs that are at the root of the problem. The lab is increasing their focus on opioid painkillers, heroin, fentanyl and carfentanil, all of which are being found at the source of the city's overdose epidemic. If you struggle with a substance use disorder, consider attending a drug rehab center in the Springfield area. You also have the option of attending a center in a different city or state, which can give you the change of pace you need to focus on healing and recovery.
Our Closest Facility:
Just a short drive down the road, The Recovery Village Columbus Drug & Alcohol Rehab is centrally located to solve any addiction problems you may have. Accepting all major insurance providers including medicaid and medicare, get admitted today and solve your addiction issues.
Finding Drug and Alcohol Rehab in Springfield, Ohio
Springfield, Ohio Alcohol Rehab Centers and Drug Centers
If you or a loved one is faced with substance misuse, there is help. Springfield alcohol rehab and Springfield drug rehab centers offer a variety of treatment programs that are aimed at fighting the spread of substance use disorder throughout the city. No one is exempt from having their lives affected by drug and alcohol misuse. Regardless of family income, educational backgrounds, age, and other distinguishing factors, illegal drug and alcohol use knows no boundaries.
Springfield offers a wide range of drug and rehabilitation centers throughout the city. From inpatient programs to aftercare meetings, you may have access to the professionals who can help you fight your misuse one day at a time. The various resources and treatment program structures give you the option of creating a treatment plan that will help you fight the disease and live a healthier, happier lifestyle free of drugs and alcohol.
Residential Treatment Programs
Residential treatment programs offer inpatient care for the misuse of substances such as opioids and alcohol. These programs begin with the detoxification process, which can be one of the hardest steps to accomplish on your own. Staffed with experts that understand the social views of drug and alcohol misuse, individuals have the support necessary for a successful outcome for leading a healthier lifestyle. A residential treatment program typically includes individual and group therapy as well as educational sessions.
Partial Hospitalization Programs
Commonly referred to as outpatient care programs, partial hospitalization programs offer many of the same provisions as residential treatment centers. Using positive outlets such as exercise, medication, healthy meal preparations, and social interactions, individuals are able to find useful coping skills to help in their journey to a drug- and alcohol-free lifestyle. Individuals that attend partial hospitalization programs don't live on the same site as the clinics that offer the help. This level of independence gives program attendees the ability to gain control over the triggers that have led them to first misuse substances such as drugs and alcohol.
Outpatient Treatment Programs
Outpatient programs are some of the least restrictive treatment options available. In these programs, individuals that are seeking help to free themselves of drug and alcohol use are able to attend to their daily responsibilities as normal. With the lack of removing yourself from the environments that contain triggers, the individual must find a positive way of coping on their own. There are regular support group meetings and therapy sessions available through outpatient programs. Led by professional therapists, attendees do have teams to address their individual needs throughout the process.
If you're considering Springfield drug treatment facilities or Springfield alcohol treatment facilities, it's important to weight the positive and negative aspects of each option. The lifelong health of you or your loved one is worth the time it takes to research which program is right for you.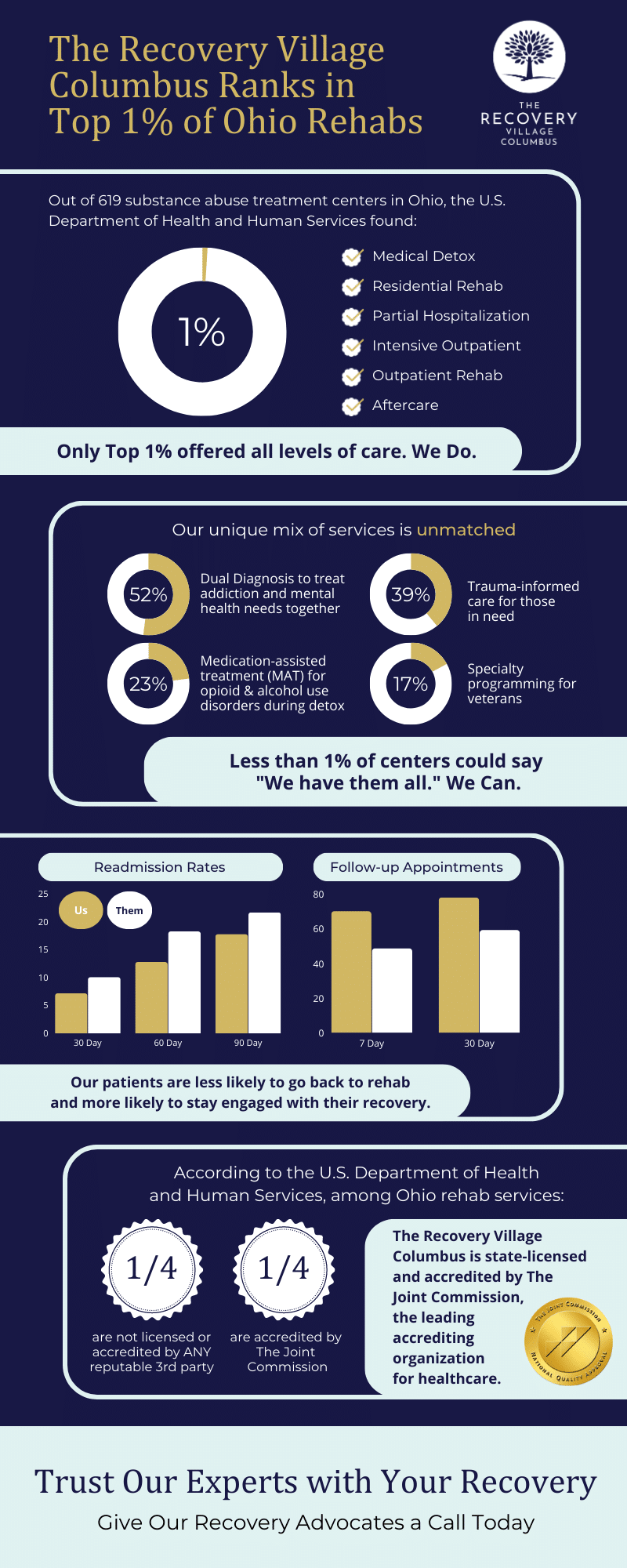 Detox Centers
Detox centers deal specifically with the first steps of beating drug and alcohol misuse. Experts on staff within detox centers can monitor the physical and mental stresses that appear during detoxification. Having an empathetic support team available to help you through the process of ridding your body of the chemicals often makes a big difference in the long-term results that are seen. There may be Springfield drug detox and Springfield alcohol detox centers, as well as residential detox programs, available in nearby cities.
Recovery Meetings Near You
There are many different types of recovery meetings available throughout Springfield and surrounding cities of Ohio. Meetings are open to anyone that has a desire to rid their life of substance misuse or address their personal needs when struggling with a loved one's misuse of drugs and alcohol. Recovery meetings throughout Springfield offer support for those at the start of their journey or as a form of after-care support.
Despite the widespread problem of drug and alcohol addiction, there is still a certain social stigma that goes along with this disease. When considering drug rehab in Springfield, you may find that you wish to travel to another city for treatment. There are addiction resources in surrounding Ohio cities that can help. Attending group meetings and recovery treatment programs in another city do have positive points. Locations and services in another state allow you to remove yourself from the situations and environments that have led to your drug and alcohol misuse for an easier transition.
Addiction Resources in Nearby Ohio Cities
For those who are seeking alcohol and drug treatment facilities outside of Springfield, Ohio, there are also many drug rehab resources across the state of Ohio: