According to the National Institute of Health, an estimated 88,000 people die from alcohol-related causes per year, making alcohol the third leading preventable cause of death in the United States. Drug overdose-related deaths account for over 60,000 deaths, according to the Centers for Disease Control and Prevention.
These statistics highlight the need for people in and around Washington Court House, Ohio, to find comprehensive treatment for substance abuse. Whether you're looking for alcohol or drug detox, inpatient or residential care, you'll find a range of treatment options available in and around the Washington Court House area.
Our Closest Facility:
Just a short drive down the road, The Recovery Village Columbus Drug & Alcohol Rehab is centrally located to solve any addiction problems you may have. Accepting all major insurance providers including medicaid and medicare, get admitted today and solve your addiction issues.
Washington Court House Drug and Alcohol Rehabilitation and Treatment
The most important feature of any drug and alcohol rehabilitation treatment is that it is customized to fit the individual's needs and goals. Rather than trying to force the individual into a set treatment regimen, the best drug and alcohol rehab and detox centers create a personalized plan that draws from many different disciplines and proven approaches.
Not only does this strategy help create a supportive environment, but it also encourages the person to develop healthy coping and life skills that are often missing and can contribute to the core issue of dependency. Resolving these issues helps prepare every person for a new start in life.
Program options available may include:
Detox
Inpatient care
Partial hospitalization
Intensive outpatient
Outpatient
Aftercare
Drug and Alcohol Detox Programs and Treatment Centers in Washington Court House, OH
Detox is an important component of many drug and alcohol treatment programs. Not only does it help to rid the body of alcohol, drugs and other substances, but it also helps people prepare for the transition to inpatient care.
Although there are no detox programs in Washington Court House, there are numerous detox programs in nearby Columbus, including:
Opioid detox (four programs)
Methamphetamine detox (four programs)
Cocaine detox (three programs)
Alcohol detox (four programs)
Benzodiazepine detox (four programs)
Washington Court House Residential Treatment Programs
Although there are no residential treatment programs specifically located in Washington Court House, two residential treatment centers exist in Columbus.
Residential care includes inpatient alcohol rehab and drug addiction treatment. This on-site program provides a higher degree intensive care than an inpatient rehab facility and not only provides a stable and supportive environment, but also helps address other issues which may contribute, including mental health issues, unresolved anger problems and more.
The Recovery Village Columbus offers residential treatment, including detox, individual and group therapy and much more.
Washington Court House Partial Hospitalization Programs
There are currently no drug, substance and alcohol abuse programs near Washington Court House, however, there are several such programs in Columbus, Ohio.
Partial hospitalization programs are best for people who don't need intensive support that inpatient programs provide, but still need more support than traditional outpatient programs. The Recovery Village Columbus also provides partial hospitalization programs to provide a higher level of care between both options.
Washington Court House Outpatient Treatment Programs
There are currently no outpatient treatment programs near Washington Court House, however, there are several such programs in Columbus which may offer a combination of treatment options to help with not only substance abuse and detox, but also help in preventing relapses, providing counseling, therapy and much more. These options may include:
Cognitive behavioral therapy
Substance abuse counseling
Trauma counseling
Medication
Options for outpatient treatment may exist in the areas surrounding Washington Court House and elsewhere in Ohio.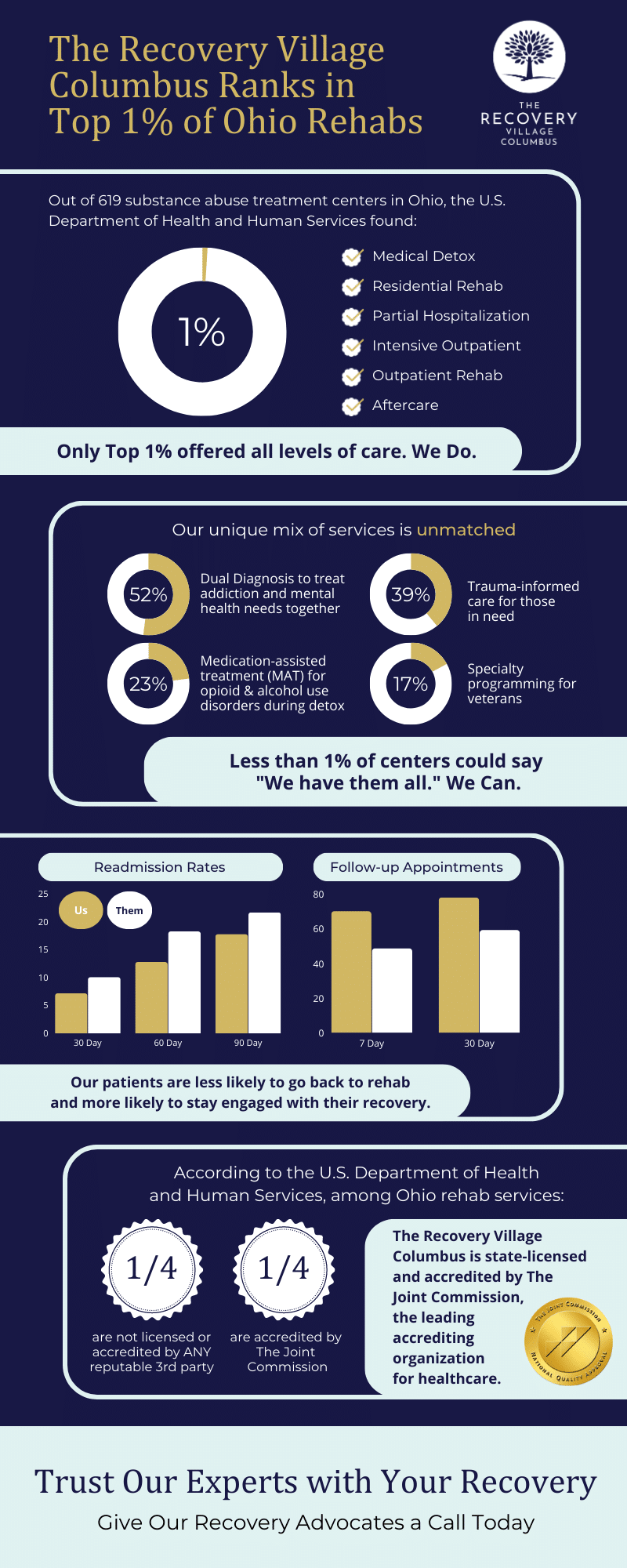 Sober Living and Rehab Aftercare Programs in Washington Court House, OH
Only one sober living or continuing care facility is specifically located in Washington Court House. However, a variety of rehab aftercare programs exist in Columbus. Twenty different aftercare facilities and programs exist near Columbus, Ohio. These types of programs each have different approaches and goals, and even after you complete such a program, you may still benefit from long-term support through one of the many rehab alumni programs.
Sober living homes not only provide a supportive environment to help maintain healthy habits learned during treatment, but also help individuals transition to a more stable lifestyle without the temptation of the addictive substance. Sober living homes may also help individuals learn vocational or trade skills to provide them with not only a means to earn a living, but also a sense of accomplishment and pride.
Specialized Treatment Programs in Washington Court House, OH
There are currently no specialized treatment programs available in Washington Court House. There are, however, several of them in Columbus.
These specialized treatment programs offer care to various underserved portions of the population, including providing services such as:
Detailed assessments, including substance abuse and mental illness
Counseling, including for families, individuals and groups
Rehab for veterans
Rehab for LGBT individuals
Social skills development
Employment counseling or training
Rehab for teens
Rehab for pregnant women
Rehab for PTSD
Relapse prevention with naltrexone
What Is the Process Like in a Drug Detox and Rehab Facility?
The ideal drug treatment process is customized to the needs of the patient, and often includes a variety of steps. To help you or a loved one feel as comfortable and supported as possible, having some insight as to the general flow of the detox process can help you feel more at ease.
A typical rehab process includes:
Admissions
During admissions, introductions are made, and a customized plan of action may be formulated to help suit the individual's recovery and treatment goals. If additional help is needed, such as prescription medicine to ease the effects of withdrawal, it can be prescribed at this time.
Admission takes time, but this process is the vital first step in helping to ensure that not only does the individual feel confident moving forward, but that there's also a plan and strategy in place to help them overcome their addiction.
Detox
Detoxification helps flush out drugs and alcohol from the body. It not only relieves the body of the effects of drugs or alcohol, but also prepares the body to replace the substance with healthier habits such as nutritious food, which in turn helps promote a healthy lifestyle.
Transition to Further Treatment
Once detox is completed, the individual transitions to inpatient treatment. Not only may this include medical supervision, but it may also facilitate the development of healthy living and coping skills to further provide a well-rounded approach to treatment.
To learn more about the rehab process, visit this information page from The Recovery Village.
Finding the Best Rehab Program for You
The best drug rehab centers are those which take into consideration your unique needs and formulate a custom approach to helping to treat the person, not just the addiction. If you're looking for information on how to find the best rehab center, it's important to carefully research all of the options to determine the best path forward, and which drug treatment centers are best suited to deliver the outcome you're looking for.
Beyond these considerations, the best rehab centers will be properly licensed and accredited.
What Questions Should You Ask When Considering a Treatment Program?
It's normal to have a lot of questions before choosing a treatment program. If you're not sure what to ask to get the best possible results, below are some of the most common questions to ask the facilities you're considering.
What type of licensing and accreditation does your facility have?
For a facility to be accredited, they must have an audit performed and show the accrediting body that they adhere to certain standards of care. An accredited rehab center has demonstrated that they uphold these standards, so you can feel confident that you are getting the best possible care.
Do you have full-time medical staff?
Detox can be an intensive process that requires the skills of trained medical professionals. Having a full-time medical staff ensures that the right treatment protocols can be followed 24 hours a day, seven days a week in case of emergencies and in situations needing the expertise of trained medical professionals.
What types of treatment services and programs do you offer?
Many addiction treatment and detox centers offer a variety of programs. These can range from group therapy to individual, one-on-one counseling, medically supervised detox and holistic programs that help the patient learn and acquire healthy habits that can help prevent relapse.
What is the treatment approach for programs at your facility?
There is no one-size-fits-all approach to treating addiction. Different methods work for different people, so many rehab centers use a variety of methods to determine the best one for your needs.
Does your program include nutrition or other components of health and wellness?
Addiction affects you in many ways: physically, mentally and emotionally. A treatment plan can help target each of these areas.
What is the aftercare process once a patient completes detox and rehabilitation?
Aftercare is an ongoing process. With this in mind, a rehab center should place special emphasis on proper recovery as well as planning for the point at which the patient is ready to leave the facility and has taken appropriate steps to maintain that recovery.
Do you accept insurance, and if so, what type of coordination do you offer in using insurance?
Numerous rehab programs accept private insurance and work with patients who elect to self-pay to make their treatment more affordable.
For more questions and answers about rehab, view the frequently asked questions about rehab with The Recovery Village.
Exploring Treatment Options Near Washington Court House, OH
As you look for drug abuse treatment near Washington Court House, you may find that results are few and far between. There are several benefits (and drawbacks) to traveling for substance abuse treatment.
For example, some of the benefits may include:
You can leave a potentially disturbing or detrimental home environment
You'll be away from the environment and pressures that are driving you to consume drugs or alcohol
You can feel anonymous in an out-of-state treatment facility
You can focus solely on your treatment and recovery, rather than what might be happening with friends or family at home
There may be some downsides to treatment, including:
Needing to leave school or work
Having to leave your family
The lack of a support network of family or friends who care about you
Additional Addiction and Rehabilitation Resources in Washington Court House, OH
There are a variety of drug and alcohol addiction and rehabilitation programs available in both Washington Court House and Columbus.
You can use an online treatment finder tool to help you find precisely the type of treatment you're looking for. Through the interactive map, filter choices to find substance abuse treatment, counseling and more.
Recovery Meetings Near You in Washington Court House, OH
Recovery meetings help connect you to others to give you a support network and can also help prevent relapse.
Generally speaking, 12-step programs are the most common types of recovery meetings. These include anonymous-style meetings, including Narcotics Anonymous (NA), Alcoholics Anonymous (AA) and many more.
Alcoholics Anonymous (AA) Meetings in Washington Court House
Local AA Meetings
Fayette Recovery Center No.5
Friday 12:00 PM
Washington Court House, OH, 43160
Church Of God
Friday 08:00 PM
Washington Court House, OH, 43160
Saint Colman Catholic Church
Saturday 07:00 PM
Washington Court House, OH, 43160
Fayette Recovery Center No.5
Monday 12:00 PM
Washington Court House, OH, 43160
Fayette Recovery Center No.5
Wednesday 12:00 PM
Washington Court House, OH, 43160
Washington Court House Wednesday Night Group
Wednesday 07:00 PM
Washington Court House, OH, 43160
Saint Andrew's Episcopal Church
Thursday 06:30 PM
Washington Court House, OH, 43160
Saint Andrew's Episcopal Church
Thursday 08:00 PM
Washington Court House, OH, 43160
Saint Andrew's Episcopal Church
Monday 08:00 PM
Washington Court House, OH, 43160
Church Of God
Tuesday 07:00 PM
Washington Court House, OH, 43160
Al-Anon, Nar-Anon and Alateen
Addiction often involves the entire family, and that's why groups like Al-Anon, Nar-Anon and Alateen exist, to help provide family counseling and support to those who are trying to help a loved one overcome their addiction:
Non-Profit Organizations in Washington Court House, OH
Currently available non-profit resources in and near Washington Court House include:
City of Washington Court House, OH
Often abbreviated Washington C.H. to avoid confusing with a similarly named city of Washington in Guernsey County, Ohio, the city of Washington Court House was settled by Virginia War Veterans after they were given the land as payment for their services in the American Revolution. It currently boasts a population of nearly 15,000 residents. The city is located at 39.5365° N, 83.4391° W. The closest airport is Fayette County Airport (I23).
One of the more unusual features of the city is the street layout. Rather than being laid out east to west and north to south, the streets are aligned northeast to southwest and northwest to southeast. This was done in order to give all four sides of the courthouse building some sunshine every day of the year. With the traditional street grid system, the north side of the building would have never received any sunlight. So, owing to its name, the place really does take great care of its courthouse.
Addiction Resources in Nearby Ohio Cities
For those who are seeking alcohol and drug treatment facilities outside of Washington Court House, Ohio, there are also many drug rehab resources across the state of Ohio: