The opioid crisis in America continues to affect both small and large cities across the country. Circleville is no exception, and Ohio currently has the second-highest rate of opioid overdoses in the country. The state reported 4,293 drug-related deaths in 2017 alone, which is almost three times higher than the national average.
Though there are many options available for drug and alcohol addiction treatment, people don't always know where to begin. If you or a loved one is ready to find and begin a treatment program, the first step is to find out what resources are available near you. You can narrow your search by finding out which programs, locations and services work best with your situation.
Our Closest Facility:
Just a short drive down the road, The Recovery Village Columbus Drug & Alcohol Rehab is centrally located to solve any addiction problems you may have. Accepting all major insurance providers including medicaid and medicare, get admitted today and solve your addiction issues.
Circleville Drug and Alcohol Rehabilitation and Treatment
There are three types of care in Circleville, including one residential facility and one medically assisted outpatient treatment program. A short drive away is The Recovery Village Columbus, which offers inpatient, outpatient and detox programs. Before choosing a rehab facility, it's a good idea to see what types of programs are typically available.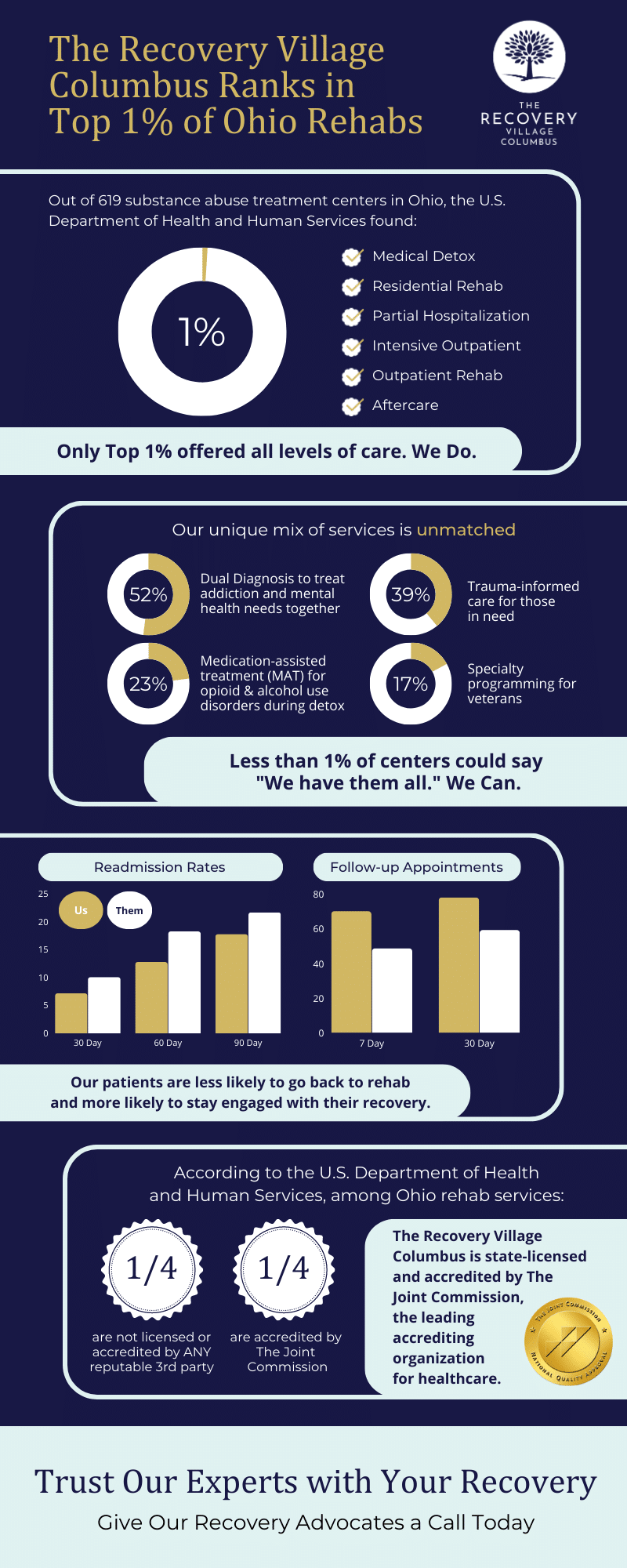 Drug and Alcohol Detox Programs and Treatment Centers in Circleville, OH
For people struggling with drug or alcohol addiction, the first step of recovery may be a medical detox. This treatment is done to remove all drug-related substances from the system and return an individual to a sober, stable state.
Currently, the only detox program available in Circleville is outpatient methadone, buprenorphine and naltrexone treatment. Farther away in Columbus, there is one outpatient detox facility, two residential detox facilities and nine methadone, buprenorphine and naltrexone treatment programs. The Recovery Village Columbus also offers detox treatment in a safe, supportive setting.
What Is the Process Like in a Drug Detox and Rehab Facility?
It can feel intimidating to enter drug or alcohol rehabilitation, but most facilities follow a general routine. Each step is designed to help patients adapt to treatment and begin the recovery process. When a patient first enters rehab, they'll likely be introduced to the facilities and its staff members. A counselor will find out more about the patient and their medical and drug history. Staff members will begin creating a treatment and recovery plan specifically for the patient.
Patients will undergo a comprehensive intake exam, which allows staff to determine whether a patient will need medication or not. After this, the patient will likely begin a medical detox program to purge their system of drugs and alcohol.
When these steps are complete, the patient will begin the drug treatment process in an inpatient, outpatient or partial hospitalization program. Upon discharge from the rehab facility, most people will leave with a thorough aftercare plan put together by their medical and counseling teams.
Finding the Best Rehab Program for You
Many people wonder how to find the best rehab center in their area. Since there are so many options available, a good way to find the best rehab centers is to look for licensed and accredited facilities. These facilities have been evaluated and are proven to operate at high levels of care. Choosing a licensed and accredited facility will help ensure you find the best drug rehab center available near you.
What Questions Should You Ask When Considering a Treatment Program?
Before choosing a rehab center for your treatment, there are a few questions you should make sure to ask.
What insurance does your facility accept?
Rehab centers usually accept most kinds of insurance. This guide will help you find out which ones are accepted specifically. When you decide on a facility, double-check with them to make sure your insurance will work. If you do not have insurance, talk to the facility about creating a payment plan that you can afford.
Are you a licensed, accredited facility?
By going through the licensing and accreditation processes, facilities have proven that they provide a high standard of care to their patients. Choosing one of these rehab centers will help ensure that you receive the best level of treatment available.
What treatment programs do you offer?
The treatment process tends to be easier when patients are in a program that suits them. Find out the types of services, resources and programs your facility would provide to you as a patient. Not all centers have the same offerings.
What happens after treatment has ended?
Aftercare is a vital component of recovery, as it can help reduce the chances of a relapse. Your treatment plan should include an aftercare program to help you maintain sobriety and mental wellness in the future.
To find more answers for your rehabilitation-related questions, visit the frequently asked questions area at The Recovery Village.
Exploring Treatment Options Near Circleville, OH
When going to a rehab center, a person can travel for treatment or stay at a facility nearby. Each option has its pros and cons. While there is drug abuse treatment near Circleville, there are additional options farther away in Columbus and throughout Ohio.
The pros of traveling for rehab include:
Leaving an environment of drug or alcohol use
Avoiding triggers and other stressful situations
Having a fresh start
Anonymity
Focusing solely on treatment and recovery
The cons of traveling include:
Leaving family, friends and loved ones
Leaving a local support network
Having to arrange schedules for work, school and other activities
Additional Addiction and Rehabilitation Resources in Circleville, OH
There are many rehab resources located near Circleville, but there are even more throughout the state of Ohio. To find all the options that are available throughout the country, use this treatment locator tool from the Substance Abuse and Mental Health Services Administration. The filters allow you to find specific facilities, counselors and other resources
Recovery Meetings Near You in Circleville, OH
People who struggle with addiction or are in recovery can often find help in others who are dealing with the same issues. Recovery meetings bring these individuals together, allowing them to build a support group, share stories and help people who are struggling. Social support is an important part of recovery, and attending meetings can help prevent the risk of a relapse.
Non-Profit Organizations in Circleville, OH
There are non-profit groups located in Circleville that are dedicated to helping people with substance use disorders and mental health issues. In addition, these organizations often help the friends, family and loved ones of people struggling with addiction.
City of Circleville, OH
Circleville, Ohio, is located in Pickaway County. Its name comes from the original city layout, which took the shape of a circle. The city's population is 13,930, according to a 2017 census by the United States Census Bureau. The closest airport is the Pickaway County Memorial Airport (KCYO). The exact location of Circleville is 39.6006° N, 82.9460° W.
Addiction Resources in Nearby Ohio Cities
For those who are seeking alcohol and drug treatment facilities outside of Circleville, Ohio, there are also many drug rehab resources across the state of Ohio: