The Health Resources and Services Administration awarded $24 million to rural organizations to empower them to respond to the opioid crisis. Education and more access to evidence-based addiction treatment were two of the performance metrics cited in the United States National Drug Control Strategy.
For those in Lancaster, Ohio, in need of drug and alcohol rehab, detox and recovery resources, help is available. Fairfield County has taken serious measures to quantify and meet the need with ongoing, community support. Hope is here. General and specialized treatment are not far away.
Our Closest Facility:
Just a short drive down the road, The Recovery Village Columbus Drug & Alcohol Rehab is centrally located to solve any addiction problems you may have. Accepting all major insurance providers including medicaid and medicare, get admitted today and solve your addiction issues.
Lancaster Drug and Alcohol Rehabilitation and Treatment
According to a survey conducted by the Lancaster Eagle Gazette, 75% of citizens in Lancaster stated that alcohol, meth and heroin were the primary substances abused in their county. Lancaster meets the needs of those pursuing drug and alcohol rehabilitation and treatment with resources within the city and by partnering with nearby towns to provide every kind of care. From providing court-ordered alcohol treatment for driving under the influence, to providing adolescent addiction treatment, help for all who need it is ready and available.
Drug and Alcohol Detox Programs and Treatment Centers in Lancaster, Ohio
The first step toward addiction recovery is usually to undergo detox or medical detox at a treatment center. For individuals who are reliant on alcohol or drugs, treatment must begin with medical detox. There will be a physical reaction to this abstinence which can range from mild to acute and may be accompanied by mental or other distress.
A detox program provides the oversight of medical professionals and relief during this physical challenge with medicine, therapies and support. Lancaster, Ohio, has one facility that provides detox programs. There are several more options in nearby Columbus.
Lancaster Residential Treatment Programs
Inpatient alcohol rehab and drug addiction treatment is a residential option that provides participants with 24-hour support. An inpatient rehab facility will allow detox and the days directly following detox to take place in a medically equipped facility.
This kind of program is often the first major step to recovery and includes long-term treatment planning. Facilities near Lancaster, Ohio, that provide residential treatment options can be found in Newark, Columbus and Chillicothe.
Lancaster Partial Hospitalization Programs
A partial hospitalization program provides participants with part-time inpatient care. People who choose this treatment will often receive treatment in the hospital during the day and travel home at night, depending on the rehab center guidelines.
This split schedule can allow for reintegration into some elements of typical life accompanied by a level of medical oversight and psychological support. Eligible participants in these programs must be fully detoxed and have a reasonable expectation of continued success in recovery.
There are currently eight facilities within 30 miles of Lancaster that provide partial hospitalization programs.
Lancaster Outpatient Treatment Programs
Within the city of Lancaster, there are multiple mental health treatment facilities and at least six substance abuse treatment facilities that provide outpatient drug treatment.
There is at least one facility in Lancaster providing drug detox services and specialized care for certain groups of people struggling with addiction. Outpatient programs for drug and alcohol addiction are another step towards ending intensive treatment and returning to daily life.
In outpatient care, participants live at home and attend scheduled treatments that include individual and group therapy, medicine, and relapse prevention strategies. Eight facilities near Lancaster in Circleville, Groveport, Newark and Columbus provide outpatient treatment programs.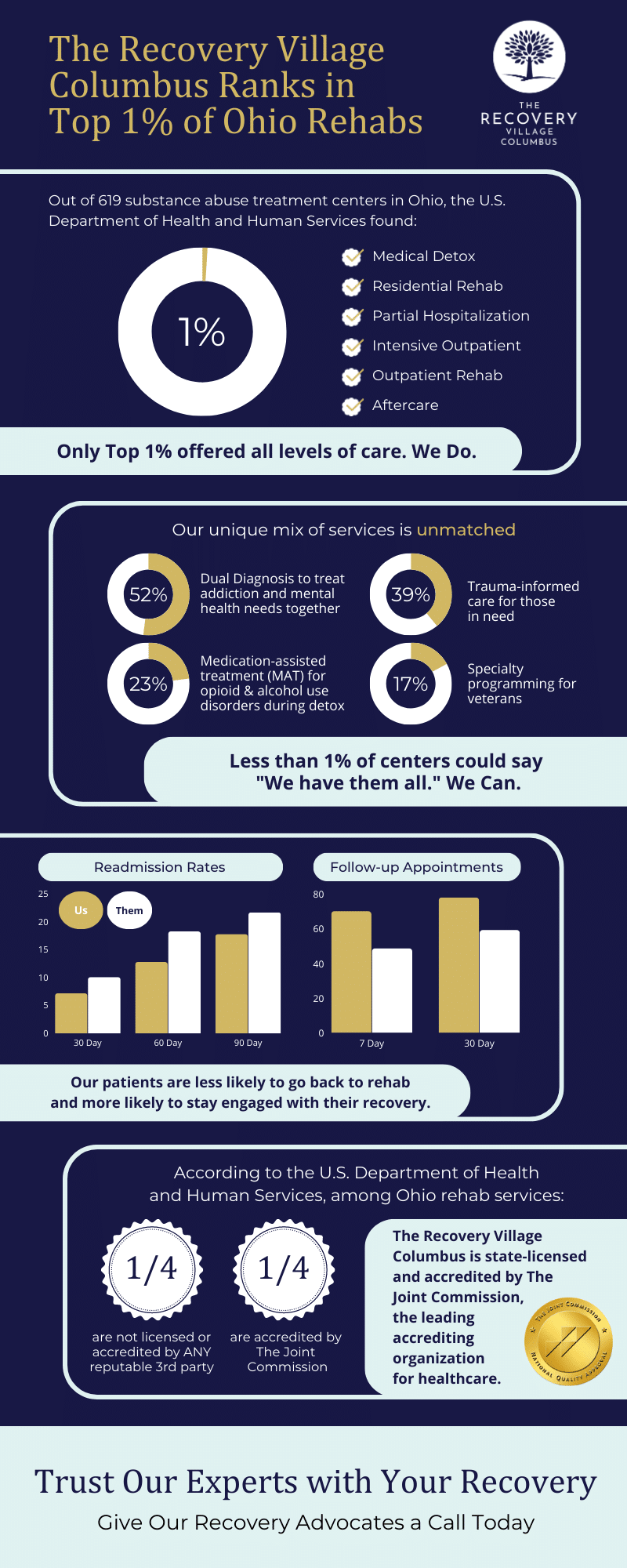 Sober Living and Rehab Aftercare Programs in Lancaster, OH
The final stage of recovery is participating in continuing care. Sober living aftercare facilities allow those in recovery to live in an environment that gives daily support and guidance.
Rehab aftercare is the stage of drug rehab aftercare programs that may be the most pivotal to long-term success. High-quality sober living programs provide the following:
Accountability and a positive social setting
No alcohol or drug use
Enforced daily schedule and responsibilities
Group therapy
Rehab alumni programs can be an essential element for lasting change. One facility in New Lexington, and another in Cambridge, and one in Wooster all offer rehab aftercare or sober living opportunities.
Specialized Treatment Programs in Lancaster, Ohio
Anyone can be susceptible to addiction and everyone deserves the chance to receive the best treatment. Resources for specific groups can be found in the area.
Treatment centers in and near Lancaster can provide care for:
Rehab for LGBT persons
Rehab for veterans
Rehab for PTSD and trauma
Clients referred from the court or judicial system
Active duty military personnel
Domestic violence sufferers
Victims of sexual abuse
Rehab for pregnant women or postpartum women (usually offered in women's rehab centers)
At least one center in or near Lancaster provides specialized care for clients referred from the courts and judicial system. Lancaster itself has one facility for pregnant or postpartum women in recovery and two for substance abuse that provide individualized accommodation for special groups.
What Is the Process Like in a Drug Detox and Rehab Facility?
The drug treatment process should hold to a standard procedure that includes assessment, registration, introductory considerations, and a facility tour. In the early days of rehabilitation, you can expect to experience the following:
Meetings with medical and counseling staff
A loose daily schedule of medicine, therapy, meals, and recreation
Constant monitoring of your well-being and progress
Scheduled benchmarks to mark achievements in your recovery
Every day in recovery is a day not spent using alcohol or drugs and this in itself is a victory. It is important to celebrate each milestone and recognize that treatment programs are tested and proven effective. Even if the means and methods can be cumbersome or even challenging, the end goal is an addiction-free life.
Finding the Best Rehab Program For You
The best drug rehab centers are ready to assist you in the treatment plan that will most effectively result in your long-term recovery. Detox, medical oversight, therapy, and a plan for the future should all be clearly articulated facets of the program. The physical and emotional well-being of its participants can be protected by important guidelines for facility operations.
Here are a few ideas on how to find the best rehab center:
Use a trustworthy database to find a center near you.
Select centers that have licensing and accreditation and are staffed with qualified professionals.
Interview and tour the facility before committing to treatment.
Standardized assessments should be used to induct new patients in a treatment program. The best rehab centers will conduct a full assessment of your condition and work with you to build an effective recovery plan.
What Questions Should You Ask When Considering a Treatment Program?
It is important to understand the qualifications and services offered at a treatment center. Each treatment program should contribute to your recovery success.
It may be helpful to ask some of the following questions:
What kind of insurance do they accept or do they offer financing?
What is the admissions and assessment process?
What specialized services do they offer?
Are all medical and counseling procedures done at this facility?
Do all care providers have credentials and expertise?
Beyond the facility itself, you will have personal questions to consider related to the schedule, kinds of treatment, visitation policies and long-term recovery plans.
Exploring Treatment Options Near Lancaster, OH
Drug abuse treatment near Lancaster, Ohio is available and can provide many services those pursuing recovery may require. Additional or specialized services may be available in nearby cities. There are times when traveling for treatment can be essential for success but it is not without drawbacks.
Here are some aspects to consider:
Is there a vital service that is not available in Lancaster?
Are there alternative treatments that appeal to you or you think could be more effective?
Would travel distance you positively from triggers or habits that could undermine your recovery?
Would travel distance you negatively from friends, family or home support?
How do you envision your life after recovery?
The season of recovery is a fragile time for any person who struggles with addiction. It is vital that all major life changes are made with careful consideration and thoughtfully weighed to determine the best scenario.
Additional Addiction and Rehabilitation Resources in Lancaster, Ohio
The city of Lancaster, Ohio, has additional addiction and rehabilitation resources. The city's commitment to encouraging health and freedom from addiction is spearheaded by the Fairfield County Alcohol, Drug Addiction and Mental Health Board. They provide online resources and directories and organize family and sober support groups. This board has long-term plans to support freedom from addiction and substance abuse in Fairfield County and Lancaster, Ohio.
Recovery Meetings Near You in Lancaster, Ohio
Non-Profit Organizations in Lancaster, Ohio
City of Lancaster, OH
From the Wahkeena Nature Preserve to the Christmas Rocks State Nature Park, Lancaster, Ohio is full of natural beauty. Lancaster's almost 40,000 residents enjoy annual Fairfield County fairs, parades, military flyovers at the LHQ Airport, and a rich American life. This family-oriented community also actively works to combat the national rise of drug and alcohol addiction. From its active D.A.R.E. program to local substance abuse treatment facilities, Lancaster provides its citizens with every opportunity to live happy, healthy addiction-free lives.
Addiction Resources in Nearby Ohio Cities
For those who are seeking alcohol and drug treatment facilities outside of Lancaster, Ohio, there are also many drug rehab resources across the state of Ohio: