Ohio has had the second highest rating for opioid drug overdose deaths in the United States. Almost $1 billion of Ohio's annual budget is dedicated to preventing and treating drug abuse.
These statistics represent real people whose lives are affected every day by the challenges of addiction. There are resources in Gallipolis, Ohio for drug and alcohol rehab, detox and recovery. Every person deserves treatment and the opportunity to live a clean and productive life.
Our Closest Facility:
Just a short drive down the road, The Recovery Village Columbus Drug & Alcohol Rehab is centrally located to solve any addiction problems you may have. Accepting all major insurance providers including medicaid and medicare, get admitted today and solve your addiction issues.
Gallipolis Drug and Alcohol Rehabilitation and Treatment
The state of Ohio is one of the 29 states to receive special funding from the Centers for Disease Control and Prevention to address drug abuse issues. The city of Gallipolis, Ohio, is a small community but still faces the challenges of addiction. Drug and alcohol abuse have widespread consequences in a community.
It is important for residents of Gallipolis who struggle with addiction to know that rehabilitation and treatment are effective and available in their area. Rehab options in the area, and also offered by The Recovery Village Columbus, may include:
Detox
Inpatient or residential care
Partial hospitalization
Intensive outpatient
Outpatient
Aftercare
Sober living support
Drug and Alcohol Detox Programs and Treatment Centers in Gallipolis, Ohio
People who are dependant on drugs or alcohol must first undergo detox. Detox and medical detox programs provide medical supervision and support through withdrawal. Physical support can be supplied in drug tapering and nutrition or wellness practices. It is essential that abstinence from substances happen in a well-equipped facility to ensure safety and ease symptoms.
Three treatment facilities within 30 miles of Gallipolis, Ohio, currently offer drug and alcohol detox programs. The Recovery Village Columbus also offers medical detox in a safe, supportive environment.
Gallipolis Residential Treatment Programs
Drug addiction treatment and alcohol recovery may begin with residential programs. An inpatient rehab facility provides 24-hour care. This care can include medical and psychological support. Inpatient alcohol rehab is an early stage of recovery that provides the highest level of supervision and care. Inpatient recovery programs set the course for extended treatment by breaking old routines, overseeing detox and familiarizing new patients with counseling and therapy.
There are currently four residential treatment programs within 30 miles of Gallipolis, Ohio. The Recovery Village Columbus also offers residential treatment.
Gallipolis Partial Hospitalization Programs
Partial hospitalization programs are a step down from inpatient care. People in this level of care only spend half of their time in the hospital and the other half of their time at home, depending on the facility requirements. As long as the participant's home environment is free from drugs or alcohol, this can be a great step in the recovery process.
Increased independence, while still receiving daily treatment, bridges the gap into a new way of living after addiction. Accountability and care continue, but independence is regained. There is currently one facility in Huntington, West Virginia, that is within 30 miles of Gallipolis and provides a partial hospitalization program. The Recovery Village Columbus offers this level of care as well.
Gallipolis Outpatient Treatment Programs
Outpatient treatment programs offer support for the later stages of addiction recovery. An outpatient drug treatment program can be provided to participants who have completed detox and are highly likely to independently abstain from substance use. When they no longer require constant supervision, patients may participate in relapse prevention and therapy sessions as a way to build a recovered lifestyle.
Individual counseling, group or family therapy, lifestyle support and medical treatments of co-occurring mental health issues may all be included in outpatient treatment programs. There are currently several options for outpatient care near Gallipolis, although these centers may be located outside the city limits.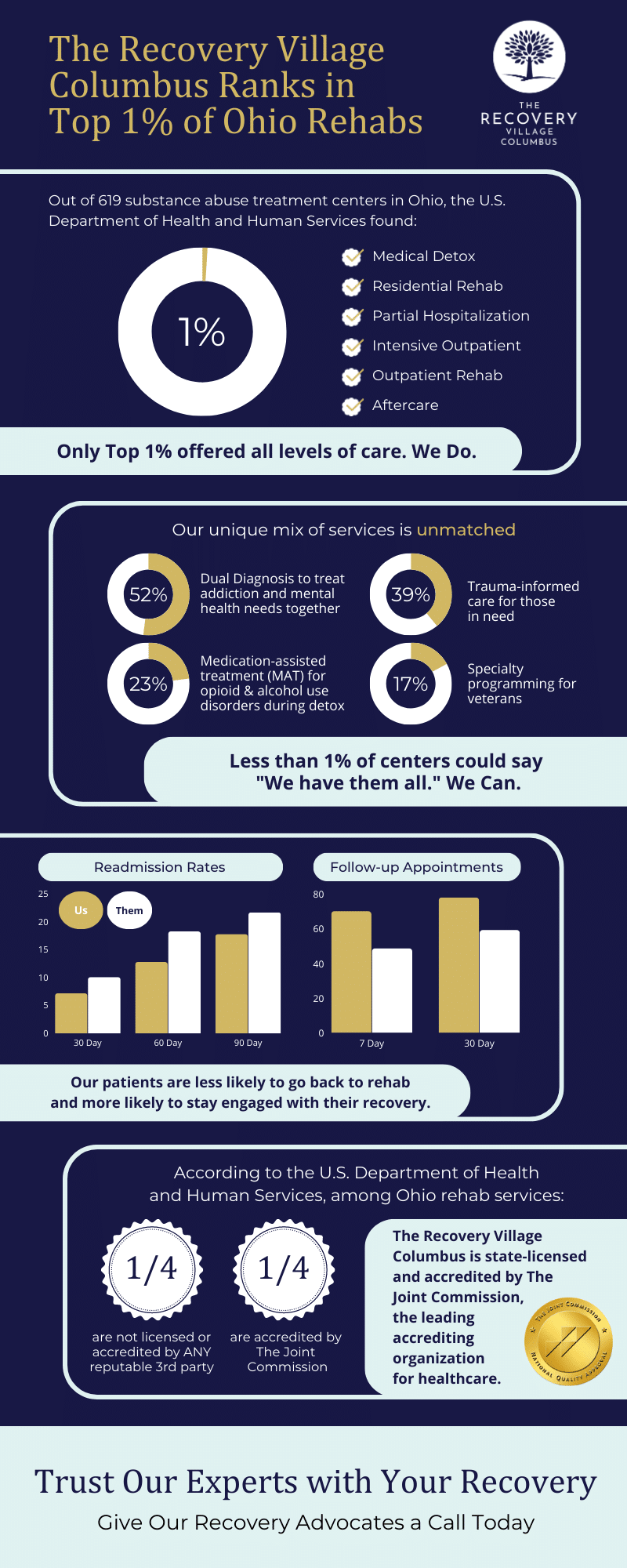 Sober Living and Rehab Aftercare Programs in Gallipolis, Ohio
The final stage of recovery is to incorporate continuing care that extends drug and alcohol rehabilitation treatment. Sober living and aftercare facilities provide a live-in environment that offers daily support and guidance. Residential assistance can provide addiction relapse prevention. Rehab aftercare may be the stage of drug rehab aftercare programs that is the most essential for long-term success.
Sober living programs typically provide the following:
Accountability
Positive and empathetic social relationships
No alcohol or drug use
A daily schedule and responsibilities
Therapy and counseling
Rehab alumni programs can be an element that sets new patterns. There are currently three sober living or aftercare programs within 30 miles of Gallipolis, Ohio.
Specialized Treatment Programs in Gallipolis, Ohio
Specialty treatment programs provide an opportunity for discrete groups of people to find treatment that can help them recover from drug and alcohol addiction. Rehab for veterans, rehab for PTSD, women's rehab centers, and rehab for teens are all nationally acknowledged subgroups who may require special kinds of care in recovery.
In Gallipolis, Ohio, there is one rehab for LGBT patients, one for persons with co-occurring mental and substance abuse disorders, one rehab for clients who have been referred from the court or judicial system, one for persons who have experienced trauma, and one rehab for pregnant women. Additional specialized programs may be available in nearby cities.
What Is the Process Like in a Drug Detox and Rehab Facility?
According to the National Institute on Drug Abuse, drug detox and rehabilitation should follow some key principles, including the fact that no single treatment is universally effective, a patient's needs are not merely physical but include emotional and psychological components, and that addiction is complicated but treatable.
The drug treatment process is similar across many kinds of centers. Entering into a treatment program can feel frightening. Eliminate the unknown by understanding that the early days of rehabilitation treatment will include introduction, assessment, orientation, meeting with medical and counseling professionals and logistical arrangements.
Treatment may include daily medicine, group therapy, and individual counseling. The routine of daily life in a treatment facility will probably include meals, recreation, rehabilitation and rest. Every element you experience during treatment is designed to contribute to your success.
Finding the Best Rehab Program For You
The National Institute on Alcohol Abuse and Alcoholism advises those seeking treatment to ask what is expected from the care providers and what is expected from the patients. The best rehab centers will be transparent about their credentials and the kinds of treatment they offer. The best drug rehab centers will provide a mixture of medical and psychological support through detox and recovery.
You may wonder how to find the best rehab center. The answer is to look for a licensed facility that has credentialed staff, to ask questions about the treatment courses and to decide if you can envision yourself succeeding in the care of those professionals.
What Questions Should You Ask When Considering a Treatment Program?
Asking good questions will arm you with as much information as possible as you take the important step of entering a treatment program.
The Substance Abuse and Mental Health Services Administration suggests asking questions like these:
Is the program accredited?
Are all therapies and research-based?
Are FDA-approved medications dispensed in treatment?
Will family members be included in the treatment process?
What ongoing support is provided for the chronic nature of addiction?
Success for drug and alcohol addiction could be one treatment program away. Don't hesitate to do research and find the treatment program that is right for you.
Exploring Treatment Options Near Gallipolis, Ohio
There are several treatment centers in Gallipolis, Ohio, that provide detox and rehabilitation services. Drug abuse treatment near Gallipolis is widely available, but partial hospitalization programs or specialized programs may require travel. There are positive and negative components of traveling for treatment.
Advantages of traveling for treatment:
Anonymity and privacy
Removal from environments of addiction
Specialized program availability
Drawbacks to traveling for treatment:
Financial considerations
Distance from family and friends
Location of aftercare support
Where you receive treatment may influence your recovery. You will want to take numerous factors into account when making this important decision in your recovery journey.
Additional Addiction and Rehabilitation Resources in Gallipolis, Ohio
Individual and group counseling, family group support, and ongoing sober living opportunities are available throughout the city. It is important to consider the full spectrum of needs you may have after rehabilitation on your journey to living fully recovered.
Local support is available for those pursuing an addiction-free life. Gallia County provides a special program for first-time felony offenders who struggle with drug and alcohol problems. This program refers them to treatment programs for their addiction. If they complete the program and comply with all regulations, the charges will be dismissed. The leaders and community of Gallipolis are ready and willing to stand with those in need of recovery.
Recovery Meetings Near You in Gallipolis, Ohio
Several group therapy and support groups exist in and near Gallipolis, Ohio.
Non-Profit Organizations in Gallipolis, Ohio
Non-profit organizations in Gallipolis, Ohio provide support and counseling those struggling with addiction.
City of Gallipolis, Ohio
Located on the Ohio River in Gallia County, Gallipolis is situated near the metropolitan areas of Charleston, West Virginia, and Columbus and Cincinnati, Ohio. With fewer than 4,000 residents, this small community is full of rich history and known as "The Old French City."
The nearest airport is in Huntington, West Virginia (HTS/KHTS). Gallipolis is located at 38.8098° N, 82.2024° W. This chartered village has hard working citizens who enjoy the Tu-Endie-Wei State Park, Mothman statues and Point Pleasant historic district and Riverfront Park. Citizens in Gallipolis are actively working to provide support for those struggling with alcohol or drug addiction.
Addiction Resources in Nearby Ohio Cities
For those who are seeking alcohol and drug treatment facilities outside of Gallipolis, Ohio, there are also many drug rehab resources across the state of Ohio: