The challenges of drug and alcohol addiction are prevalent in all cities and towns across America. Ocoee, Florida, is a small town that is not immune to such challenges. According to a comprehensive, nationwide survey by the Centers for Disease Control, nearly 90% of Americans have never been advised to reduce or quit drinking alcohol. Additionally, opioid and drug use in the state of Florida is widespread. The Florida Department of Health Drug Advisory Council seeks to reduce the consequences of drug use statewide through prevention, awareness and treatment. State and local resources work together to create opportunities that include drug and alcohol rehab, detox and recovery for those struggling with addiction.
While authorities and leaders are trying to do what they can to help with the problem, it's up to you to seek out the treatment you need. Learning about the different options that are available is the first step in a journey you will not regret taking.
Ocoee Drug and Alcohol Rehabilitation and Treatment
Ocoee is in the metropolitan area of Orlando, Florida. There are many drug and alcohol rehab options in the metropolitan Orlando area, including:
One hospital inpatient facility
Five residential treatment facilities
Two outpatient detoxification facilities
Two residential detoxification facilities
Three outpatient methadone, buprenorphine or naltrexone treatment centers
12 substance abuse treatment facilities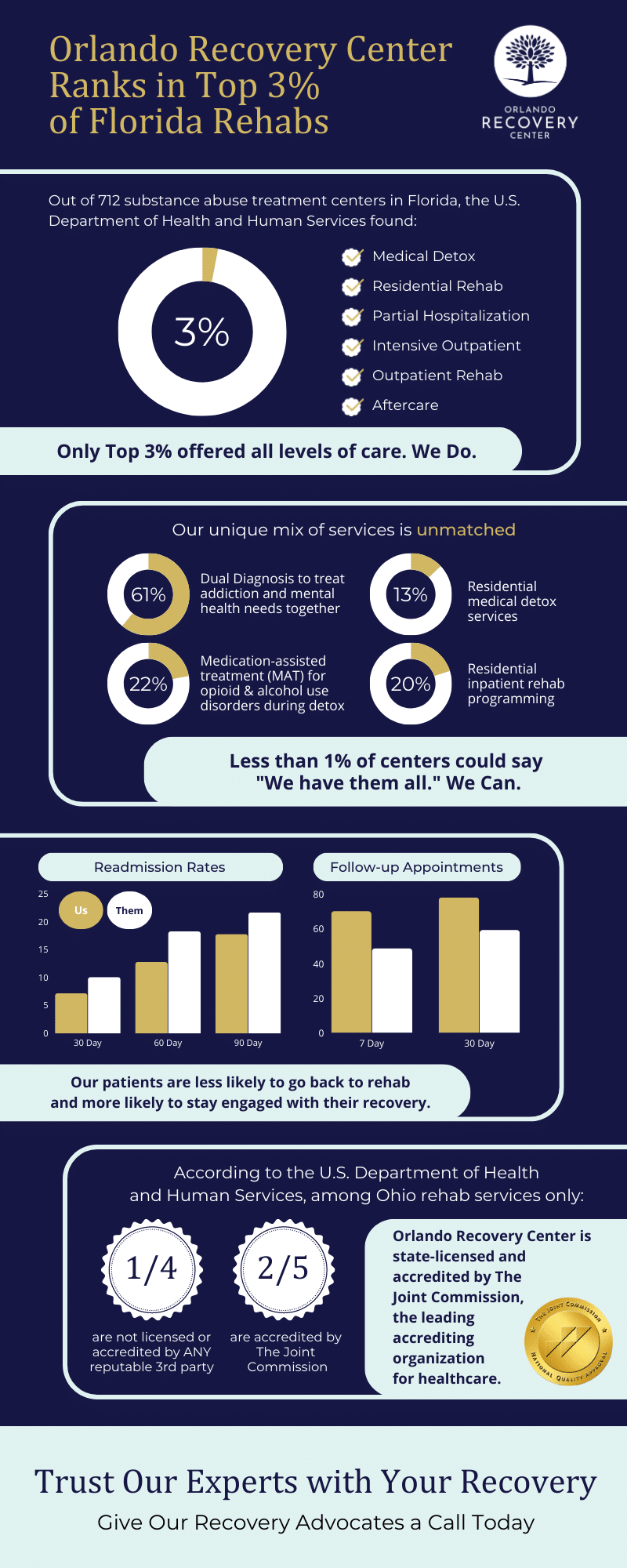 Drug and Alcohol Detox Programs and Treatment Centers in Ocoee, Florida
Detox programs provide therapies, support and accountability in the vital first days of sobriety. Entering a treatment center that facilitates drug and alcohol detox means that you will receive care throughout withdrawal. Drug replacement, medicine and other therapies will be available in medical detox to ease symptoms and provide comfort. Depending on your habits and lifestyle, the timeline and procedures for detox will vary. It is essentially important that detox takes place in a medically equipped facility overseen by professional care providers.
There are currently seven facilities located within 16 miles of Ocoee that provide detox and medical detox services.
What Is the Process Like in a Drug Detox and Rehab Facility?
The drug treatment process is an effective progression of treatments that will help empower individuals for long-term sobriety. Registering in a drug detox and rehab facility can take courage but it is a powerful step toward an addiction-free life. Some of the things you are likely to experience in rehab are:
Registration paperwork
Assessments
Facility tour
Program orientation
Support groups
Counseling
Medical therapies
Your course of treatment will be charted by medical professionals and mental health care providers as they process your assessment. Their understanding of your condition and your cooperation in the process will help your recovery.
Finding the Best Rehab Program For You
There are many similarities across treatment programs for drug and alcohol addiction. The best rehab centers will utilize the most effective drug therapies and the latest, research-backed treatment options. The best drug rehab centers will also effectively communicate expectations and outline your treatment plan to you through all stages of your recovery. Ocoee, Florida, and nearby areas offer many different kinds of rehab programs. Here are some aspects to consider when deciding how to find the best rehab center for you:
Are the care providers experts in their field?
Do you see evidence of research-based care?
Is there clear communication during introductions and assessment?
What is the plan for your long term success?
Lasting freedom from drug or alcohol addiction may begin with this treatment program. It is vital that you choose a program that will provide you with the best care.
What Questions Should You Ask When Considering a Treatment Program?
Drug and alcohol rehabilitation centers should provide enough information for incoming clients to have accurate expectations of their experience. The treatment program you choose will greatly influence your success in recovery. Consider asking the following questions:
Does insurance cover this service?
How will you be assessed?
What kind of treatment courses are available?
What is required for registration and admission?
What are the residential arrangements?
Does the facility have specific rules or regulations?
Are all staff qualified and credentialed?
Are all the treatments that you need available here?
Where and how you receive drug and alcohol addiction treatment can significantly influence your long-term recovery.
Exploring Treatment Options Near Ocoee, Florida
Drug abuse treatment near Ocoee, Florida, may provide a range of options. Sometimes specific times of therapy are only available in certain locations. Certain drug treatments, forms of hospitalization or specific treatments may be available but require travel. Traveling for treatment could be important for recovery. Consider the following:
Is there a specialized service or specialized facility that is not available in Ocoee?
Is there a specific drug treatment only available at certain facilities?
Could travel represent a negative distance from vital support systems and relationships?
Could travel provide a helpful distance from an environment of addiction behaviors?
Where is aftercare recovery available?
Choosing a treatment program that provides the right drugs, therapies and services is essential for long term recovery success.
Additional Addiction and Rehabilitation Resources in Ocoee, Florida
Ocoee is located in Orange County, Florida. Orange County's Drug-Free Coalition provides a multitude of parenting, adolescent, educator and community resources. Their initiatives include prescription drug disposal, fact sheets, parent training and public service announcements. Orange County runs a Heroes Against Heroin campaign that provides overdose prevention resources. The University of Central Florida also offers a comprehensive, educational prevention and recovery program for college students. Therapists and counselors who specialize in drug and alcohol addiction are available throughout the metropolitan area and in Ocoee.
Recovery Meetings Near You
Recovery meetings can be an invaluable resource as you transition from rehab, and they can help you maintain sobriety for a lifetime.
Non-Profit Organizations in Ocoee, Florida
Non-profit organizations near Ocoee, Florida, may provide additional drug and alcohol recovery resources.
Ocoee, Florida Substance Abuse Hotlines
If you or someone you are with needs emergency help for drug or alcohol abuse, you can call one of these numbers:
City of Ocoee, Florida
Ocoee, Florida, is a mid-sized town in central Florida. Ocoee is located at 28.5692° N, 81.5440° W and is near Orlando and Lake Apopka. The nearest large airport is Orlando International Airport (MCO). The population of Ocoee is about 25,000 people. Visitors can enjoy Magnolia Park, the West Orange Trail and Bill Breeze Park. Proximity to Orlando ensure access to entertainment and urban amenities. The Ocoee Police Department sponsors a drug take-back day and has K9 Units and a dedicated task force for substance abuse. A Teen Police Academy provides resources and support for drug prevention in adolescents. A large variety of drug and alcohol addiction rehabilitation centers and treatment options are available in Ocoee and nearby cities.
Addiction Resources in Nearby Florida Cities
For those who are seeking alcohol and drug treatment facilities outside of Ocoee, Florida, there are also many drug rehab resources across the state of Florida:
Medical Disclaimer
The Recovery Village aims to improve the quality of life for people struggling with substance use or mental health disorder with fact-based content about the nature of behavioral health conditions, treatment options and their related outcomes. We publish material that is researched, cited, edited and reviewed by licensed medical professionals. The information we provide is not intended to be a substitute for professional medical advice, diagnosis or treatment. It should not be used in place of the advice of your physician or other qualified healthcare providers.
Reach out now
We can help answer your questions and talk through any concerns.