Drug-and alcohol-related deaths are on the rise in America and Florida. The National Institute of Health estimates that 88,000 people die per year from alcohol-related deaths in the U.S, and drug overdose-related deaths are not far behind.
For people in and around the Mount Dora, Florida area looking for addiction recovery resources, there is a wide range of alcohol and drug detox services, including inpatient and residential care. Treatment options vary, so it's important to understand what to expect to better understand the recovery process.
Mount Dora Drug and Alcohol Rehabilitation and Treatment
The most vital aspects to understand about drug and alcohol rehab, treatment and detox are that there is no set of steps or a process that works for everyone. The best treatment plans are those that are customized for the individual and are designed to not only work with their goals of being free of addiction but also help them transition to a life free of substance abuse.
These types of treatment plans may include a singular focus on specific areas or may combine treatment options, including:
Detox
Inpatient care
Partial hospitalization
Intensive outpatient
Outpatient
Aftercare
The Recovery Village in Umatilla is an available resource for anyone who needs comprehensive rehab care. This facility offers most levels of care in a safe, supportive environment.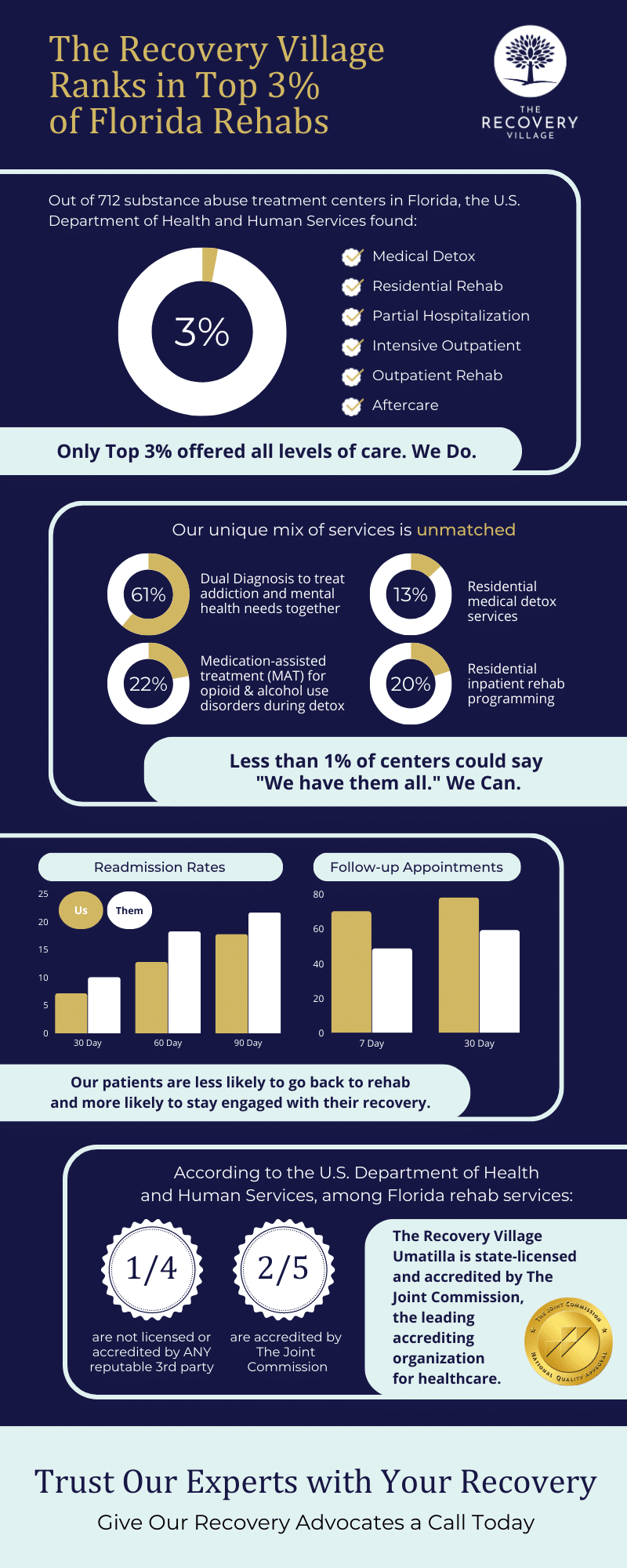 Drug and Alcohol Detox Programs and Treatment Centers in Mount Dora, FL
Detox is a necessary part of many drug and alcohol treatment programs. It helps the body to naturally flush out toxic substances, including drugs and alcohol, while helping to prepare the individual for their transition into further rehab programming like inpatient care.
And while there are no specific drug and alcohol and detox programs available in Mount Dora, there are several available in nearby Orlando, Florida, including:
Opioid detox (five programs)
Methamphetamine detox (three programs)
Cocaine detox (two programs)
Alcohol detox (three programs)
Benzodiazepine detox (three programs)
What Is the Process Like in a Drug Detox and Rehab Facility?
There is no complete drug treatment process that works for everyone. The best process is one that's tailored to the individual and incorporates their needs and goals in a way that's structured and easy to follow while keeping in mind the level of care that they need.
A typical rehab process includes:
Admissions
Throughout the admissions process, you or your loved one seeking recovery are introduced to your treatment team which can include doctors and other medical professionals who are experienced in helping people recover from addiction. You may undergo a comprehensive mental health screening to determine if there are any other underlying causes that should be untangled to give you the best possible recovery structure.
Detox
Detoxification removes drugs and alcohol from the body. It can be a challenging step for the body to adjust to functioning without drugs and alcohol, but this transition can be made easier with prescription medicines that ease the side effects that patients often feel. After detox, the transition to further treatment can begin.
Transition to Further Treatment
Inpatient treatment is often the next step toward recovery. In this step, the individual may undergo a variety of therapies to help them transition toward healthier coping and recovery skills. They may have counseling, cognitive behavioral therapy and whatever other solutions are deemed best to help them toward complete sobriety.
To learn more about the rehab process, visit this informational page from The Recovery Village.
Finding the Best Rehab Program for You
If you want to find the best drug rehab centers near you, you may discover that you have a few options in Mount Dora. In researching how to find the best rehab center, it's a good idea to consider other solutions outside of the city, such as in Orlando and nearby cities.
Keep in mind that no matter how you decide, the best rehab centers will be properly licensed and accredited.
What Questions Should You Ask When Considering a Treatment Program?
As you seek out different treatment programs, it's important to ask a variety of questions so that not only do you or your loved one feel comfortable but also so that you understand what to expect during your time there. Below are some of the most common questions to ask when considering a treatment program.
What type of licensing and accreditation does your facility have?
For a facility to be accredited, they will need to have an audit performed by the accrediting body in that state. Facilities that have met or exceeded the strict standards needed for accreditation have shown that they can provide treatment that adheres to the highest standards of client care.
Do you have full-time medical staff? 
Detoxification from drugs and alcohol can take a toll on the body, which is why it's a good idea to have medical staff available 24 hours a day, seven days a week. This fact allows medical professionals to intervene and helps the individual experiencing withdrawal to have a much smoother detox process.
What types of treatment services and programs do you offer?
Addiction and recovery centers offer a variety of programs that can align with your goals and help you overcome addiction. Be sure to ask each facility about the types of programs and services available.
What is the treatment approach for programs at your facility?
Every treatment program and approach is different, and the best ones are customized for the individual seeking treatment. Many of them pull from a variety of disciplines backed by evidence and science to best help the individual overcome addiction and work toward lasting sobriety.
Does your program include nutrition or other components of health and wellness?
Addiction affects more than just the brain. It can also affect the body, mental health, emotional health and more. The best programs offer solutions that help replenish the body with wholesome, healthy foods, recreational activity and much more.
What is the aftercare process once a patient completes detox and rehabilitation?
Like the treatment process itself, aftercare is an ongoing process that is designed to ensure that the patient is on the right course toward a life that's free of the temptation from drugs and alcohol. Understanding what this process entails is crucial to getting the full picture of the treatment protocol.
Do you accept insurance, and if so, what type of coordination do you offer in using insurance?
Being able to get the treatment you need shouldn't depend on your ability to pay. The best treatment centers will usually accept private health insurance policies.
For more questions and answers about rehab, view the frequently asked questions about rehab with The Recovery Village.
Exploring Treatment Options Near Mount Dora, FL
Looking for drug abuse treatment near Mount Dora may mean needing to look beyond the town itself into larger cities, where treatment options are much more varied and more easily available. Larger cities offer a greater variety of treatment options as well.
For example, some of the benefits of traveling for treatment may include:
You'll feel as if you're getting a fresh start
You can leave a potentially disturbing or detrimental home environment
You can focus solely on your treatment and recovery, rather than what might be happening with friends or family at home
You'll be away from the environment and pressures that are driving you to consume drugs or alcohol
You'll be away from stresses and triggers
You can feel anonymous in an out-of-state treatment facility
There may be some downsides to treatment, including:
Having to leave your family
The lack of a support network of family or friends who care about you
Needing to leave school or work
Additional Addiction and Rehabilitation Resources in Mount Dora, FL
There are many local addiction and rehabilitation resources available in Mount Dora, including support meetings and non-profit organizations.
You can use the Substance Abuse and Mental Health Services Administration's treatment finder tool to help you find precisely the type of treatment you're looking for. Through the interactive map, you can filter choices to find substance abuse treatment, counseling, health care centers and more.
Recovery Meetings Near You in Mount Dora, FL
Recovery meetings, including 12-step programs (like Alcoholics Anonymous) and SMART Recovery programs, are also available near Mount Dora.
Non-Profit Organizations in Mount Dora, FL
Currently available non-profit resources in and near Mount Dora include:
Mount Dora, FL Substance Abuse Hotlines
Having someone available to listen to your concerns, answer questions or just be there to offer support is the difference that a substance abuse hotline can make. Fortunately, there are several drug abuse hotline services available in Mount Dora and surrounding areas.  Help is available in Mount Dora through a local drug abuse hotline that is staffed 24 hours a day, seven days a week.
Parental Drug Support Helpline
For parents of teens and adolescents who want to voice their concerns about drug use and drinking or simply to ask questions:
1-855-DRUGFREE (1-855-378-4373)
9:00 a.m. – 9:00 p.m.
City of Mount Dora, FL
Known as "The Festival City" for its many monthly festivals, Mount Dora, Florida, located at 28°48′23″N 81°38′35″W, is famous for its small-town charm. Its many festivals include an art festival, a music festival, a craft fair, a regatta and a blueberry festival among others.
The town was originally named Royellou, for the founder's three children: Roy, Ella and Louis. It was renamed in honor of Dora Ann Drawdy, a settler to the town in the 1880s. Mount Dora is in Lake County and features prominently in the post-apocalyptic novel, "Alas, Babylon." The Tangerine Airport (FL97) is the closest airport to Mount Dora.
Addiction Resources in Nearby Florida Cities
For those who are seeking alcohol and drug treatment facilities outside of Mount Dora, Drug Rehabilitation and Substance Abuse Resources in Florida, there are also many drug rehab resources across the state of Florida:
Medical Disclaimer
The Recovery Village aims to improve the quality of life for people struggling with substance use or mental health disorder with fact-based content about the nature of behavioral health conditions, treatment options and their related outcomes. We publish material that is researched, cited, edited and reviewed by licensed medical professionals. The information we provide is not intended to be a substitute for professional medical advice, diagnosis or treatment. It should not be used in place of the advice of your physician or other qualified healthcare providers.
Reach out now
We can help answer your questions and talk through any concerns.