Drug and alcohol use is a growing epidemic in the United States. Approximately 15.1 million adults in the country were diagnosed with alcohol use disorder in 2015 and roughly 10% will experience a drug use disorder at some point in their life. The effects of substance use are felt all throughout the state of Florida, even in Flagler Beach. Just this year, the Florida County Sheriff's Office discovered and shut down an active drug house in the area.
According to Florida's Poison Control Centers, the majority of deaths in the state from poisoning are not the result of accidental ingestion of a harmful substance, but from the misuse of drugs. Most of their calls are linked to:
Synthetic marijuana or spice
Angel's trumpet
Although the misuse of alcohol and drugs is prevalent in the local area, resources for those who are seeking recovery are widely available, too.
Flagler Beach Drug and Alcohol Rehabilitation and Treatment
Flagler Beach is home to many services dedicated to substance use treatment including counseling, alcohol detoxification, substance abuse education and more. It is never too late to reach out for help.
Program options available nearby may include:
Detox
Inpatient care
Partial hospitalization
Intensive outpatient
Outpatient treatment
Aftercare
For people who are willing to travel, many locations of The Recovery Village are located in the Central Florida area and offer a variety of treatment programs.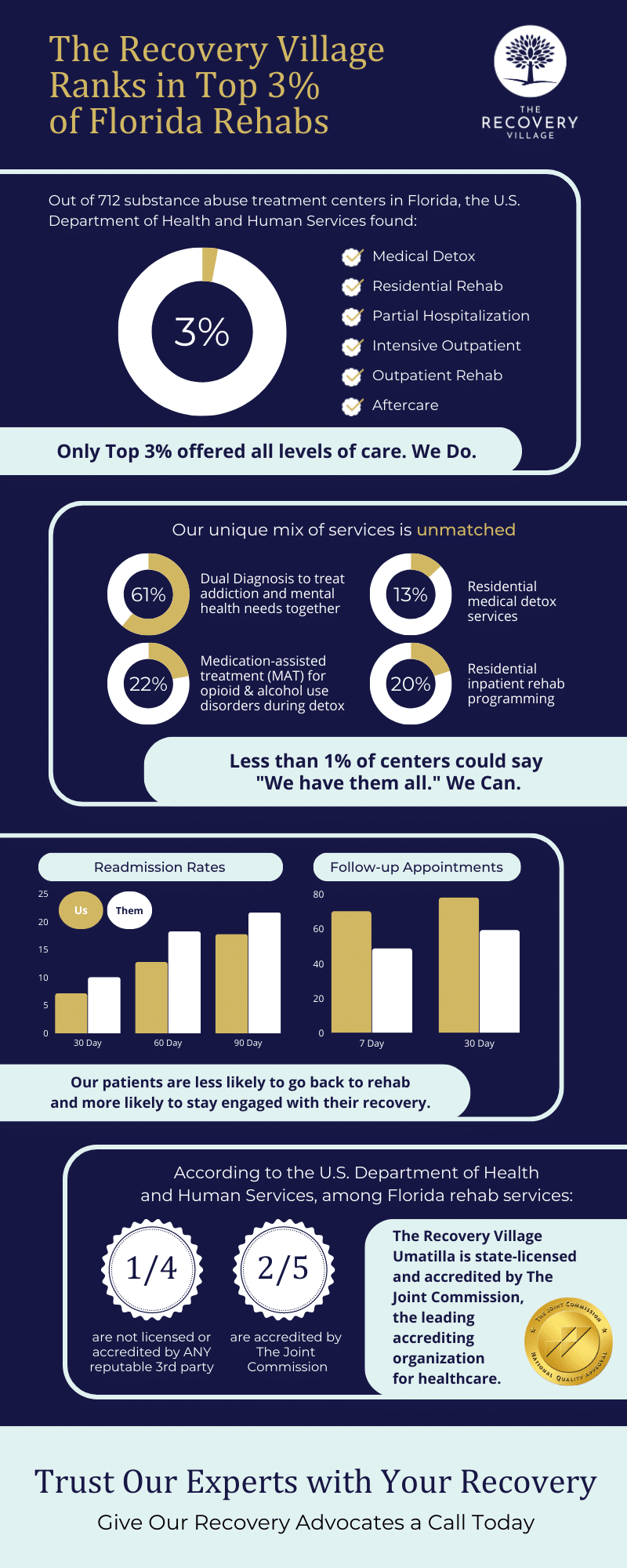 Drug and Alcohol Detox Programs and Treatment Centers in Flagler Beach, FL
Flagler Beach has one facility dedicated to alcohol detoxification. Alcohol is a highly addictive substance, causing many changes in the brain and body when used too often. In moderate to severe alcohol use disorders, the body becomes so dependent on the substance that stopping suddenly without proper help can prove fatal.
Alcohol detoxification allows a person to go through the withdrawal process in a safe and supervised manner. Treatment is targeted to one's individual health history, personal patterns of use and individual risk factors for secondary health effects.
At this time, Flagler Beach does have any facilities that specialize in drug detoxification. The closest metro area, Deltona, is not home to any drug detoxification programs either. To find a facility that can assist with a full range of treatment programs, consider searching other nearby areas such as Umatilla, Orlando and Maitland.
Although targeted drug detoxification services are not available, Flagler Beach has two treatment centers that provide resources to those wishing to seek help for their substance use. One residential facility and one outpatient detoxification center are located in the area and are available to help insured and cash-paying patients. For help locating a facility that accepts Medicaid or Medicare patients, search other locations in the Central Florida region.
What Is the Process Like in a Drug Detox and Rehab Facility?
Many people want to know what the alcohol detoxification or drug treatment process looks like. Although the journey toward recovery will look different for everyone, there are a few steps you can expect throughout the process.
To learn more about the rehab process, visit this information page from The Recovery Village.
Finding the Best Rehab Program For You
Finding the best rehab centers can be a difficult process. There are many factors you should consider during your search. The best drug rehab centers are those that have qualified professionals and make you feel comfortable during the rehabilitation process. It's always good to call facilities and ask important questions like:
Is the facility accredited?
What is the success rate for those who have sought treatment at the facility?
How does one pay for services?
What is the ratio of staff to patients?
What types of treatment are offered?
What type of access do family members have with patients?
How does the facility help its patients after they leave?
If you are wondering how to find the best rehab center in Flagler Beach, one facility is accredited by the Joint Commission.
What Questions Should You Ask When Considering a Treatment Program?
As part of your search for the perfect treatment program, consider asking the following questions:
What insurance does the facility accept?
What does the intake process look like?
When is payment due and how is it accepted?
What are the qualifications of the providers?
How many patients are in the program?
How many other patients does my provider have to care for?
Can the facility meet my physical, mental, emotional and social needs?
Do I require a specialized care program?
For more questions and answers about rehab, view the frequently asked questions about rehab with The Recovery Village.
Exploring Treatment Options Near Flagler Beach, FL
You may find that drug abuse treatment near Flagler Beach lies outside of the city boundaries. The closest Metro area is Deltona, however, recovery resources are not available here. For treatment outside of the Flagler Beach area look to other major metropolitan areas nearby.
Pros of Traveling for Treatment
If you find that you must travel for treatment, there are many reasons why it's a good thing. Traveling for treatment allows you to remove yourself from the place where your substance use began and helps you enter a new frame of mind during recovery. You will also find that treatment facilities in major metropolitan areas may offer more resources.
Cons of Traveling for Treatment
Traveling for treatment comes with many factors to consider. You will have to account for additional transportation costs. You will also want to be aware of whether the providers you are traveling to are inside of your insurance network. Although there are a number of factors to consider when traveling for treatment, seeking help no matter how far away is always better than delaying recovery.
Additional Addiction and Rehabilitation Resources in Flagler Beach, FL
If you are working toward recovery, there a number of addiction and rehabilitation resources in the Flagler Beach area.
Recovery Meetings Near You in Flagler Beach, FL
Several recovery meetings exist in and near Flagler Beach, including Alcoholics Anonymous, Narcotics Anonymous, SMART Recovery and family groups.
Non-Profit Organizations in Flagler Beach, FL
Flagler Beach is home to a number of non-profit groups that may offer services to those in recovery or seeking treatment including:
Flagler Beach, FL Substance Abuse Hotlines
For urgent information about substance abuse, contact your local drug abuse hotline. National substance abuse hotlines are also available including:
City Of Flagler Beach, FL
The city of Flagler Beach lies about 50 miles outside of Deltona, Florida. It is a city of roughly 4,484 people. The zip code is 32136 and it is primarily made up of White ethnicities. As of 2016, the cost of living in Flagler Beach was about average relative to the rest of the U.S. The closest airport is Daytona Beach International Airport (DAB). City coordinates are N 29.47, W -81.13.
Addiction Resources in Nearby Florida Cities
For those who are seeking alcohol and drug treatment facilities outside of Flagler Beach, Drug Rehabilitation and Substance Abuse Resources in Florida, there are also many drug rehab resources across the state of Florida:
Medical Disclaimer
The Recovery Village aims to improve the quality of life for people struggling with substance use or mental health disorder with fact-based content about the nature of behavioral health conditions, treatment options and their related outcomes. We publish material that is researched, cited, edited and reviewed by licensed medical professionals. The information we provide is not intended to be a substitute for professional medical advice, diagnosis or treatment. It should not be used in place of the advice of your physician or other qualified healthcare providers.
Reach out now
We can help answer your questions and talk through any concerns.