Florida has some of the highest rates of drug use in the United States. In 2018, the Florida Drug Advisory Council reported a 408% increase in deaths involving methamphetamine between 2013 and 2018. Additionally, nearly 74% of adults in the United States do not receive medical advice about the risks of excessive alcohol consumption during routine visits. Florida officials have identified some of these gaps in accountability and support and are creating statewide strategies and solutions. Local communities are an integral element of eradicating substance abuse.
For residents of Destin, Florida, drug and alcohol rehab, detox and recovery resources are available. Learning more about the options in your area and the state of Florida is the first step to getting the treatment you need.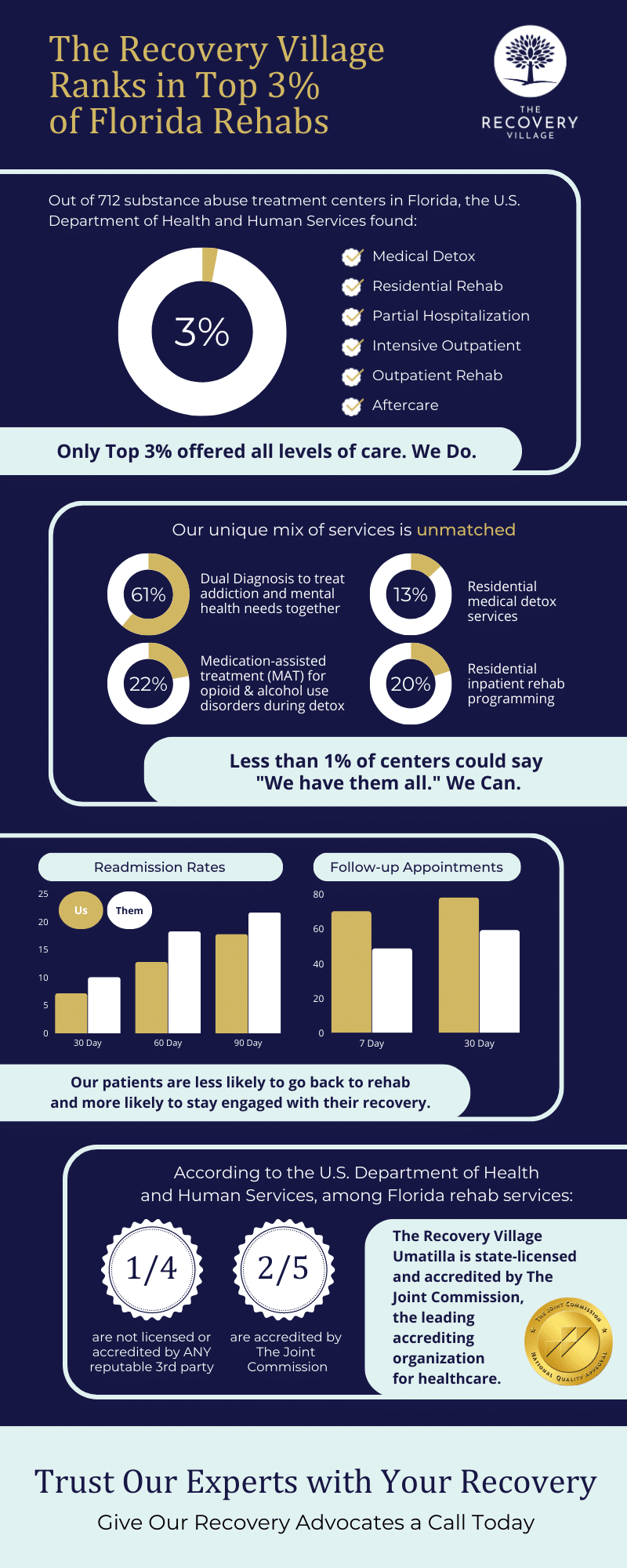 Destin Drug and Alcohol Rehabilitation and Treatment
A variety of treatment options are available to people seeking drug and alcohol rehabilitation and treatment. If you are seeking treatment for drug or alcohol addiction, you will want to learn about the following options:
Partial hospitalization programs
Detox
Intensive outpatient treatment programs
Outpatient treatment programs
Aftercare programs and activities
Inpatient treatment programs
Sober living homes
While you will most likely only take advantage of some of these treatment options and resources, learning more about what they are will help you to decide which type of treatment is best for you.
Drug and Alcohol Detox Programs and Treatment Centers in Destin, Florida
Drug and alcohol detox programs are conducted in a hospital or medical treatment center. A well-equipped facility will provide drug tapering, drug replacement and other therapies to provide comfort as the body detoxes from drugs or alcohol.
Detox programs are a first important step to overcoming reliance on substances. Removing drugs or alcohol from the body is done safely and with support from medical and counseling professionals. Ongoing therapies may include continued medicine or replacement drugs and a regular schedule of counseling and mental health services.
There are currently two facilities in Destin that offer detox. There are currently three other facilities located within 34 miles that are equipped to oversee medical detox as well.
Finding the Best Rehab Program For You
Drug and alcohol addiction treatment in the best rehab centers should aim for comprehensive addiction recovery. Prescription medicine and behavioral treatments should be available as well. The best drug rehab centers will provide a long-term treatment plan for addiction recovery. A holistic approach should also be part of an addiction treatment plan. Here are some guidelines that can help you as you figure out how to find the best rehab center:
Find a reputable database that helps you locate a treatment center near you
Confirm that the program is licensed and accredited
Review and confirm that all staff are qualified
Interview and tour, asking questions about guidelines and procedures
An assessment will be used to triage all incoming clients. The best rehab centers will use this assessment and present a meaningful and effective recovery plan.
What Questions Should You Ask When Considering a Treatment Program?
A quality drug and alcohol detox and rehabilitation facility will begin by helping you understand what to expect. It is important that the place where you receive treatment is a good fit for you in every way. You will experience many important moments at this treatment center. It will be helpful to ask questions before you commit to treatment at a facility. Some of your questions may include considerations for:
Insurance and billing
Medical care
Facility rules
Residency options
Support groups
Counseling
Drug therapies
Specialized treatment
The drug and alcohol treatment center you choose can be the environment that supports you as you achieve significant breakthroughs and progress in your life.
Exploring Treatment Options Near Destin, Florida
Limited drug abuse treatment options are available in Destin. Specialized treatment and facilities may require traveling to a nearby city or town. Many treatment facilities are available nearby but you may have to travel for specific treatments and for therapeutic approaches. If you are considering traveling for treatment, consider the following pros and cons of leaving your area:
Pros:
Access to specific medicines, therapies or treatment
A feeling of removal from the environment of addiction
Access to specialized programs
More options for sober living facilities
Cons:
Distance from supportive family and friends
An unfamiliar environment
The cost of moving or commuting
Increased stress
There are advantages and disadvantages to many decisions in the course of recovery from addiction. It is most important that your well-being is the highest priority as you decide where to receive care.
Additional Addiction and Rehabilitation Resources in Destin, Florida
The local chapter of Certified Drug and Alcohol Counselors (CDAC) provides a multitude of resources to residents in Destin, Florida and Okaloosa County. Services include school presentations, resources for low-income families, intervention services and parenting services. Okaloosa County provides court-ordered classes and incarceration alternatives for drug offenders. Many counselors, therapists and non-profit organizations are available in and near Destin for those who are seeking drug and alcohol recovery support.
Recovery Meetings Near You in Destin, Florida
Recovery meetings can be a great way to receive support from people who understand addiction as you maintain your sobriety. They can also be a critical resource if you have relapsed and need help getting back on track.
City of Destin, Florida
Destin, Florida, is located in the Florida panhandle. Destin is near the Gulf of Mexico and home to many beautiful beaches. Destin is located at 30.3935° N, 86.4958° W. Visitors to Destin will see ocean views and can visit the Big Kahuna water park, the Destin Harbor Boardwalk and take excursions to Crab Island. The nearest large airport is Pensacola International Airport (PNS). Destin is nicknamed the "World Luckiest Fishing Village" and attracts sportsmen and beach lovers. The Okaloosa County Sheriff's Office provides crime prevention resources as well as classes to educate citizens. Drug take-back programs and citizen safety forces are two of the ways the department empowers residents to be proactive about substance abuse issues. Regular news reports and online resources are also available to citizens. Those in Destin seeking drug and alcohol rehabilitation can find support in the community to recover from addiction.
Addiction Resources in Nearby Florida Cities
For those who are seeking alcohol and drug treatment facilities outside of Destin, Drug Rehabilitation and Substance Abuse Resources in Florida, there are also many drug rehab resources across the state of Florida:
Medical Disclaimer
The Recovery Village aims to improve the quality of life for people struggling with substance use or mental health disorder with fact-based content about the nature of behavioral health conditions, treatment options and their related outcomes. We publish material that is researched, cited, edited and reviewed by licensed medical professionals. The information we provide is not intended to be a substitute for professional medical advice, diagnosis or treatment. It should not be used in place of the advice of your physician or other qualified healthcare providers.
Reach out now
We can help answer your questions and talk through any concerns.