Gainesville Drug & Alcohol Rehab, Detox & Treatment Resources
Substance misuse is a concern across the state of Florida. Gainesville in Alachua County is no exception. Throughout the county, opiate misuse, including heroin, is on the rise. The Gainesville-Alachua County Drug Task Force warns that heroin use is especially problematic in the area because dealers are using fentanyl in heroin. At 80 times the potency of morphine, fentanyl can readily cause an overdose. There is also an increase of opiate misuse in the form of prescription pain medicine.
Paramedics across the county report a surge in the rate of overdose cases they've encountered while on emergency calls. In addition, Gainesville Fire Rescue has increased their use of naloxone, an antidote to opiate overdose. They've used naloxone to prevent overdose from illegal drugs as well as from prescription medication.
The Alachua community has a plethora of resources to help combat substance misuse. In addition to treatment centers, people who are suffering from addiction can find help from community support, faith groups and educational prevention programs. If you're suffering from substance use disorder, the path to recovery is just over the horizon.
Gainesville, Florida Alcohol Rehab Centers and Drug Rehab Centers
Finding the right treatment center is the key to a successful recovery. Gainesville has several alcohol and drug rehab centers that offer various treatment programs, including outpatient counseling, inpatient partial hospitalization/work programs and residential long-term inpatient care. Are you seeking a drug rehab center in Gainesville, FL, or an alcohol rehab center in Gainesville, FL?
Deciding which care facility best suits your needs can be confusing. Make sure to ask questions to determine the best fit. Such questions might focus on the number of patients who graduate from the program, the number of patients who return to the program and the relapse rate of graduates.
Here is a breakdown of the types of programs offered throughout the United States:
Residential Treatment Programs
Residential treatment programs offer a haven away from all the triggers of daily life. With 24/7 staff and medical support, residential treatments will begin with detox when needed and move into group and individual therapy and skills training sessions. This is the most intense method of treatment.
Partial Hospitalization Programs
Partial hospitalization programs scale down from the residential programs and, instead, provide patients with part-time, ongoing therapy for the length of the program. During this time, the patient lives at home and commutes to the hospital or treatment facility for approximately 20 to 25 hours a week. Patients will participate in group and/or individual therapy sessions dependent upon their clinical diagnosis.
Outpatient Treatment Programs
With outpatient treatment programs, patients live at home and attend meetings on a regular basis to help them in the continued recovery from their addiction. These programs offer guidance, support and education to help patients make healthy lifestyle choices.
Also, consider the location. Do you want a treatment center that's close in proximity and convenient to your home? Would you prefer the anonymity of a treatment center in another city that allows you to concentrate on recovery without distractions from daily life? Explore how a national treatment center like The Recovery Village can help.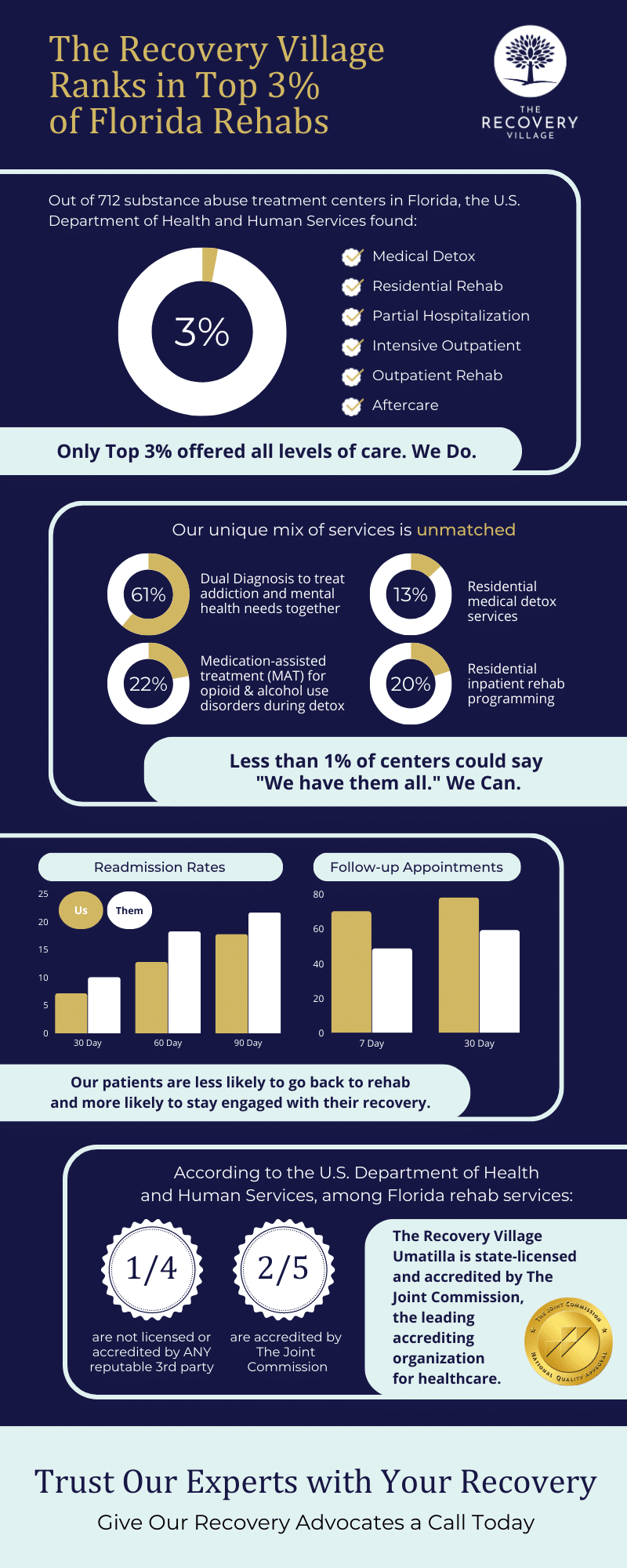 Detox Centers
Detoxing from drugs or alcohol is an essential part of recovery. The detoxification process can be difficult and even dangerous if not properly supervised. If you or someone you know is attempting to end an alcohol or drug dependence, make sure to seek proper medical care. For a successful recovery, seek out a facility that looks beyond detox and envelops patients in full treatment.
Gainesville has many detox facilities. If these feel too close to home, and you're looking for a more neutral treatment center away from your habitual triggers, there are a variety of national treatment centers across the country that host acclaimed experts in their field.
Recovery Meetings Near You
The work toward a substance-free life doesn't end with treatment. After completing a program, it is important to keep up support, motivation and education by joining and participating in recovery programs. See below for more information on various recovery program meetings:
If you or a loved one is suffering from substance use disorder, it's easy to find drug and alcohol addiction treatment facilities in Gainesville, Florida. However, there are many additional resources outside of Gainesville that can provide you with help. By looking to other areas, you may find meetings, centers or doctors that better suit your needs. Seeking treatment outside of your area may also help you avoid common habits and triggers that lead to relapse as well as give you a break from your daily routine.
Addiction Resources in Nearby Florida Cities
For those who are seeking alcohol and drug treatment facilities outside of Gainesville, Florida, there are also many drug rehab resources across the state of Florida:
Medical Disclaimer
The Recovery Village aims to improve the quality of life for people struggling with substance use or mental health disorder with fact-based content about the nature of behavioral health conditions, treatment options and their related outcomes. We publish material that is researched, cited, edited and reviewed by licensed medical professionals. The information we provide is not intended to be a substitute for professional medical advice, diagnosis or treatment. It should not be used in place of the advice of your physician or other qualified healthcare providers.
Reach out now
We can help answer your questions and talk through any concerns.