Clearwater Drug & Alcohol Rehab, Detox & Treatment Resources
Rampant drug misuse continues to affect the United States. More than 63,000 people died in 2016 due to drug overdoses and more than 42,000 — around 66 percent of those deaths— involved opioids. The state of Florida is no exception, and cities like Clearwater have been affected as much as any other city.
The misuse of prescription opioids like oxycodone are on the rise. In 2014, nearly two million people misused prescription painkillers. Illegal drugs like heroin and methamphetamine also continued to endanger people's lives.
Pinellas County, which includes Clearwater and with St. Petersburg, was among the top five Florida counties with the highest arrest rate for drug possession, according to a 2016 report by the American Civil Liberties Union and Human Rights Watch. In Pinellas County, there were more than 31,000 drug possession charges between 2010 and 2015.
For individuals living in Clearwater, Florida, and suffering from drug or alcohol addiction, there are treatment options available. The Recovery Village can guide you through the process and provide information pertaining to drug and alcohol rehab, detoxification centers and additional resources in Clearwater and other areas of the country.
Finding Drug and Alcohol Rehab in Clearwater, Florida
A comfortable habit, no matter how dangerous it is, can be difficult to stop. Many people suffer from substance use disorders after becoming addicted to prescription drugs. This dependence can form either just from a prescription or as a gateway to an illegal drug such as heroin or meth. When an addiction to either drugs or alcohol is present, rehabilitation is often the safest and most effective way to begin the healing process.
While recovery is an ongoing process, it often begins at a drug or alcohol rehabilitation center. There are at least three Clearwater drug and alcohol rehab options, but they might be government-funded facilities or non-profit organizations. National rehabilitation centers like The Recovery Village can offer a wider range of services, including treatment for co-occurring disorders such as mental illnesses.
The Orlando Recovery Center, which is part of The Recovery Village's network of facilities, is approximately two hours away from Clearwater. While there, patients can find a safe and supportive environment to begin healing from their substance use disorders. Rehab centers like Orlando Recovery Center and others nationally branded facilities throughout the United States may be able to help you learn ways to better manage your substance use disorder.
Inpatient Treatment Programs
Inpatient residential treatment programs take place at a facility, where patients receive 24-hour supervision. This type of treatment often is the best choice for people beginning their recovery from drugs or alcohol addiction, as clients who enter inpatient rehabilitation receive the support and care necessary to build a solid foundation for their recovery. Doctors and nurses provide medications, when applicable, and monitor withdrawal symptoms in a safe environment. Clients often stay between 30 and 90 days, although the length of time varies on each individual's unique situation and their overall level of addiction.
Partial Hospitalization Programs
Partial hospitalization programs have fewer restrictions for patients than inpatient programs and are sometimes recommended for people who have gone through detoxification and previously completed an inpatient treatment program. A partial hospitalization program provides housing and access to medical staff during a client's time at the facility.
Outpatient Treatment Programs
An outpatient treatment program can be ideal for patients who have less-severe addictions or have experienced a rehabilitation program before. Individuals who take part in an outpatient treatment program can choose where to live and with whom, including by themselves or with family members. People who are in outpatient programs often can continue their day-to-day responsibilities during their treatment.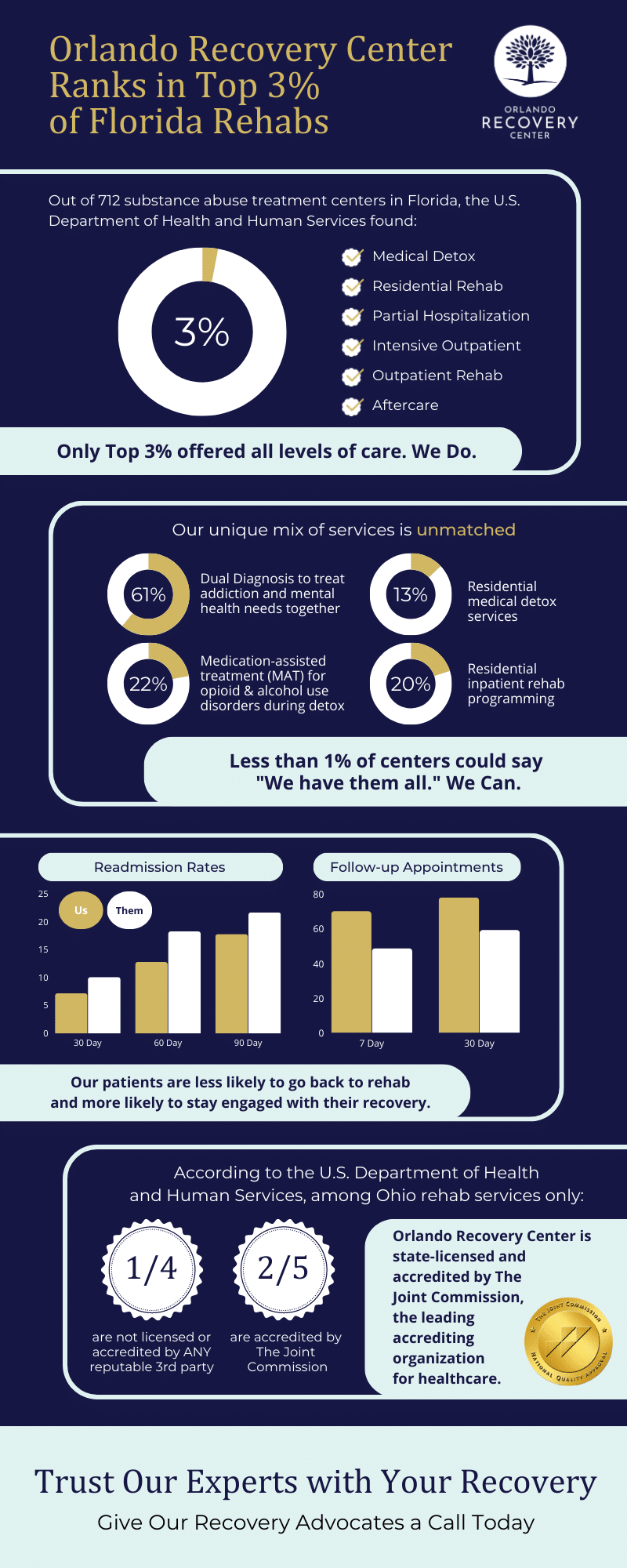 Alcohol Rehab Centers and Drug Rehab Centers
Alcohol rehab centers and drug rehab centers are the safest places for people suffering from a substance use disorder to heal from their illness. The doctors and nurses at these facilities understand the struggles that people affected by this disease face, and they can provide comfort and resources to help their patients heal. The first step is detoxification, which is best done under 24-hour medical supervision. Clearwater drug detoxification is available for people who are addicted to harmful substances and wish to begin a healthier life.
Once detoxification is completed, people may continue to experience some withdrawal symptoms. This period of time has the most risk for recurring use, and enrolling in a rehab center is the most effective way to continue recovery while avoiding potential setbacks. Clearwater drug treatment facilities and Clearwater alcohol treatment facilities are available for people who wish to remain close to home while receiving the necessary medical care.
Commonly Abused Drugs in Clearwater, Florida
The state of Florida reported in 2014 than 2,062 deaths were attributed to prescription drugs. However, alcohol was responsible for 3,675 deaths, more than any other drug.
Heroin is one of the most misused drugs in Clearwater, Florida, which is troublesome since it's an extremely addictive substance. There were 447 deaths due to heroin in Florida in 2014, which was a record high for the state. Fentanyl, a powerful opioid medication, was detected in 538 Floridian deaths in 2014. Oxycodone was blamed for the deaths of, or detected in the bodies of, 978 people who died that year. Alprazolam, the main ingredient in the anti-anxiety drug Xanax, was detected in, or blamed for, 1,316 deaths.
Prescription drugs are high on the list of the most misused drugs in Florida, and Clearwater is not an anomaly. The National Survey on Drug Use and Health reported that around 4.6 percent of people who live in Pinellas County reported misusing a prescription pain-relief drug between 2005 and 2010. This is on par with Florida's rate of 4.7 percent of people who reported similarly.
Around 10.1 percent of people living in Pinellas County misused marijuana between that same time period, which is close to the 10.2 percent for the entire state.
Substance Abuse Hotlines
For people seeking help navigating through the recovery process, help is available. Hotlines can provide useful information about each commonly misused drug, its potency and potential for addiction, and the safest treatment methods. Some of the most common hotlines that can help people who live in Clearwater, Florida, are:
Alcohol misuse hotline
Prescription drug misuse hotline
Heroin addiction hotline
Marijuana addiction hotline
Xanax misuse hotline
Fentanyl misuse hotline
Oxycodone addiction hotline
Clearwater Drug and Alcohol Detox Centers
Detoxification from drugs or alcohol can be one of the most challenging aspects of a person's rehabilitation from addiction. Clearwater detoxification centers can provide constant medical assistance as people attempt to remove these toxins from their system and endure physical withdrawal symptoms such as nausea and vomiting sweating, headaches, fatigue, irritability, itchiness and other forms of discomfort. These detox centers can help mitigate withdrawal symptoms and make the process more comfortable for patients, thus preventing them from encountering the dangerous side effects that could come from at-home detox attempts.
While a detox center can help remove drugs or alcohol from a person's system, this is just the first step in the recovery process. Facilities with a wide range of treatment options can provide further levels of care to build off the foundation that comes from a successful detox. These methods include individual and group counseling, administering medication when appropriate and finding healthy activities for patients to help cope with psychological withdrawal symptoms and cravings.
Recovery Meetings Near You
Even when detox and rehabilitation is complete, recovery from drug or alcohol addiction doesn't end. People should continue their progress by working through any co-occurring disorders and making healthy choices to build a supportive network. This includes attending recovery meetings, which places individuals with others who also struggle from substance use disorders. Finding and building supportive  connections could be crucial to the long-term viability of a person's recovery. There are several kinds of recovery meetings in Clearwater, Florida.
There are other nearby cities with treatment options and recovery meetings. Since alcohol and drug addiction often can cause struggles for people in familiar surroundings, many people elect to attend a facility and recovery meetings outside of their home city. When looking for drug addiction treatment in Clearwater, looking to neighboring cities might be wise. The Recovery Village has facilities nearby in Orlando and Maitland.
Addiction Resources in Nearby Florida Cities
For those who are seeking alcohol and drug treatment facilities outside of Clearwater, Drug Rehabilitation and Substance Abuse Resources in Florida, there are also many drug rehab resources across the state of Florida:
Medical Disclaimer
The Recovery Village aims to improve the quality of life for people struggling with substance use or mental health disorder with fact-based content about the nature of behavioral health conditions, treatment options and their related outcomes. We publish material that is researched, cited, edited and reviewed by licensed medical professionals. The information we provide is not intended to be a substitute for professional medical advice, diagnosis or treatment. It should not be used in place of the advice of your physician or other qualified healthcare providers.
Reach out now
We can help answer your questions and talk through any concerns.