Brooksville Drug & Alcohol Rehab, Detox & Treatment Resources
Brooksville is a sleepy, little town enclosed by the lush Withlacoochee State Forest and the Chassahowitzka National Wildlife Refuge and Coastal River Swamps. All this natural beauty is enough to get lost in, but natives are opting for something much more dangerous than anything found in the swamps and mangroves: drug and alcohol misuse. Brooksville's proximity to Orlando and Tampa has allowed this epidemic to engulf this picturesque village.
Drug trafficking is big business in western Florida, and it's destroying families throughout Florida. The rustic locale is struggling with this dangerous issue. Hernando County is one of several counties declared as a High Intensity Drug Trafficking Area (HIDTA). In 2012, the Center for Disease Control cited prescription drug misuse reached outbreak proportions in the United States.
If you're seeking information on alcohol and drug treatment facilities in Brooksville, Florida, there's reason to be hopeful. There are more than a dozen resources available to you. If you'd like to speak with someone about your Florida rehab options, call The Recovery Village, where an intake coordinator can give you information about how treatment in Brooksville and other areas of the country can help you heal.
Brooksville, Florida Alcohol Rehab Centers and Drug Rehab Centers
There are many rural areas in Florida being harmed by substance misuse. Alcoholism in the United States is complicating the circumstances with its oversaturated availability. The peace of the wild is damaged by alcoholism and addiction. Prescription opioids have outrun cocaine as the most common drug in Brooksville. Treatment programs often incorporate a mix of inpatient and outpatient care as well as partial hospitalization. Are you seeking a drug rehab center in Brooksville, FL, or an alcohol drug rehab center in Brooksville, FL? Understanding the differences between these options can help you find a facility to meet your needs.
Residential Treatment Programs
Residential treatment programs provide continual access to medical staff. Inpatient or residential programs utilize the present community to positively influence one another's progress. People and elements outside treatment may be temporarily forbidden to prevent regression.
Partial Hospitalization Programs
Partial hospitalization programs are a level down from residential treatment programs, offering the patients a little more flexibility. The same treatment programs including therapy and classes is available at this level.
Outpatient Treatment Programs
For the patient who has a supportive environment to go home to, outpatient treatment is beneficial. They may also stay in housing on campus if it's available.
With numerous options for treatment in Hernando County trying to choose the right facility can be a crapshoot. It's paramount to take careful consideration of the pros and cons of each recovery path. Be honest with yourself regarding if the course of action will be effective or if it will leave you vulnerable to this chronic illness in the future.
National clinics like The Recovery Village are trailblazers in chartering the vanguard of treatment technologies, advocating for patient services while providing unique and comfortable atmospheres where you can stretch your wings and learn how to live on your own terms again.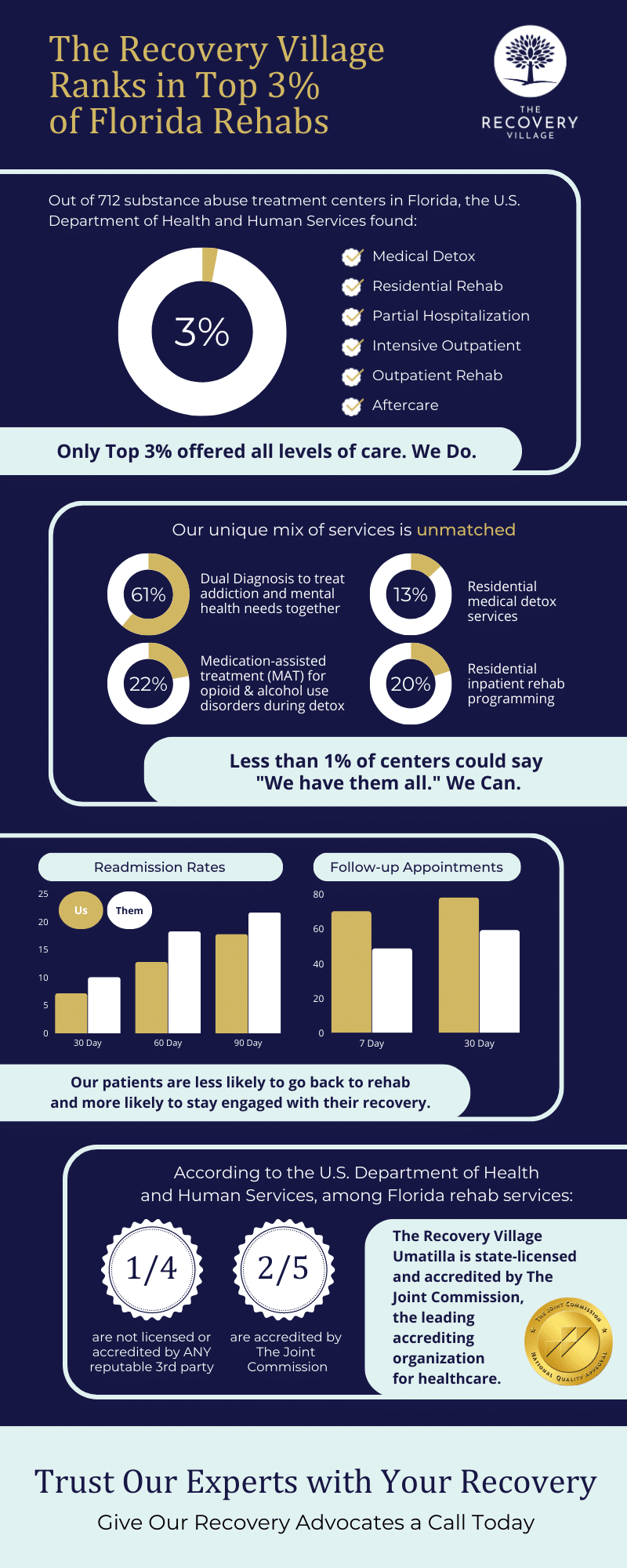 Detox Centers
Admitting to yourself that you've become powerless to a substance is a hard reality to face. Sobriety may feel like a dream when you're caught in the jaws of drug and alcohol misuse, but you can do this. Detoxification is where you begin your odyssey toward defeating this illness. Your body must be cleansed from the toxins you've been ingesting. You're not alone in this journey. There are many resources to help you.
Detoxification can be completed via an inpatient program, giving the professionals the chance to observe you while preventing any risks to your health and discouraging relapses. Outpatient clinics allow access to medical facilities without a residential setting. Outpatient services are constructive but may incur more challenges for the recovering person.
Recovery Meetings Near You
Sobriety success depends on your commitment to the path. After you have completed an inpatient or outpatient treatment program at a drug or alcohol rehab in Brooksville, Florida, you must find a recovery program. Aftercare programs like SMART Recovery and Narcotics Anonymous provide an atmosphere where all types of people are welcome.
Acknowledge the big step forward you've taken in deciding to find treatment for your disease. It's a brave action to admit that you need help. Brooksville is a small town, and when you're thinking about drug addiction treatment in Brooksville, Florida, it's worth it to consider leaving to take advantage of the resources available at a national clinic. It may seem hard to uproot your life, putting your relationships and work on pause while you recover, but national treatment facilities often have the most cutting-edge treatments available. They also remove you from a situation that contributed to the health and strength of your disease. You deserve the respect, privacy and empathetic professionals to help you get clean.
Addiction Resources in Nearby Florida Cities
For those who are seeking alcohol and drug treatment facilities outside of Brooksville, Florida, there are also many drug rehab resources across the state of Florida:
Medical Disclaimer
The Recovery Village aims to improve the quality of life for people struggling with substance use or mental health disorder with fact-based content about the nature of behavioral health conditions, treatment options and their related outcomes. We publish material that is researched, cited, edited and reviewed by licensed medical professionals. The information we provide is not intended to be a substitute for professional medical advice, diagnosis or treatment. It should not be used in place of the advice of your physician or other qualified healthcare providers.
Reach out now
We can help answer your questions and talk through any concerns.