Arcadia Drug & Alcohol Rehab, Detox & Treatment Resources
Florida can be a tropical paradise. Yet, in some cities like Arcadia, drug and alcohol abuse can be a real issue. Desoto County is one of many locales designated as a High Intensity Drug Trafficking Area (HIDTA). In 2012, the Center for Disease Control classified prescription drug misuse as an epidemic in the United States.
Central Florida is ideal for the trafficking of illegal substances too. The Gulf Coast is on one side and the Atlantic Ocean on the other with several highways connecting across to the mid-Atlantic and the Southwestern states. The town's convenient location to the rest of the United States, Mexico and the Caribbean makes substances widely available to Arcadia, Florida. Thankfully, there's a wide array of treatment options available in the area too.
The compunction surrounding addiction and its victims can keep people from asking for help. It doesn't need to be unnecessarily painful for struggling individuals to get the help they so desperately need. The information surrounding addiction and its treatment have advanced in the past twenty years. Substance use disorder is a chronic illness, not a personal failure. Psychiatry has proven the fact that addiction is a sickness and depending on your genetics, brain chemistry, location and personal circumstances anyone could be caught in addiction's deadly grip.
Our Closest Facility:
The Recovery Village does not operate in the state of Alabama. Our closest facility is in Orlando, FL and can be seen in the map above.
Arcadia, Florida Alcohol Rehab Centers and Drug Rehab Centers
No step in the rehabilitative process is easy but the detox stage requires courage. Detoxification can be difficult, but must start with flushing the toxins from your system. And with a team of medical professionals providing 24-hour care, your recovery will be possible. Are you seeking a drug rehab center or an alcohol rehab center? Facilities like The Recovery Village offer these types of programs and more:
Residential Treatment Programs
Residential treatment provides around-the-clock care. Most inpatient treatment models are based on the environment of a therapeutic community. This fellowship allows patients to heal in a monitored setting, receiving the care they need until they are ready to transition to more autonomous levels of care.
Partial Hospitalization Programs
Partial hospitalization programs (PHP) offer more pliancy than inpatient treatment programs. It's common for partial hospitalization programs to locate accommodations for their patients. Partial hospitalization facilities often provide 24-hour access to medical personnel.
Outpatient Treatment Programs
In outpatient treatment, patients may reside in program housing or at home, although this varies depending on the specifics of each outpatient program. This level of care gives people the most freedom as they transition back to daily living.
There are a copious number of options for drug addiction treatment in Arcadia, Florida. Trying to choose the right place to hold your battle is as important a decision as choosing to get sober. Be realistic when you're considering your strengths and weaknesses and how it impacts your drug misuse. You may need to leave your home to get well. Recognize the roadblocks to your sobriety, and strategize with a program that can help you lift those blocks.
The Recovery Village is one such option for care, and a pioneer leading the way in the treatment of addiction and substance misuse. The Recovery Village works with leading experts while providing lush amenities in support of your sobriety and well-being.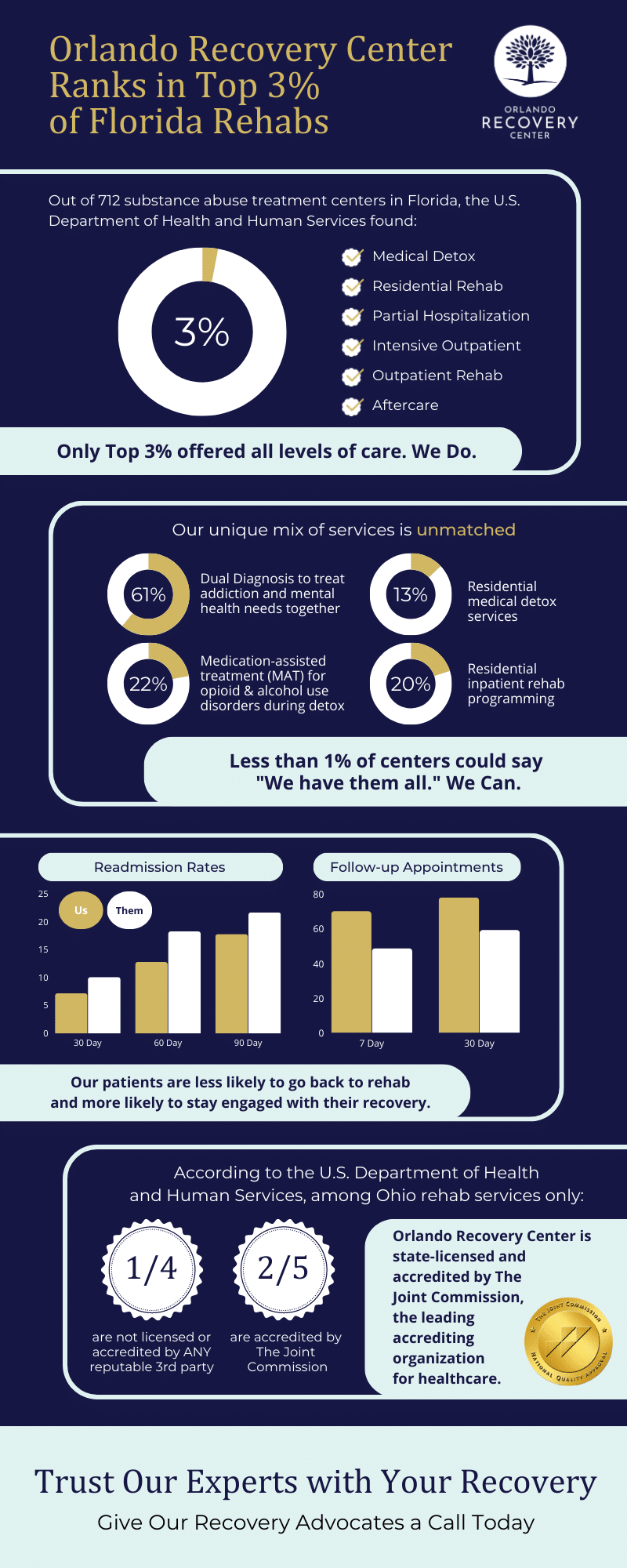 Detox Centers
Arcadia is a locus of the United States' addiction problem. Fortunately, there is a team of rehabilitative experts that can guide toward better health. If you're fighting with addiction, there are plenty of detoxification choices available in the Arcadia area.
Wellness must begin with the cleansing of any misused substances from your body. It's a brave step forward to clear the fog from your life. Detox is necessary, but it requires medical supervision to be both safe and effective. The detoxification stage is the first battle in the fight against addiction, but it doesn't mean the disease has been defeated.
Battling addiction requires expert care. After you've completed detox, then the work of confronting your specific issues begin. Treatment can aid you in building tools to respond to life's hardships in a healthy manner, without using substances as a crutch. Extracting yourself from stressful circumstances in tandem with continual access to therapeutic resources could make the difference in whether you'll become a statistic or living your life on your own terms.
Recovery Meetings Near You
Fellowships like Alcoholics Anonymous and Narcotics Anonymous have been helping people get better for almost a hundred years. The flexibility of these post care meetings make them accessible for folks from all walks of life. Above all else, these meetings are a safe space where you can connect with others who have experience fighting against this disease.
Addiction Resources in Nearby Florida Cities
For those who are seeking alcohol and drug treatment facilities outside of Arcadia, Florida, there are also many drug rehab resources across the state of Florida:
Medical Disclaimer
The Recovery Village aims to improve the quality of life for people struggling with substance use or mental health disorder with fact-based content about the nature of behavioral health conditions, treatment options and their related outcomes. We publish material that is researched, cited, edited and reviewed by licensed medical professionals. The information we provide is not intended to be a substitute for professional medical advice, diagnosis or treatment. It should not be used in place of the advice of your physician or other qualified healthcare providers.
Reach out now
We can help answer your questions and talk through any concerns.