Lady Lake Drug & Alcohol Rehab, Detox & Treatment Resources
In the epidemic of drug and alcohol addiction this country is seeing, Florida is taking a big hit. Deaths attributed to heroin overdoses in the state increased by an average of nearly 90 percent between the years 2011 and 2012. In some counties in the state, these deaths increased by over 120 percent. This issue is destroying many people's lives, and it is a serious problem for the state of Florida.
While opioids are definitely a big concern for Floridians, other substances are just as big of an issue. Both legal drugs (prescription opiates, benzodiazepines and stimulants) and illegal drugs (marijuana, methamphetamine and cocaine) are taking Florida by storm and damaging families all over the state.
The issue, really, is that because of the negative stigma associated with drug and/or alcohol addiction in this country, it is very difficult for those affected to ask for help. Society looks down on alcoholics and drug addicts, which further prevents them from getting the help they need. However, addiction is a disease, and anyone who suffers from substance use disorder deserves to be treated, just as patients with other illnesses like cancer and fibromyalgia deserve treatment.
Fortunately, there is no shortage of treatment options for those looking for drug addiction treatment in Lady Lake, Florida. The state is home to many excellent treatment centers and recovery programs, and Lady Lake is no exception.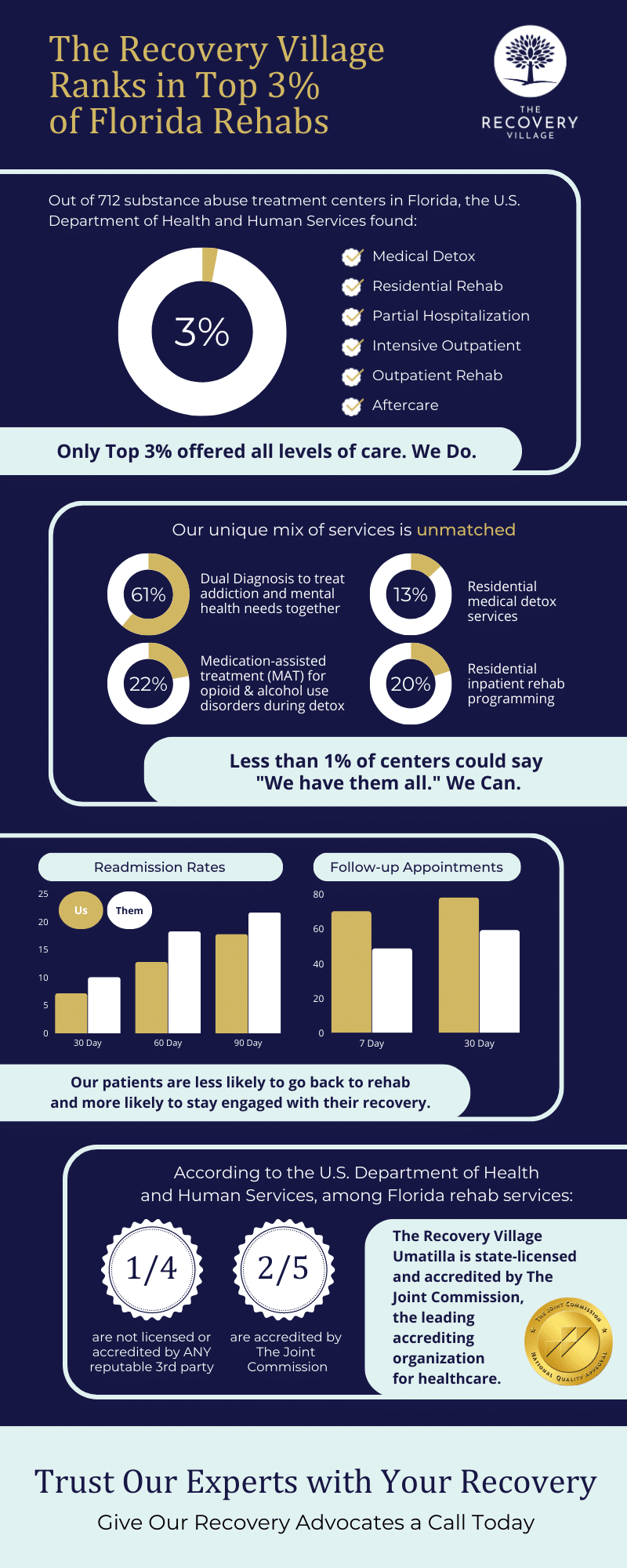 Commonly Abused Drugs in Lady Lake, FL
Substance abuse can begin after using a drug just once. Cocaine, alcohol, marijuana, meth and prescription drugs are some of the drugs most often abused in Lady Lake, Florida.
Substance Abuse Hotlines
If you're struggling with drug or alcohol addiction, representatives on help hotlines are available to talk 24 hours a day, seven days a week.
Lady Lake, Florida Alcohol Rehab Centers and Drug Rehab Centers
There are different levels of treatment programs. Some patients begin with inpatient treatment programs and then move to a partial hospitalization program or an outpatient treatment program. It will really depend on what your current situation is. Whether you're seeking a drug rehab center in Lady Lake, FL, or an alcohol rehab center in Lady Lake, FL, it's important to understand the nature of the different treatment programs.
Residential Treatment Programs
In a residential, or inpatient, treatment program patients have 24-hour access to medical professionals. These types of programs are most suitable for patients who have severe addictions or a prolonged history of addiction issues. Typically, a residential treatment program starts after a patient has been detoxed.
Partial Hospitalization Programs
A partial hospitalization program (PHP) is a step down from residential treatment. Patients participate in structured therapy and medical care during the day in a PHP, for a set amount of hours per week. Patients are allowed to live at home if they have access to a safe and stable environment.
Outpatient Treatment Programs
For patients who have already completed the higher levels of treatment or for patients who present with a milder form of substance use disorder, an outpatient treatment program may be suitable. In an outpatient treatment program, patients stay in a stable and safe home or in housing that is available on campus.
When you are considering the different levels of treatment, assess your situation to determine the best program for you. Consider your addiction history. Consider the length of your addiction, the type of substance(s) you are addicted to and whether or not you need medical detox. Consider what type of treatment your insurance will cover or what type you can afford. It's good to know where you are before you talk to an addiction specialist who can help you.
Many patients opt to go with a national network of treatment facilities. National treatment centers are staffed with professionals and experts than can help you come up with the best plan.
Detox Centers
There are different options for detox centers in Lady Lake. The first step to getting sober is to eliminate the substances from your body. It's also good to have medical assistance when detoxing so that withdrawal symptoms don't become so overpowering that you end up using again. Having medical assistance means that your symptoms will be monitored and treated.
Remembering that detox is only one step, though, is important. If your situation requires it, it may be ideal to attend a facility that has treatment programs available for you as well as a detox program. While detoxification is an important aspect of physical addiction, in a treatment program, you can address the underlying mental, emotional, spiritual and psychological issues of your addiction.
Addiction Resources in Nearby Florida Cities
For those who are seeking alcohol and drug treatment facilities outside of Lady Lake, Florida, there are also many drug rehab resources across the state of Florida:
Recovery Meetings Near You
Finding a recovery program such as Alcoholics Anonymous or SMART Recovery is an important part of aftercare. In this program, you can find the support you need to avoid relapse. In Lady Lake, there are many different options for recovery and support group meetings for you to consider.
Medical Disclaimer
The Recovery Village aims to improve the quality of life for people struggling with substance use or mental health disorder with fact-based content about the nature of behavioral health conditions, treatment options and their related outcomes. We publish material that is researched, cited, edited and reviewed by licensed medical professionals. The information we provide is not intended to be a substitute for professional medical advice, diagnosis or treatment. It should not be used in place of the advice of your physician or other qualified healthcare providers.
Reach out now
We can help answer your questions and talk through any concerns.