Lake Mary, Florida, is a city in Seminole County. Lake Mary is a suburb of Orlando in Central Florida. It's only about 19 miles from Orlando.
The area is seeing the effects of substance misuse and, in particular, the opioid epidemic. In 2017, there was a meeting of the Seminole County Opioid Task Force to discuss the increase of deadly opioid use in the area, including fentanyl.
So, what if you live in Lake Mary and are struggling with addiction to opioids or another type of substance misuse? Treatment options are available both near Lake Mary, in other parts of Florida and throughout the United States. A big part of receiving the help you need is knowing where to start your search.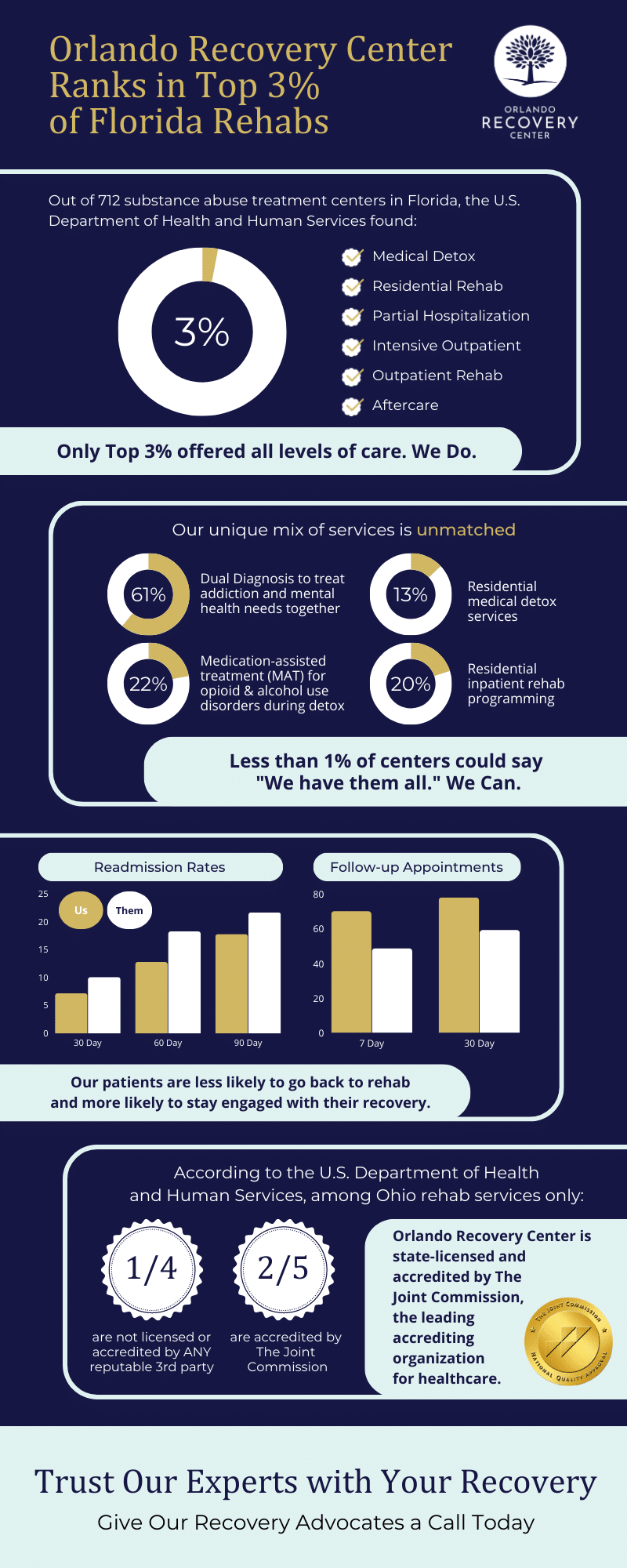 Lake Mary, FL Drug and Alcohol Rehabilitation and Treatment
Addiction to drugs or alcohol is a complex, chronic disorder. It often requires different steps in the treatment process, known as a continuum of care. For example, someone might first participate in medical detox. Detox, when supervised, can help alleviate some of the more severe or dangerous symptoms of withdrawal.
Once someone completes detox, there are different types of treatment programs and levels of care. For example, there is an inpatient residential treatment. There are also partial hospitalization programs, outpatient rehab and aftercare programs.
Drug and Alcohol Detox Programs and Treatment Centers in Lake Mary, Florida
Along with The Recovery Village and Orlando Recovery Center, there are around 53 substance misuse treatment programs in Lake Mary and nearby. Programs are in Sanford, Winter Springs, Longwood and other local cities and towns. Central Florida drug and alcohol programs include supervised inpatient and outpatient detox, residential treatment, outpatient rehab and partial hospitalization programs. Specialized treatment options are available near Lake Mary as well.
Lake Mary Residential Treatment Programs
Before beginning a residential treatment program, you must check into treatment, where medical staff performs an evaluation. You then live on-site for the duration of the program. This allows for an immersive, intensive and distraction-free treatment environment. An inpatient rehab facility may include on-site detox as well. At an inpatient alcohol rehab or drug addiction treatment center, holistic care is often available, including different types of therapy, medication management, and recreational therapy.
Orlando Recovery Center and The Recovery Village offer individualized residential treatment programs near Lake Mary. There are a total of 14 inpatient rehabs located within 25 miles of Lake Mary.
Lake Mary Partial Hospitalization Programs
After a patient has detoxed and completed residential care, they may participate in a partial hospitalization program (PHP). During PHP treatment, patients do all-day therapy sessions and receive in-depth care. Some facilities offer on-site housing during this level of care, while others encourage clients to live at home in a supportive environment. A PHP can be a starting point for a continuum of care. A PHP can also be a later step in the recovery process after an individual completes inpatient rehab.
Nine programs are located within 25 miles of Lake Mary, including partial hospitalization programs. The Recovery Village in Umatilla is one of these options.
Lake Mary Outpatient Treatment Programs
Outpatient drug treatment doesn't require living at a treatment facility. When someone does an outpatient rehab program, they can sometimes still go to school or work and keep up with other commitments while receiving treatment. Outpatient treatment programs can vary in duration, programming and intensity. There are 22 substance misuse programs near Lake Mary offering intensive outpatient treatment. Thirty-nine programs offer regular outpatient treatment.
Sober Living and Rehab Aftercare Programs in Lake Mary, FL
When you leave treatment, you face the challenges of daily life. You're no longer in the safe, supportive environment of a rehab center. This can prove challenging, which is why aftercare planning and continuing care are such a vital part of a treatment plan.
Relapse prevention, sober living homes, and checking into drug rehab aftercare programs and aftercare facilities can all be part of continuing care. Participation in rehab alumni programs and support groups can also be part of rehab aftercare plans.
Specialized Treatment Programs in Lake Mary, FL
For the best long-term outcomes, it's imperative that your treatment program match your needs as closely as possible. This could mean that you attend a treatment center that offers specialized programming. Examples of specialized treatment programs in Lake Mary and nearby include:
32 women's rehab centers and treatment programs, including in Winter Park and Orlando
16 substance misuse programs near Lake Mary, including rehab for pregnant women and postpartum women
18 programs with rehab for teens and treatment for adolescents within 25 miles of Lake Mary.
Rehab for veterans, which is available at 22 substance misuse treatment programs and centers near Lake Mary
35 nearby treatment options for someone who requires dual diagnosis care for a co-occurring disorder
26 local programs for victims of sexual abuse
31 centers and programs, including locations in Apopka and Winter Park for people who have experienced trauma or who have PTSD
Rehab for LGBT clients available at 23 treatment centers near Lake Mary
What Is the Process Like in a Drug Detox and Rehab Facility?
Being armed with knowledge and having at least a general understanding of what to expect can help alleviate some of the anxiety you may be feeling about rehab.
Rehab should be individualized and tailored to who you are as a person, however, some general transitional phases typically occur in the drug treatment process.
When you arrive at a rehab center, you will likely go through the intake process. This includes a physical and mental health evaluation to talk about your history of substance misuse. Honesty and a willingness to be open and transparent are important because your treatment team builds your plan around what admissions staff learn about you during your assessment.
The next phase is detox if you haven't already completed a detox program prior to arriving at a treatment center. The focus of this time is on helping you deal with the symptoms of withdrawal and monitoring you to ensure you're safe.
Following a full detox, the next phase of treatment is rehabilitation. You'll explore the deeper issues related to your substance misuse and start to learn about living without the use of drugs or alcohol during this time.
When you complete rehabilitation, your aftercare plans start. Maintaining your recovery can be something you work on for years to come, or even for the rest of your life.
Finding the Best Rehab Program for You
Many of the best drug rehab centers offer great treatment, but whichever center you choose needs to be a good fit for your personal needs. As you explore how to find the best rehab center for you, weigh your personal needs and preferences with the reputation and qualifications of the treatment center.
Things you might want to ask yourself as you select a rehab center might include:
Are you comfortable with traveling for treatment?
Is a specialized program a good option for you—for example, if you are the victim of sexual assault or abuse, you might find you're most comfortable in a single-gender program.
Do you have certain religious preferences?
Is your addiction severe? Is it a long-term addiction? What level of care are you most likely going to need at the start of treatment?
Is your family interested in being part of treatment in any way?
What Questions Should You Ask When Considering a Treatment Program?
Once you think about your personal needs, you should evaluate the qualifications of the treatment center you're considering going to. Below are questions you may ask a rehab center as you learn more about what they offer and determine if it could be a match for you.
Additional Addiction and Rehabilitation Resources in Lake Mary, FL
Beyond rehab, connecting with additional addiction and rehab resources in Lake Mary can help you on your path toward long-term recovery. There are support groups such as 12-step programs and nonprofits that you may find useful in your recovery.
Recovery Meetings Near You in Lake Mary, FL
Having a social support network is a critical component of relapse prevention and long-term recovery. This can come from family and loved ones, but also from people who have faced similar situations to your own. Recovery meetings can be a valuable part of an aftercare plan. Recovery meetings can follow the 12 steps, but alternatives like SMART Recovery are also an option.
Non-Profit Organizations in Lake Mary, FL
Below are non-profit organizations in Lake Mary and groups that offer support and services related to mental health and substance misuse.
Lake Mary, FL Substance Abuse Hotlines
National and local substance abuse hotlines and drug abuse hotlines can help you find the help you or a loved one need. In addition to local drug abuse hotlines and crisis services are often available 24 hours a day. For non-emergency questions about rehab and substance use treatment, reach out to The Recovery Village.
The City of Lake Mary, Florida
Lake Mary, Florida is a city in Seminole County that is considered family-friendly and relatively quiet. Lake Mary is a suburb of Orlando, about 20 miles north of downtown Orlando. Lake Mary offers easy access to the parks and resorts of Orlando, and the city recently opened the Lake Mary SunRail Station, which has promoted development in the area. The nearest major airport is Orlando Sanford International Airport (SFB), which is around six miles from Lake Mary. Orlando International Airport (MCO) is around 34 miles from Lake Mary. The location of Lake Mary, FL is 28.7589° N, 81.3178° W.
Addiction Resources in Nearby Florida Cities
For those who are seeking alcohol and drug treatment facilities outside of Lake Mary, Florida, there are also many drug rehab resources across the state of Florida:
Medical Disclaimer
The Recovery Village aims to improve the quality of life for people struggling with substance use or mental health disorder with fact-based content about the nature of behavioral health conditions, treatment options and their related outcomes. We publish material that is researched, cited, edited and reviewed by licensed medical professionals. The information we provide is not intended to be a substitute for professional medical advice, diagnosis or treatment. It should not be used in place of the advice of your physician or other qualified healthcare providers.
Reach out now
We can help answer your questions and talk through any concerns.