Deltona Drug & Alcohol Rehab, Detox & Treatment Resources
Florida is a gateway for international drug-trafficking. Its coastline provides ready access for a multitude of smuggling operations. With tons of drugs making their way through Florida to other parts of the United States and Canada, it is no wonder that the state also is known for major substance misuse among its residents.
According to research provided by the Substance Abuse and Mental Health Services Administration (SAMHSA), 410,000 Floridians aged 12 and older were victims of substance use disorder in 2013-14, the latest statistics available. The same study found a little more than 1 million Florida residents 12 and over misused or were dependent on alcohol.
Deltona, situated midway up the state's coastline in Volusia County, is certainly not immune to these trends. In 2016, county health statistics indicate there were 262 drug-overdose deaths per 100,000 population. The mortality rate from drug overdoses was 17 percent. The actual number of drug-overdose deaths is staggering when you consider Deltona is part of a county of approximately 500,000 residents. Heroin and prescription opioid drugs make up a large percentage of the problem.
If you are seeking drug or alcohol rehab in Deltona or other parts of the country, there are numerous resources and agencies that are available. There is help for those who have become dependent on these chemicals and want to make a change.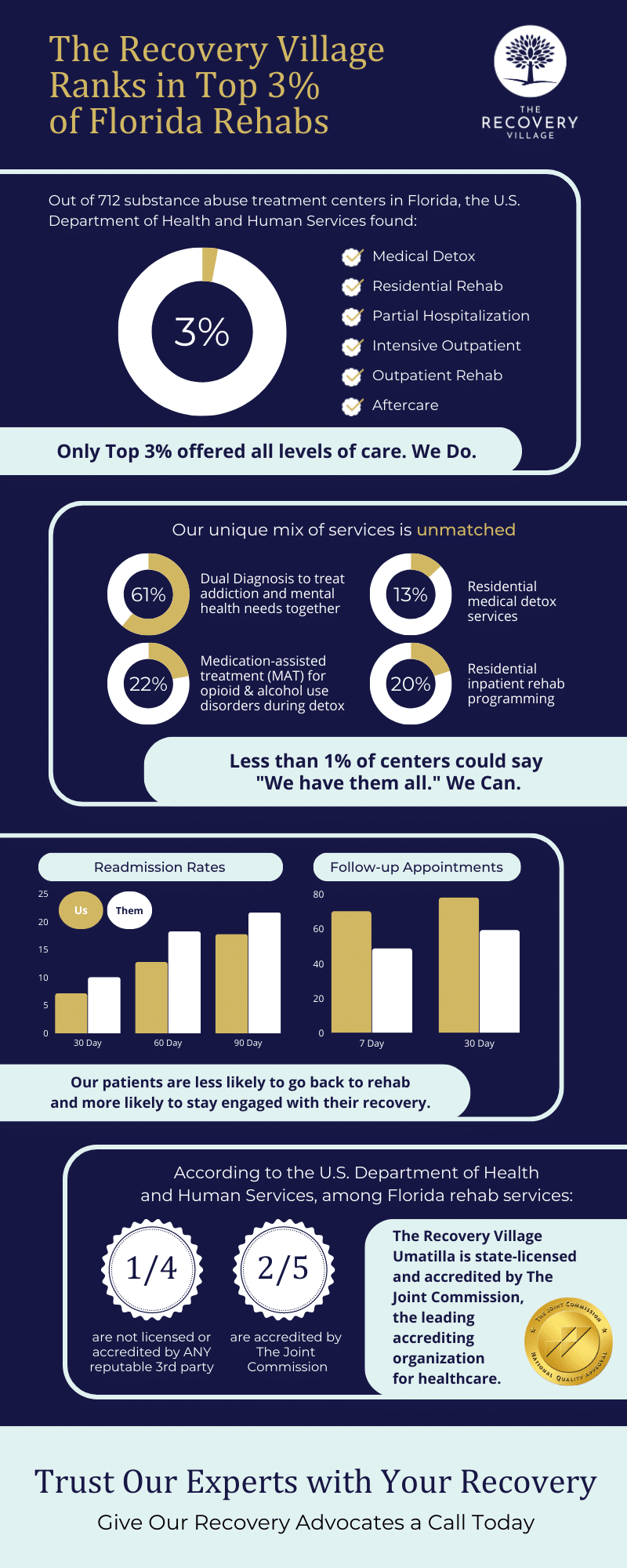 Deltona, Florida Alcohol Rehab Centers and Drug Rehab Centers
Are you seeking a drug rehab center in Deltona, FL? The city is fortunate to have many different treatment options available, all within city limits or within a relatively short driving distance. There are 43 substance recovery facilities within a 25-mile radius of the community. Treatments range from detox — the crucial first step — to residential programs that let patients focus on goals in a structured, safe environment. Here are some details about the range of programs:
Residential Treatment Programs
These programs are long-term, individualized recovery programs that most often run 30–90 days. They occur in an inpatient or residential setting. The benefits include the fact that you are in a substance-free and supportive atmosphere and the longer therapy period can help encourages long-term healing. There are no fewer than four residential facilities less than 20 miles from Deltona.
Partial Hospitalization Programs
These programs, also known as day treatment programs, usually run about 28 days. They offer a level of service in between outpatient and long-term residential options. National brand treatment centers may also offer this option. There are at least 11 PHP facilities to serve residents in Volusia County.
Outpatient Treatment Programs
These programs are designed for patients with more moderate substance use disorder. The advantage to these programs is that within some expected time constraints, patients can continue to meet their daily commitments as they receive help. There are at least four such facilities less than 10 miles from Deltona.
Your recovery is unique to you, so choosing the right course of action and appropriate treatment center is key. Whether you're seeking Florida rehab or treatment in another state, The Recovery Village has several facilities throughout the United States.
Detox Centers
Detox is a first step toward healing, and there are at least six facilities offering detox services in the Deltona area. Symptoms will vary depending on the substance used and how long it was used. A typical detox period can run from three to seven days, but certain drugs may take longer. Like all aspects of recovery, detox is a personal and unique experience that is best completed with the help of trained medical professionals.
Once detox is complete, you continued treatment is often necessary to address the emotional and psychological ties you have to drugs or alcohol. Because detox is not usually sufficient to completely end substance use, the facility you choose for detox is key to your recovery. A national network of care facilities like The Recovery Village can provide you with the individualized help you need during detox. These centers often offer a wide range of services and professionals who can customize a program for you.
Recovery Meetings Near You
Once you complete your treatment program, consider joining a recovery support organization. Attending any recovery meeting with people who experience the same challenges you do provides a spirit of camaraderie. You know you are not alone and have someone to turn to for helpful advice. Below are details on some of the available organizations and meetings in your area.
Resources exist within and near Deltona to help you. But those services might feel too close to home. It might be too easy to continue old habits that led to your substance abuse. The advantages of getting away to focus on your recovery are many. One of the greatest benefits of expanding your search is opening yourself up to new options. You will most certainly be liberated from daily demands you cannot meet while working on recovery. You also might want the privacy afforded by distance, even if it is only a county away. Within approximately 100 miles of Deltona, there are many large population centers where you can find a variety of services. The Recovery Village offers several locations in Florida and in other areas of the United States.
Addiction Resources in Nearby Florida Cities
For those who are seeking alcohol and drug treatment facilities outside of Deltona, Florida, there are also many drug rehab resources across the state of Florida:
Medical Disclaimer
The Recovery Village aims to improve the quality of life for people struggling with substance use or mental health disorder with fact-based content about the nature of behavioral health conditions, treatment options and their related outcomes. We publish material that is researched, cited, edited and reviewed by licensed medical professionals. The information we provide is not intended to be a substitute for professional medical advice, diagnosis or treatment. It should not be used in place of the advice of your physician or other qualified healthcare providers.
Reach out now
We can help answer your questions and talk through any concerns.