A report from the Florida Alcohol and Drug Abuse Association states that five times as many heroin deaths occurred in the state between 2013 and 2016. Alcohol misuse took the lives of 282 people under 21 years old in 2018, according to The Substance Abuse and Mental Health Services Administration. National, state and local officials are all committed to addressing the public health issues related to substance use. A comprehensive strategy should include prevention, monitoring, enforcement and access to recovery. Local communities like Middleburg can provide the right resources to its residents for drug and alcohol rehab, detox and recovery.
Middleburg Drug and Alcohol Rehabilitation and Treatment
Addiction is treatable. Treatment for drug and alcohol addiction should include a variety of approaches, an adequate duration of treatment, and medical and behavioral therapies.
Middleburg and the metropolitan area of Jacksonville offer these services for addiction recovery:
Outpatient treatment
Detox
Medical detox
Intensive outpatient treatment
Inpatient treatment
Partial hospitalization programs
Aftercare programs and resources
Sober living homes
Addiction recovery services offer a continuum of care, starting with detox and concluding with aftercare. It is important to understand the stages of treatment and what will be the most effective method for you as you begin or continue recovery.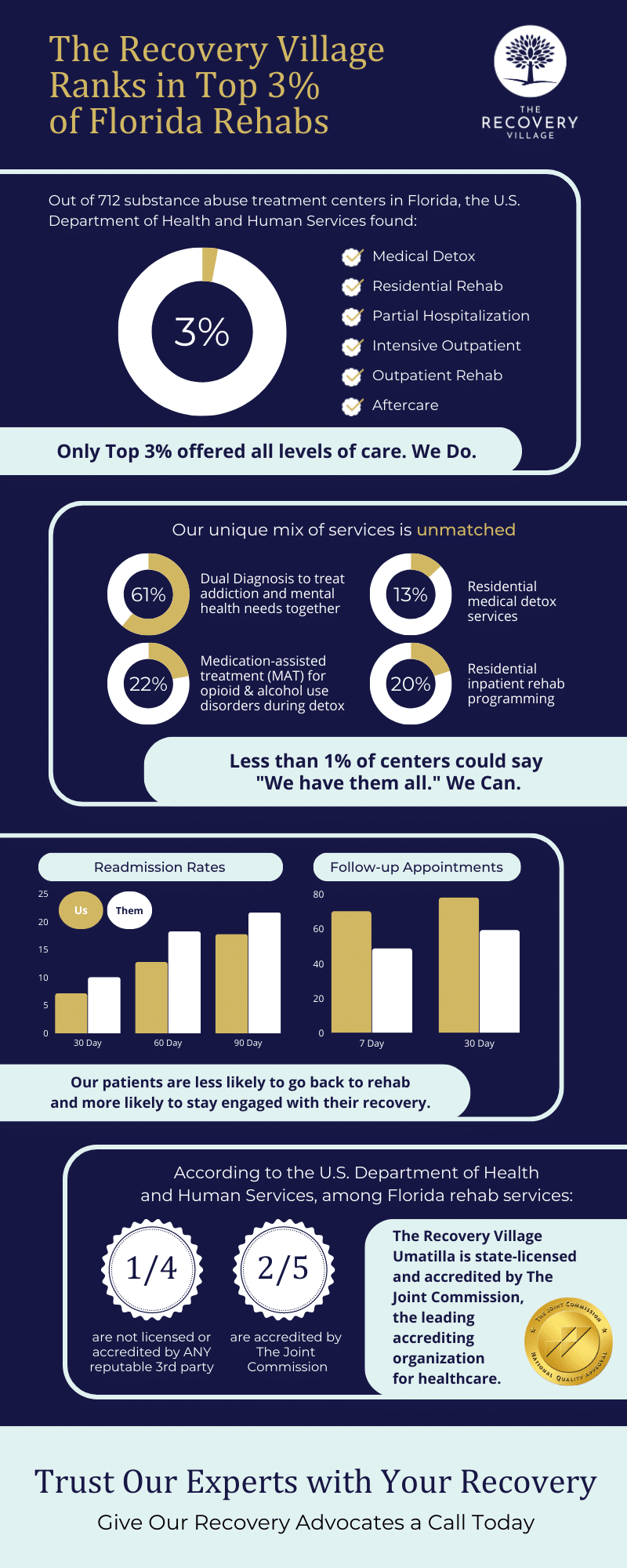 Drug and Alcohol Detox Programs and Treatment Centers in Middleburg, Florida
Detox or medical detox programs provide the highest level of oversight and supervision during the important first stage of addiction recovery. Total abstinence from drugs and alcohol allows the body to begin healing. Medical professionals may be able to provide drug tapering, drug therapies and other strategies to ease symptoms. An individual may require significant attention during this level of care. Some facilities can provide 24-hour medical support.
There are currently six facilities located within 35 miles of Middleburg that offer detox programs.
Middleburg Residential Treatment Programs
Inpatient treatment is a residential option that provides constant medical supervision and care. Inpatient alcohol rehab and drug addiction treatment offer detox, drug therapies and a variety of care opportunities in a safe environment. An inpatient rehab facility is usually a hospital or addiction care center. The staff in these kinds of programs should be doctors and mental health care professionals who can provide a treatment plan for long-term recovery.
There are currently nine facilities located within 25 miles of Middleburg that offer residential treatment programs.
Middleburg Partial Hospitalization Programs
An addiction recovery treatment plan should include stages of care that deescalate as a person in recovery progresses. Increased independence can be a sign of eligibility for a partial hospitalization program. Some partial hospitalization programs allow participants to live at home part of the time while they are still receiving daily care. Medical appointments, treatment and counseling remain a part of the daily schedule. Independence is increased as participants resume elements of their normal work, home or family life.
There are currently five facilities located within 25 miles of Middleburg that offer partial hospitalization programs.
Middleburg Outpatient Treatment Programs
Outpatient treatment is a form of ongoing care for addiction recovery. Outpatient drug treatment is not residential but still ensures that those in recovery have an active support network of care providers. These providers may include doctors, psychologists, psychiatrists and counselors or coaches. Care is provided through regularly scheduled appointments. Many outpatient courses of treatment will also include relapse prevention and sober living support.
There are currently seven outpatient treatment programs located within 18 miles of Middleburg.
Sober Living and Rehab Aftercare Programs in Middleburg, Florida
Sober living aftercare facilities provide rehab aftercare services. Continuing care for drug and alcohol addiction can be provided in sober living homes. Drug rehab aftercare programs are a residential option for people who have concluded treatment but are not ready to move home full time. Daily care can be provided through meaningful relationships and connections with other people, counseling, house rules and a structured environment. Rehab alumni programs can provide a stage of care that supports sobriety and long-term recovery.
There are currently three sober living facilities located within 32 miles of Middleburg. The next closest centers are 91 or more miles away.
Specialized Treatment Programs in Middleburg, Florida
Certain life experiences or genetic predispositions may contribute to addiction issues. Drug and alcohol addiction can be a method of coping with unfortunate circumstances. If addiction is augmented or fueled by lifestyle considerations, specialized treatment may offer a targeted approach to these behaviors.
Specialized treatment is not currently available in Middleburg but can be found in the Jacksonville metro area, including:
Eight addiction treatment programs for people with co-occurring mental health conditions and substance use disorders
Four programs for rehab for LGBT persons
Four programs for military families
Six programs for active duty military personnel
Seven programs offering rehab for veterans
Six programs for people referred from the court system
Eight programs offering rehab for pregnant women
17 programs that provide rehab for PTSD and specifically for people who have experienced abuse or trauma, including sexual abuse or domestic violence
There are also centers that offer rehab for teens and there are women's rehab centers.
What Is the Process Like in a Drug Detox and Rehab Facility?
At first glance, the drug treatment process can feel intimidating but is the right step toward an addiction-free life. The stages of treatment are similar across many facilities and usually include:
Initial assessment
Inpatient orientation
Facility guidelines and rules
Daily treatment
Medical appointments
Counseling appointments
Group therapy
Treatment plan check-ins
Progression into new stages of care
Depending on where you receive treatment, you may participate in family therapy. The goal of a treatment program is that you progress through the stages of care and are successfully rehabilitated.
Finding the Best Rehab Program For You
Addiction treatment in the best rehab centers will be research-backed and present a continuum of care. The best drug rehab centers will offer services that address your physical, mental and emotional well-being. Here are some indicators as you investigate how to find the best rehab center:
Is the treatment center accredited?
Are all staff members qualified and credentialed?
Are a variety of treatment approaches offered?
Is there evidence that treatment is informed by science?
What is the facility's approach to aftercare?
You should be able to ask questions and learn as much as you want to before registration. You should then be assessed to ensure you are going to receive the right care. The best rehab centers will communicate clearly what you are to expect and experience while in their care.
What Questions Should You Ask When Considering a Treatment Program?
You might have questions about the logistics and day-to-day experience of treatment for addiction. Here are some of the many questions you may want to ask:
Exploring Treatment Options Near Middleburg, Florida
The number of options for drug abuse treatment near Middleburg is limited. The county and the greater region, on the other hand, have significantly more treatment options. You may question whether to travel for drug and alcohol addiction treatment. Consider the pros and cons.
The course of treatment is a significant portion of your rehabilitation process. The sober support you receive after treatment is also an important part of remaining drug and alcohol-free. The choice of where to receive treatment can be impactful to many areas of your life.
Additional Addiction and Rehabilitation Resources in Middleburg, Florida
Drug and alcohol addiction recovery services may be available in Clay County, where Middleburg is located. Many community resources are in place to provide assistance for drug and alcohol addiction prevention and treatment. The Fourth Judicial Circuit hosts an Adult Drug Court with treatment alternatives to incarceration. The Clay Action Coalition provides substance abuse prevention and youth advocacy services within the county. Clay County has a strategic process for assessing public health needs and providing community-based solutions for prevention and treatment options. Some of the changes initiated in 2010 in the county include pursuing more funding for preventative services and providing more care for low-income residents. Multiple resources are available for those in Middleburg who wish to pursue recovery from addiction.
Recovery Meetings Near You in Middleburg, Florida
Recovery meetings provide you with ongoing support for any duration as you enter, leave or resume recovery.
Non-Profit Organizations in Middleburg, Florida
Non-profit organizations in nearby cities may provide additional support in recovery for residents of Middleburg.
Middleburg, Florida Substance Abuse Hotlines
If you or someone you are with needs emergency help for drug or alcohol abuse, you can call one of these numbers:
City of Middleburg, Florida
Middleburg, Florida, is a mid-sized town in Florida rich with forests, parks and wildlife. Middleburg is located at 30.0689° N, 81.8604° W. The nearest major airport is Jacksonville International Airport (JAX). The population of Middleburg is about 13,000 people. Metropolitan Jacksonville is fewer than 30 miles away. Middleburg is located in Clay County. Visitors to Middleburg enjoy fishing, hiking and lakes. The Jennings State Forest, Black Creek and Doctors Lake Park are a few of the attractions in Middleburg.
The Clay County Sheriff's Office has an operating office in Middleburg. The Clay County Citizens' Academy and other community-based crime prevention efforts represent the department's proactive commitment to building a positive community. Many educational and rehabilitative resources are available for residents of Middleburg who want to pursue recovery from drug and alcohol addiction.
Addiction Resources in Nearby Florida Cities
For those who are seeking alcohol and drug treatment facilities outside of Middleburg, Florida, there are also many drug rehab resources across the state of Florida:
Medical Disclaimer
The Recovery Village aims to improve the quality of life for people struggling with substance use or mental health disorder with fact-based content about the nature of behavioral health conditions, treatment options and their related outcomes. We publish material that is researched, cited, edited and reviewed by licensed medical professionals. The information we provide is not intended to be a substitute for professional medical advice, diagnosis or treatment. It should not be used in place of the advice of your physician or other qualified healthcare providers.
Reach out now
We can help answer your questions and talk through any concerns.