Inverness Drug & Alcohol Rehab, Detox & Treatment Resources
The drug epidemic in Florida has reached even the smaller cities like Inverness, which has a population of approximately 7,000. Citrus County's efforts to help solve the substance abuse crisis are led by Sheriff Mike Prendergast, head of the county's Tactical Impact Unit, a local agency.
In Inverness, the most widely used substances include heroin, methamphetamine, cocaine and prescription medication. Although the flow of drugs into small and large cities alike seems endless, drug treatment centers and physicians are standing by to help those struggling with addiction.
Addiction doesn't care about the size of your city or the extent of your problem. It doesn't care how broken you or your family becomes. If you or a loved one suffers from dependency, help is available in a variety of ways: detox, inpatient treatment, outpatient treatment, medication-assisted treatment and aftercare recovery programs.
There are many resources available for those who are struggling with substance use disorder in Inverness, Florida.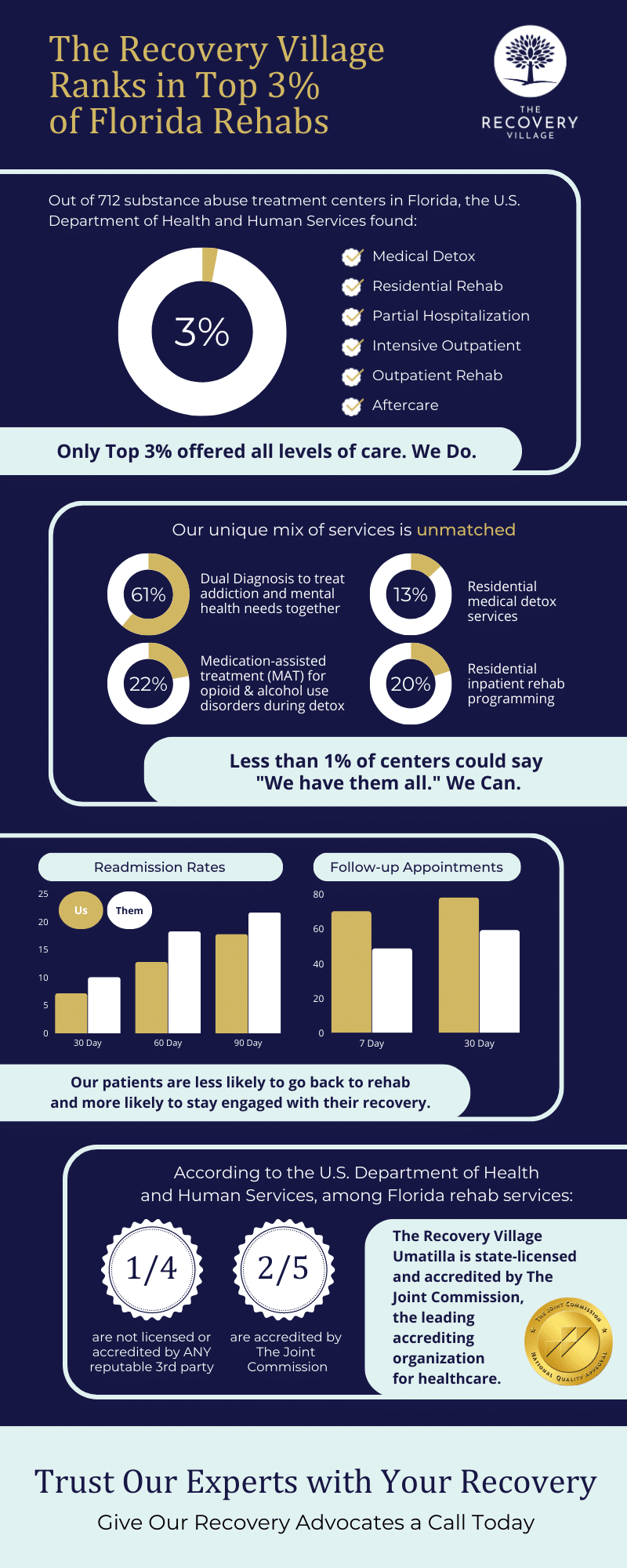 Inverness, Florida Alcohol Rehab Centers and Drug Rehab Centers
Citizens of Inverness living with a heroin, meth, cocaine or prescription medication addiction have several options when it comes to drug and alcohol rehab services. These options include detox, inpatient services and outpatient services. Are you seeking a drug rehab center in Inverness, FL, or an alcohol rehab center in Inverness, FL? Understanding the differences between these options can help you choose the best facility to meet your needs.
Residential Treatment Programs
A residential treatment center offers long-term care to those struggling with a serious addiction. Residential is appropriate for those who have relapsed several times, or for those with an opioid dependency. With residential treatment, an individual lives at the center and receives a full range of medical, psychological and supportive care. Treatment in a residential facility can last weeks, months or over a year, depending on the nature of addiction and needs of the patient. Some individuals are court-ordered while others are self-referred.
Partial Hospitalization Programs
This treatment option provides more flexibility than a residential program as patients live off-site during treatment. Typically, patients participate in individual and group therapy during the day before returning home at night. Aftercare services are often included in the recovery plan of partial hospitalization.
Outpatient Treatment Programs
This form of treatment is for those with a dependency that is less severe, or have already been through the other levels of care. With outpatient programs, the client travels to the site for services 10–15 hours every week. The duration of an outpatient program can be from 3–6 months, or sometimes up to a year or more. Outpatient services can include 12-step programs, group therapy, individual or family therapy and aftercare services.
It's possible the route to recovery may be better served by gaining some distance from home. Friends and family may offer a reservoir of support, but they cannot take the place of medical professionals trained to treat and counsel you. A national treatment facility provides the most recent medical innovations, the time necessary to reflect and the therapeutic necessities for a full recovery. There are many options when it comes to battling drug or alcohol addiction. Be familiar with all the resources open to you. Consider if it's reasonable to achieve sobriety if your immediate circumstances don't change.
Even though help can be obtained in one of these local treatment centers, traveling to another city for care from a national brand may be necessary. This is often the best solution for a number of reasons.
Privacy is often a concern for individuals with struggling with addiction. Some may feel deep shame and prefer to recover away from their small community. Another advantage in seeking treatment in a different city is the range of services as a larger treatment center can offer programs that a smaller one cannot. Choosing the recovery option that is best for you can be frustrating, but remember, you are only one phone call away from the help you need.
Detox Centers
There are two detox centers within 25 miles of Inverness. Detoxification is the beginning of the recovery journey, and the most important phase. Detox services normally last one or two weeks. In most cases, if detox is interrupted or is unsuccessful due to relapse, the process must start over. Detox can be dangerous if attempted without medical supervision. Doctors and supportive medical staff should always be available to help in this unique process.
It is important to remember, however, detox is only the first step in your recovery journey. It is better to attend a facility that has both a detox and the treatment program you need so you will be able to start your treatment program as soon as you detox.
Addiction Resources in Nearby Florida Cities
For those who are seeking alcohol and drug treatment facilities outside of Inverness, Florida, there are also many drug rehab resources across the state of Florida:
Recovery Meetings Near You
Recovery is a multi-level process. Successful completion of a treatment program is commendable, but it is only the first phase of the journey. What is just as important is the aftercare that follows. Aftercare services can include a 12-step program, individual therapy, group therapy or a combination.
Medical Disclaimer
The Recovery Village aims to improve the quality of life for people struggling with substance use or mental health disorder with fact-based content about the nature of behavioral health conditions, treatment options and their related outcomes. We publish material that is researched, cited, edited and reviewed by licensed medical professionals. The information we provide is not intended to be a substitute for professional medical advice, diagnosis or treatment. It should not be used in place of the advice of your physician or other qualified healthcare providers.
Reach out now
We can help answer your questions and talk through any concerns.