Ocala, Florida is known as a tropical paradise, but there is a darker side to this tropical paradise: drug and alcohol addiction. When they are misused, prescription medicines can be just as damaging as illegal street drugs. Prescription opioids, stimulants and benzodiazepines like OxyContin, Adderall and Xanax can be especially destructive in many people's lives.
Opioid use has been a real problem in Florida ever since 1996 when OxyContin entered the market. Throughout the entire state, "pill mills" or pain clinics were opening up just a few years after OxyContin first made an appearance. At one point, the doctors in Florida were prescribing 90% of prescription opioids in America. To this day, residents in the entire state are being affected by this issue, including Ocala residents.
Being brave enough to take the first step on a recovery journey is so important. If you are suffering from substance use disorder, the first thing you need to do is ask for help. Luckily, there are plenty of resources available when it comes to addiction treatment in Ocala.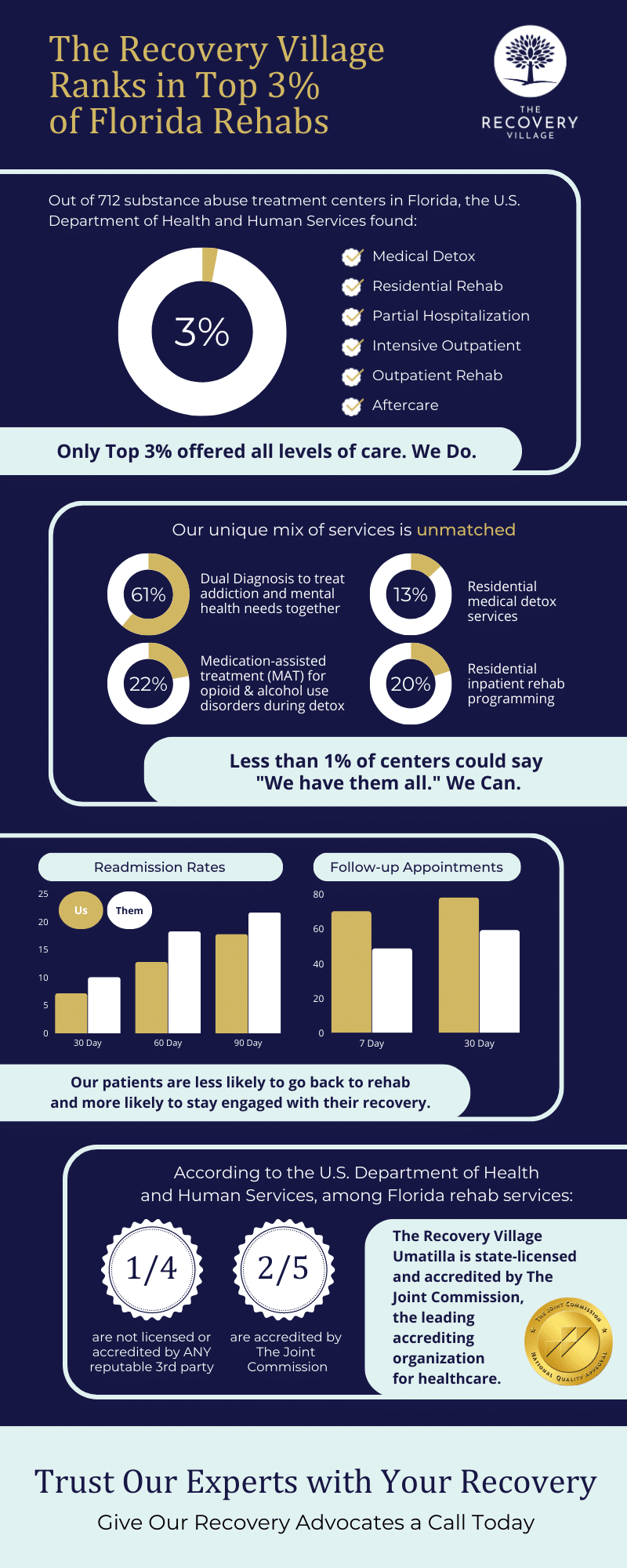 Ocala, Florida Alcohol Rehab Centers and Drug Rehab Centers
When you are in the process of seeking addiction treatment in Ocala, there are several options available to you. Discovering the best treatment program for you will be the first and most important step you need to take. Everyone is different when it comes to the treatment of substance disorder so you need to ensure that you find a program that will benefit you especially. In order to make this important decision, you need to have a comprehensive understanding of the different sorts of treatment programs that are available to you.
Residential Treatment Programs
Also known as an inpatient treatment program, this is the best option for patients who require detox though they will complete detox before beginning this program typically. They will also be given access to medical care 24 hours a day.
Partial Hospitalization Programs
In a PHP, patients are allowed to go home at night. The patients are still required to participate in individual and group therapy as well as other healing activities like yoga and meditation.
Outpatient Treatment Programs
Patients who have a lot of family or work commitments will want to take advantage of this treatment program as it provides the most flexible option. In this program, patients are allowed to stay in housing that is offered on campus or at home if they have a stable, drug-free environment.
You will require an evaluation from an addiction specialist so that he or she can help you to formulate a treatment plan that will be effective for you.
Detox Centers
There are many options for detox centers in Ocala. When you are addicted to a particularly harmful substance like opiates, alcohol or benzodiazepines, the first thing you will need to do in the treatment of your substance misuse is go through detoxification. Many people choose a detox center because it is essential to have medical supervision when you are detoxing. Experiencing withdrawal symptoms by yourself is too difficult. You are at risk of relapsing. On the other hand, in a detox center, you have medical supervision and treatment to help you handle the withdrawal symptoms.
It is important to understand, though, that detox is only the first step in rehabilitation. A Florida detox center by itself will not help you with any of the psychological aspects of your addiction. It is best to find a rehab facility that will allow you to detox and then go into a residential treatment program. It is only in a treatment program that you will be able to start the real work of recovery.
Recovery Meetings Near You
After you complete any necessary detox, residential treatment, partial hospitalization and/or outpatient treatment, it is important that you find a group like Alcoholics Anonymous, Narcotics Anonymous or SMART Recovery to continue your recovery journey.
Addiction Resources in Nearby Florida Cities
For those who are seeking alcohol and drug treatment facilities outside of Ocala, Drug Rehabilitation and Substance Abuse Resources in Florida, there are also many drug rehab resources across the state of Florida:
Medical Disclaimer
The Recovery Village aims to improve the quality of life for people struggling with substance use or mental health disorder with fact-based content about the nature of behavioral health conditions, treatment options and their related outcomes. We publish material that is researched, cited, edited and reviewed by licensed medical professionals. The information we provide is not intended to be a substitute for professional medical advice, diagnosis or treatment. It should not be used in place of the advice of your physician or other qualified healthcare providers.
Reach out now
We can help answer your questions and talk through any concerns.