Longwood Drug & Rehab, Detox & Treatment Resources
Longwood is close enough to Orlando to enjoy the theme parks and attractions that people from all over the world come to visit. The Wekiwa Springs National Park offers locals an opportunity to enjoy wildlife, and the natural springs are the perfect place to enjoy a day kayaking while glimpsing otters, deer and even an occasional monkey.
Sadly, Longwood also lends itself to a darker form of recreation: alcohol and drug abuse. The wide distribution of alcohol in the United States has created many issues for people struggling with addiction. While police cannot stop individuals from misusing alcohol, they devote more attention to the illicit drug trade.
According to the Center for Disease Control, prescription opiate misuse reached epidemic levels in Florida in 2012. Those numbers have continued to skyrocket in the past five years. The hard-lined response of authorities along with the ample misnomers that surround addiction may cause individuals to hesitate to seek help.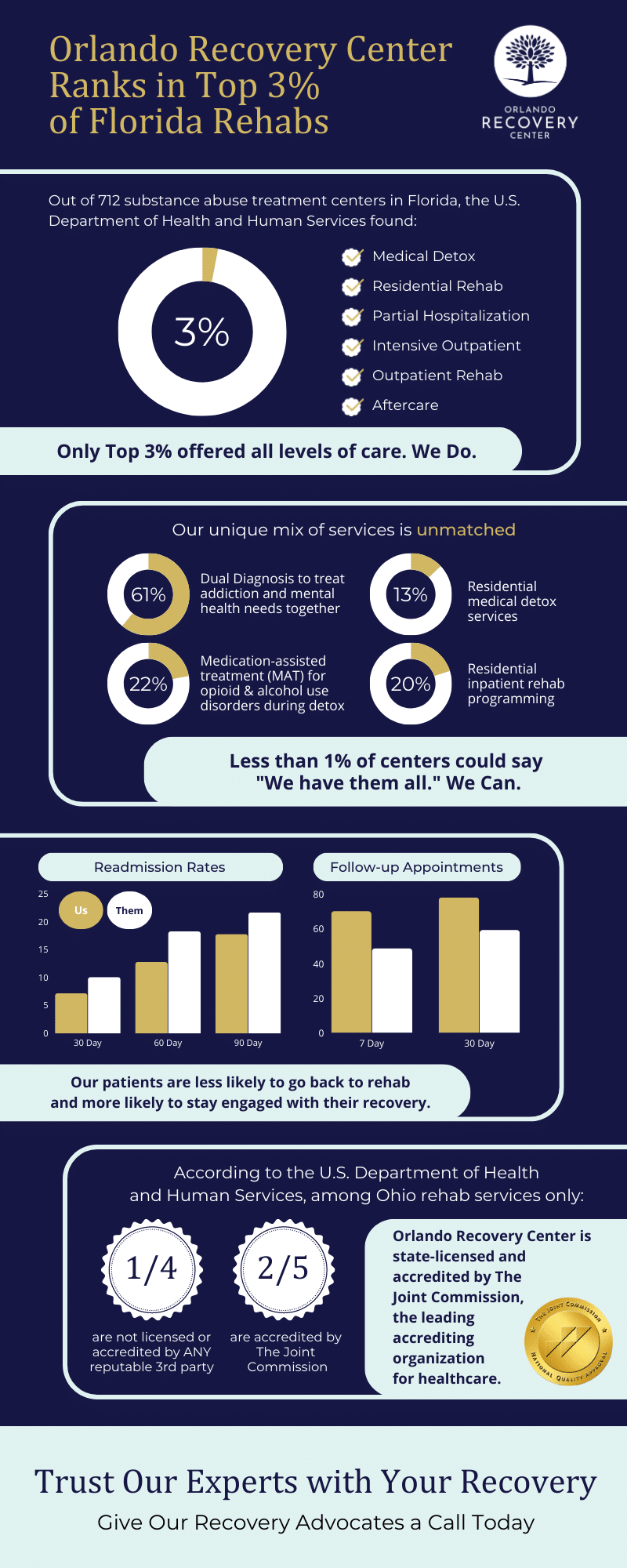 Longwood, Florida Alcohol Rehab Centers and Drug Rehab Centers
Longwood is one of the countless areas affected by a spike in substance misuse. The metropolis is slowly growing crippled by addiction. Prescription opioids have surpassed cocaine as the most commonly found drug in Longwood, Florida. Alcoholism only adds to the problem by increasing the number of substances misused by an individual.
The crackdown on morally bankrupt pill mills and the illegal distribution of prescription opioids has brought heroin back to the forefront of drug culture in Longwood, Florida. Heroin presents its own set of threats, due to the lack of homogenization of the drug while also being commonly mixed with the more cost-effective and deadlier drug, fentanyl.
In 2015, there were over 2,000 fatalities due to opioid overdoses in Florida. The psychiatric and medical fields are fighting these battles by researching new ways to treat substance dependence. The following treatment programs are essential in helping those struggling with substance use disorders get the help they need. Whether you're seeking a drug rehab center in Longwood, FL, or an alcohol rehab center in Longwood, FL, understanding these options is beneficial to your recovery:
Residential Treatment Programs
Residential treatment programs approach substance misuse from a multidisciplinary viewpoint. Inpatient facilities provide a fixed residency starting with detoxification. While attending a residential clinic, the patient can receive both group and individual therapy, participate in activities like sports, nutritional planning and stress management to reduce the risk of relapse. Through the practice of meditation, yoga, relapse prevention aids, educational services, social technique skills and 12-step traditional recovery programs, patients can begin to heal.
Partial Hospitalization Programs
Partial hospitalization programs offer more autonomy than residential treatment programs. These are also known as outpatient programs. Partial hospitalization is a recovery treatment where individuals do not reside on-site during their time in the clinic. Partial hospitalization programs provide several of the same provisions that an inpatient program provides.
Outpatient Treatment Programs
Outpatient treatment programs are less restrictive for patients, while sharing many similar elements with residential facilities. Outpatient programs allow individuals to maintain their responsibilities to work, family or educational. These programs do not offer secure environments that remove destructive influences in their daily lives, meaning the patient must voluntarily restrict their use of alcohol or drugs. Outpatient treatments provide services akin to residential programs by giving patients access to a supportive network of fellowship groups and individual and family therapy so that patients are always encouraged in their sobriety.
It's important to consider the strengths and weaknesses of each potential program. Honestly evaluate the situation. Form a plan to discover the route to that will be effective for you. Recovery is an investment in long-term health. When you are considering alcohol and drug treatment facilities in Longwood, Florida, don't rush in deciding which program will be the most healing for your unique situation.
Detox Centers
Acknowledging you have a problem with alcohol or drugs is the first step in your recuperation. It's scary to realize your substance misuse may redirect your life in a perilous — and potentially life-threatening — direction. Sobriety may appear far-fetched while you're struggling to keep your head above the quicksand of addiction, but with the right support network, you can beat this disease.
Detoxification is the physical sojourn to health. Your body must be cleansed of all the poisons you've become dependent upon. You're not alone in this journey as there are numerous resources to help you.
Detoxification can be a strenuous, difficult process. Do yourself a favor and seek the aid of addiction treatment professionals. Detox can be painful, even deadly, if attempted alone. However, give yourself credit for acknowledging your need for getting help removing the misused substances from of your system. This realization is a barometer of strength. There's no shame in asking for help through this fight. In fact, studies show patients who receive professional care are much more likely to achieve sobriety for life.
There are several options for detox in Longwood, but it may be wise to turn to a national treatment facility like The Recovery Village. Detoxification can be completed in an inpatient program allowing a team of experts to attend to you while preventing health risks and preventing relapse.
Recovery Meetings Near You
Believe in your capability to overcome addiction. Your success is tied to your positive frame of mind and a hardy commitment to recovery. C of your journey to sobriety can be found within fellowships like Alcoholics Anonymous and SMART Recovery. These meetings provide communities where all people are welcome.
Addiction Resources in Nearby Cities
If you are seeking addiction treatment in Longwood, Florida, congratulations on this brave step. It's courageous to admit you need help. Before you admit to a treatment center, consider whether or not you can take a break from your living situation to utilize the resources available at a national clinic. It may seem difficult to put your relationships and work on hold while you recuperate. However, a national brand of treatment centers, like The Recovery Village, usually offers the most comprehensive and effective treatments available. Traveling to a national facility also removes you from circumstances contributing to your addiction and any triggers you currently face. You deserve respect, privacy and care from empathetic addiction specialists to help you get better.
For those who are seeking alcohol and drug treatment facilities outside of Longwood, Florida, there are also many drug rehab resources across the state of Florida:
Medical Disclaimer
The Recovery Village aims to improve the quality of life for people struggling with substance use or mental health disorder with fact-based content about the nature of behavioral health conditions, treatment options and their related outcomes. We publish material that is researched, cited, edited and reviewed by licensed medical professionals. The information we provide is not intended to be a substitute for professional medical advice, diagnosis or treatment. It should not be used in place of the advice of your physician or other qualified healthcare providers.
Reach out now
We can help answer your questions and talk through any concerns.