Fort Walton Beach Drug & Alcohol Rehab, Detox & Treatment Resources
Florida is in the grip of an opiate misuse epidemic. In 2014, there were 447 deaths attributed to heroin. The next year, this number rose to 779, which is an increase of 74.3 percent, according to the Florida Medical Examiner's annual report. Fentanyl, a synthetic opioid that's prescribed to cancer patients for pain relief, has become an unfortunate favorite for substance misuse. There were 911 deaths from overdoses from the medication in 2015; a 70 percent increase from the year before. In Okaloosa County, the number of deaths attributed to those two drugs are calculated between five and 10 per 100,000 residents.
Fort Walton Beach is a quaint town, but it has not avoided the substance misuse issues flooding the state. Even so, there are services available to help you take on your substance use disorder so you can live your best life. If you're suffering from substance use disorder, you may feel like you're alone. You may feel like it's too difficult to ask for help. We know it takes courage, but we're asking you to take that first step.
If you're interested in seeking drug addiction treatment in Fort Walton Beach, Florida, there are many resources to help you. Continue reading to learn more about what services are available.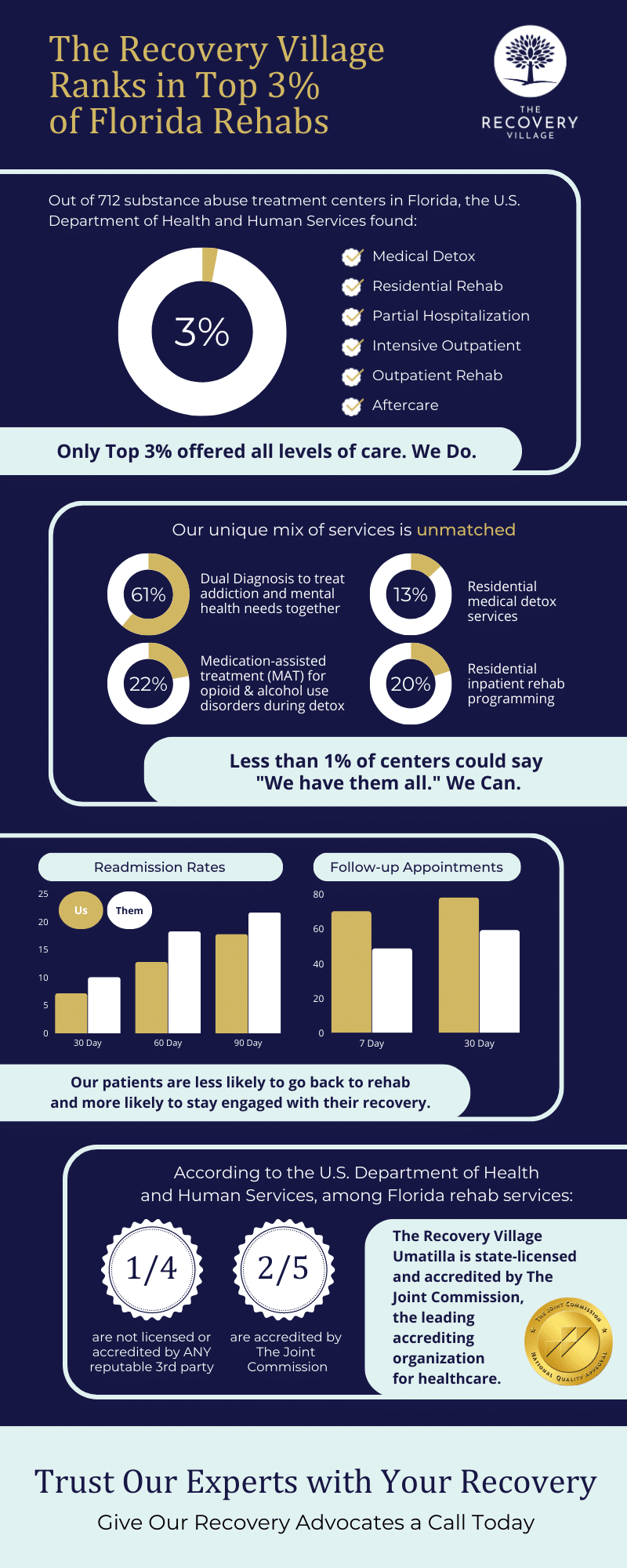 Fort Walton Beach Alcohol Rehab Centers and Drug Centers
The grips of alcohol and drug misuse are difficult to shake. Fortunately, you don't have to be alone. There are medical professionals available to assist you through your struggle and to give you the help you need. There are residential, partial hospitalization and outpatient treatment programs, each of which is different and could be a solid fit for you, depending on your individual needs. Are you seeking a drug rehab center in Fort Walton Beach, FL, or an alcohol rehab center in Fort Walton Beach, FL?
Residential Treatment Programs
Residential treatment programs, also known as inpatient programs, are more suited for severe addiction recovery. The patient stays at the facility all day and all night where there are medical staff always on-hand. The patient also receives individualized care from a team of specialists. Fully immersing into the treatment allows you to focus just on recovery.
Partial Hospitalization Programs
Partial hospitalization programs, or "dayhabs," are a step down from residential treatment programs, but they're still intensive. The person in recovery is on-site all day, but does not stay overnight. This way, the person receives that personalized care during dayhab, while adjusting to life outside of a drug rehabilitation center.
Outpatient Treatment Programs
Outpatient treatment programs usually follow an inpatient program or are for people whose home life is safe and drug-free. This treatment generally involves individual and group therapy. Outpatient treatment programs are best suited for someone who's in the early stages of drug misuse or has not developed a severe addiction.
In Fort Walton Beach, there are nine substance misuse centers within 25 miles. It's wonderful to have options, but how do you decide which one is right for you? They may be literally too close to home. A national recovery treatment center could be the best option for you.
Detox Centers
When the brain has developed an addiction to drugs and alcohol, sobriety becomes much more difficult to obtain on your own. As the drugs and alcohol begin to leave, the body may have a physical reaction called withdrawal. Withdrawal symptoms are dependent on the substance and severity of the addiction, and they can vary in intensity. A detox center is a facility where someone who's trying to recover from substance misuse can receive treatment to rid his/her body of the substance.
Detox is the first step in a process to learn how to lead an addiction-free life. The assistance that a detox center gives is important. However, to ensure recovery and a brighter future, committing to a treatment that goes beyond detox is essential.
Within 50 miles of Fort Walton Beach, there are 11 detox centers. While having a local option is good, tapping into a national recovery center might be even better. Many centers are staffed with the best experts to give you support and offer you holistic services that extend beyond just the detox stage of recovery.
Local Recovery Meetings Near You
After completing a detox, residential and/or outpatient treatment plans, there is still more work ahead. Recovery is a lifelong journey, but there are support groups available to bolster you and reinforce your new approach to a sober lifestyle. Learn more about the meetings available in Fort Pierce, Florida below.
Though there are local options for treatment of substance use disorder, there are advantages to leaving your comfort zone for assistance. Going to a neighboring city or relying on a national rehabilitation center for help can be more beneficial for you. Leaving your everyday environment will help you to focus on your treatment and getting better while leaving behind potential triggers that could lead to relapse. Supportive services are available to help you recover from substance use disorder.
Addiction Resources in Nearby Florida Cities
For those who are seeking alcohol and drug treatment facilities outside of Fort Walton Beach, Florida, there are also many drug rehab resources across the state of Florida:
Medical Disclaimer
The Recovery Village aims to improve the quality of life for people struggling with substance use or mental health disorder with fact-based content about the nature of behavioral health conditions, treatment options and their related outcomes. We publish material that is researched, cited, edited and reviewed by licensed medical professionals. The information we provide is not intended to be a substitute for professional medical advice, diagnosis or treatment. It should not be used in place of the advice of your physician or other qualified healthcare providers.
Reach out now
We can help answer your questions and talk through any concerns.