Below are five inspiring, heart-wrenching and honest movies about teen drug abuse, addiction, and recovery.
Teen drug abuse is a problem that many families face in the United States. Too often, teens don't understand the long-term consequences of substance misuse. Their use of drugs may begin casually and recreationally and then become an addiction.
The National Institute on Drug Abuse's most recent Monitoring the Future Survey notes that alcohol use and binge drinking have declined in recent years across all high school grade levels, but tobacco, marijuana, and nicotine use are on the rise.
Besides alcohol and tobacco, some of the drugs teens use most commonly include marijuana and synthetic marijuana (called spice or K2), amphetamines and prescription pain medications.
While teen drug abuse can be scary for parents and loved ones, there are resources available that can provide help. Some parents find that watching movies about drug addiction can be helpful as well. Movies about addiction can provide parents with more information about teen substance misuse, which can allow them to be more empathetic. These movies can be useful to start a conversation with teens as well and show them the reality of addiction.
Beautiful Boy
The "Beautiful Boy" movie is based on David Sheff's true story. Sheff, a New York Times writer, describes the difficult relationship between a father and a son. The son, Nic Sheff, struggles with drug addiction. The "Beautiful Boy" movie stars Steve Carrell and Timothee Chamalet.
David Sheff struggles to help his son and takes him to a rehab clinic after seeing the signs of drug abuse. The movie highlights the details of teen meth use and teen heroin use in a raw, truthful way.
After following the tumultuous experiences of the father and son, viewers of the "Beautiful Boy" movie learn that Nic has now been sober for eight years. He credits the support of his family and friends for that victory.
Timothee Chalamet earned Golden Globe, BAFTA, and Screen Actor Guild Award nominations for his work. The movie is based on the book, "Beautiful Boy: A Father's Journey Through His Son's Addiction," as well as Nic Sheff's book, "Tweak: Growing Up on Methamphetamines."
While the movie is a raw portrayal of what it's like to have a child struggling with addiction, the ending can be a source of hope for viewers.

Perfect High
"Perfect High" was a television movie that premiered on Lifetime, starring Bella Thorne. The "Perfect High" movie covers prescription drug abuse among teens when the main character, Amanda, who is played by Thorne, injures her knee. Amanda is a dancer, and she is given hydrocodone for the injury. Eventually, the movie shows other teens asking to share the hydrocodone with Amanda.
After another injury, Amanda begins to use hydrocodone as a way to deal with her emotions. The movie shows her experiencing withdrawal symptoms when she doesn't take the drug.
The movie eventually covers not only prescription drug abuse among teens, but also teen heroin addiction. "Perfect High" is a good way to have a greater understanding of how prescription drug use can turn into a much larger problem, including when these drugs are originally used for legitimate reasons.

The Basketball Diaries
Starring Leonardo DiCaprio, "The Basketball Diaries" is based on an autobiographical novel by Jim Carroll. Despite premiering in 1995, "The Basketball Diaries" movie still has relevance today and shows viewers about the effects of heroin in high school.
The main character, Jim, has dreams of becoming a basketball star but he's surrounded by challenges and difficulties including a best friend dying of leukemia and a coach who behaves in a sexually inappropriate way toward him. To deal with what's happening in his life, Jim starts to use cocaine and heroin. Jim quickly becomes a teen heroin addict, and his life dissolves into chaos and leads to time spent at Rikers Island.
The Secret Life of Zoey
"The Secret Life of Zoey" is a movie from Lifetime that deals with the effects of teen addiction and, in particular, addiction to prescription drugs. The movie also covers teen marijuana use.
In the view of her parents, played by Mia Farrow and Cliff De Young, Zoey seems like a teen who's well-adjusted and thriving. Zoey's addiction is more difficult to identify than is the case in some of the other movies about teen addiction.
Zoey, unlike some of the other characters, makes good grades in school and volunteers. She seems like the model of a perfect teen, at least initially. It isn't until Zoey's mother finds her stash of pills that her parents take action, but even following addiction recovery treatment, she continues to use the drugs. It's only once Zoey overdoses and goes to rehab again that she's truly able to break the cycle of her secret addiction.

Thirteen
Premiering in 2003, the movie "Thirteen" stars Nikki Reed, Evan Rachel Wood, and Holly Hunter. "Thirteen" is unique from the other movies on this list because it primarily covers drug use in middle school. The plot centers on Tracy, who is a middle school student in Los Angeles. The movie also explores the topic of teen peer pressure as the main character befriends a troubled girl, which is what leads to her own substance abuse, crime, and sexual encounters.
"Thirteen" shows difficult topics, including the use of marijuana, LSD, alcohol, and inhalants, as well as risky sexual behavior and self-harm.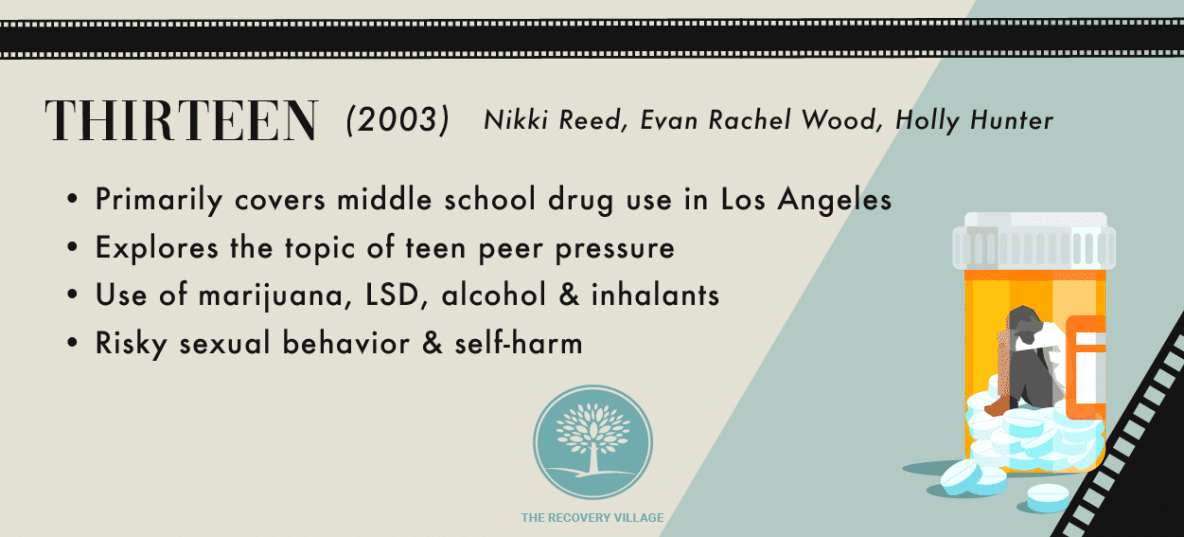 If you're a parent who thinks that your teen could be abusing substances, or if you're a teen looking for treatment, don't hesitate to contact The Recovery Village. Our representatives can tell you more about teen rehab and teen addiction treatment programs available and answer questions you may have.
Medical Disclaimer
The Recovery Village aims to improve the quality of life for people struggling with substance use or mental health disorder with fact-based content about the nature of behavioral health conditions, treatment options and their related outcomes. We publish material that is researched, cited, edited and reviewed by licensed medical professionals. The information we provide is not intended to be a substitute for professional medical advice, diagnosis or treatment. It should not be used in place of the advice of your physician or other qualified healthcare providers.