Summer can evoke images of beaches, sunshine and carefree memories. However, stress isn't going to magically melt away just because you turn the calendar page. Make this the year you create a mental health summer bucket list.
Make the most of the season by planning some fun and relaxation. Try new habits, start new traditions and create memorable moments. Choose some activities to stimulate your mind and body, and others to calm and relax you.
These experiences will stick with you long after the original moment. When things aren't going well, replay these memories to help you cope with stress or lift your spirits. Better yet, turn some of these bucket list items into new mental health habits for warding off stress year round.
Use these ideas as inspiration for your own mental health bucket list.
1. Try Something New
Brainstorm some activities that you've either never done before or haven't done in years. Have you ever gone canoeing? Tried making pottery? Don't be shy about putting new ideas on your list no matter how odd they sound. Simply creating the list can be fun and stimulating.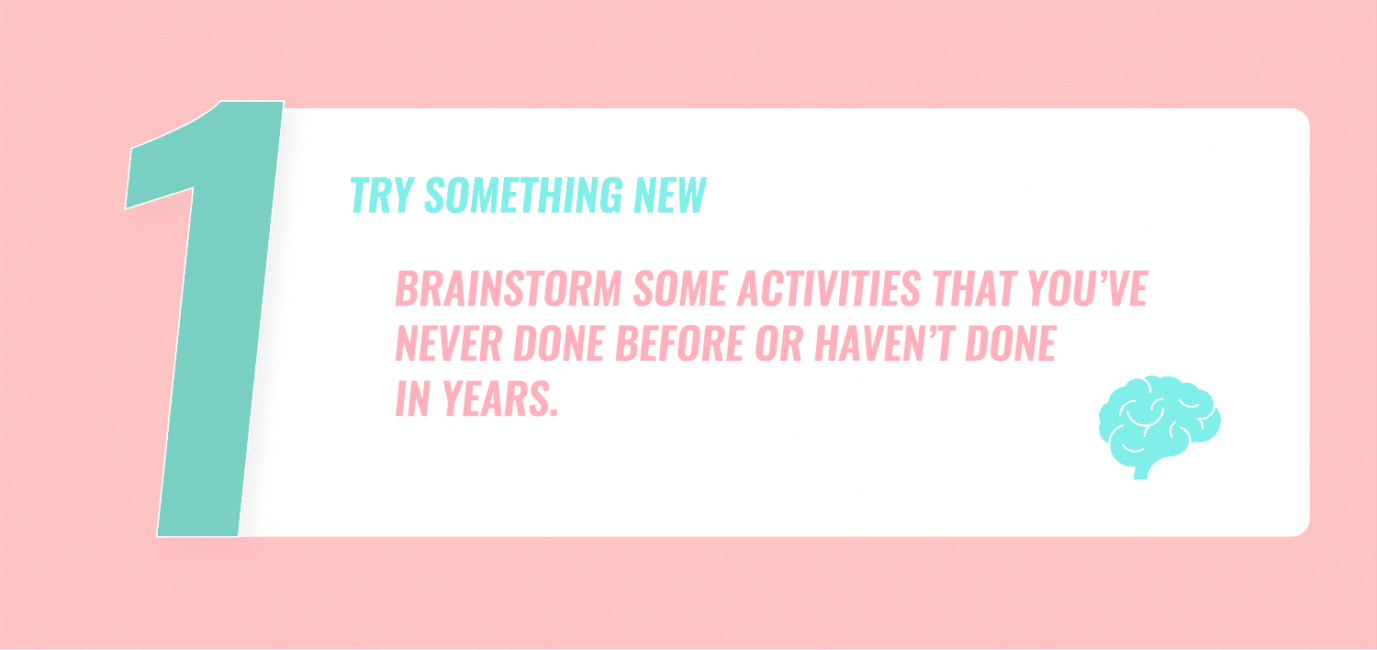 Why it works
Making plans to try new activities can put some spark into your day. When you get stuck in a routine, boredom and negativity can set in. Stretching your mind and learning new skills stimulates your mind and keeps it sharp. The fun of a new adventure can give you something to look forward to, filling your days with positive anticipation instead of negativity.
2. Socialize with Your Support Network
It might seem like getting together with friends and family wouldn't need to be on a bucket list, but busy schedules and responsibilities can easily get in the way. Talk about a few larger activities to do together, like going to a big concert as a group or taking a day trip. Also, make plans that you can keep on a regular basis like coffee on Sundays or dinner on Thursday nights.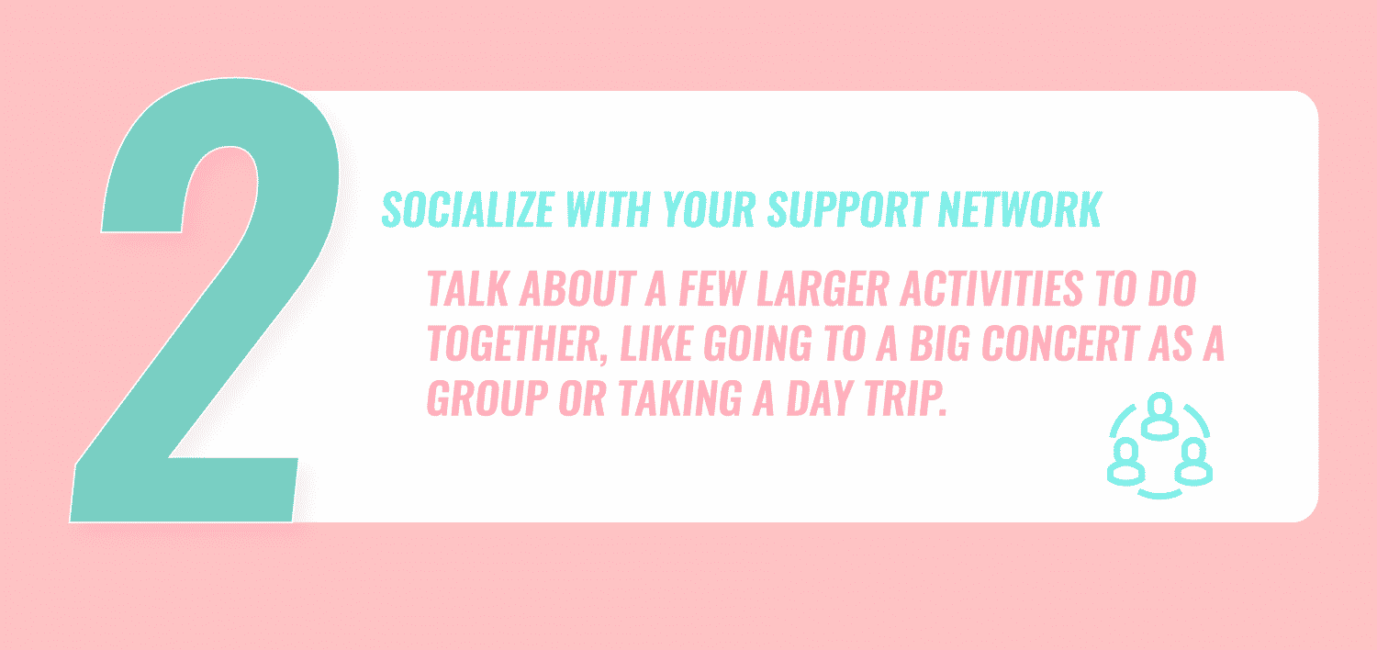 Why it Works
Your social network is a collection of people you enjoy spending time with. While it's satisfying to have fun together, you'll need them for support as well. The act of doing things together bonds you together as a group. It promotes a sense of loyalty and togetherness that helps you weather the ups and downs of life.
3. Anticipate and Fully Enjoy Seasonal Activities
Choose activities that pump you up with excitement, especially those you can only do in the summer. Fully embrace the opportunities that mean summer to you. Get out to that fishing hole, go to the beach and stop by the farmers market on Saturdays. Get to your favorite local festival, visit the tiny ice cream shop or watch the summer night sky.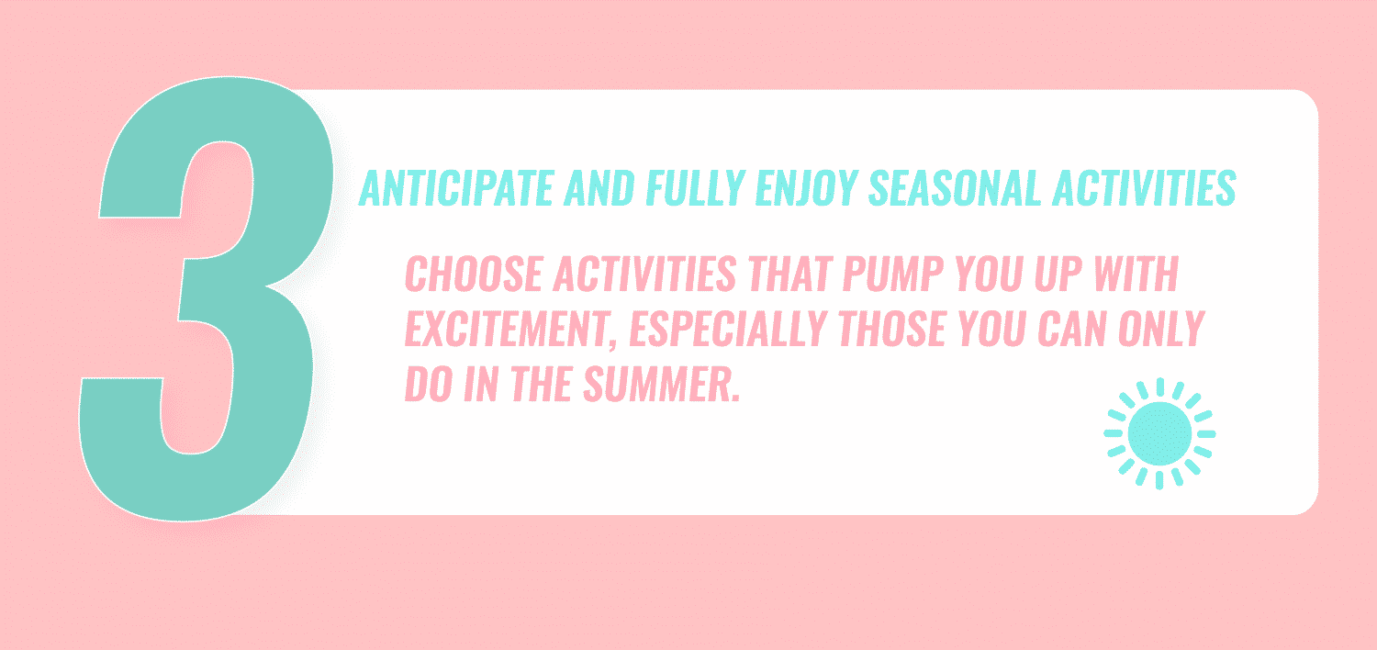 Why it Works
Summer just feels special for many people, perhaps in part because of good memories of past summer breaks or summer vacation. The key is to be fully present in the moment to enjoy each special opportunity. As you immerse yourself in your summer experiences, you'll get better at doing the same throughout the year.
4. Try a New Exercise and Do It Outside
Get moving and make sure you do it outside. It might just be doing your normal exercise routine, or you could try something different like yoga or tai chi. Take advantage of the warmer weather to do something physically active and get in touch with nature as well.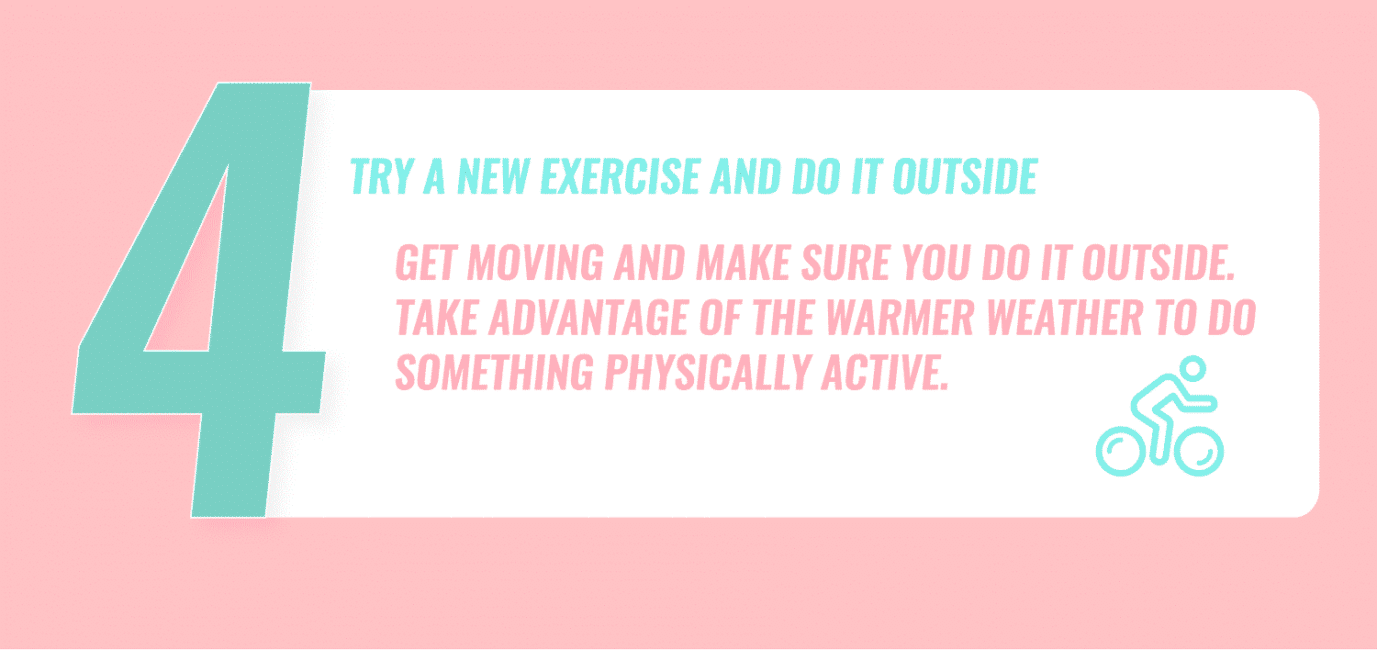 Why it Works
Exercise has been shown time and time again to boost mood and keep your body healthy. Physical activity is great for your mind and body, but it only helps if you actually do it. Variety will keep you interested in keeping up with your habit. Pairing up exercise with the great outdoors adds even more to your experience.
5. Plan to Relax
Planning to relax may sound like a lot of work for something that's supposed to be calming. But if you push through your daily routine without much thought, you could miss many opportunities to add relaxation and rest. Choose a time to go read outside somewhere with a quiet space, or indoors if the weather is bad. Pick a night or two to take a long bath or quiet walk to a peaceful place near you. Find a way to enjoy some beauty and calm over your lunch hour.
Why it Works
Relaxation is essential for good health. It's as simple as that. Today's fast-paced society rewards business and achievement. However, the human body will struggle and fight against anything that adds too much stress. It's not lazy to plan relaxation. By ensuring that you properly relax throughout the days and weeks, you keep your mind and body fresh.
What will you plan this summer?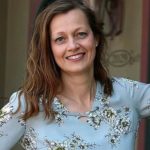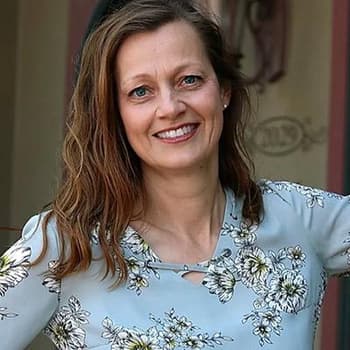 By – Erika Krull, LMHP
Erika Krull has a master's degree in mental health counseling and has been a freelance writer since 2006.
Read more
Medical Disclaimer
The Recovery Village aims to improve the quality of life for people struggling with substance use or mental health disorder with fact-based content about the nature of behavioral health conditions, treatment options and their related outcomes. We publish material that is researched, cited, edited and reviewed by licensed medical professionals. The information we provide is not intended to be a substitute for professional medical advice, diagnosis or treatment. It should not be used in place of the advice of your physician or other qualified healthcare providers.