Important Notice Regarding Coronavirus (COVID-19)
We are closely monitoring all developments associated with the coronavirus (COVID-19) and are taking proactive steps to ensure the health and safety of all patients, employees and the communities we serve.
Please note the following updates:
Face Mask Policy:
Following the latest CDC recommendations for controlling the spread of COVID-19, all patients are strongly encouraged to wear a face mask while at the facility. All employees are required to wear a face mask at all times.
Screening Policy:
ARS facilities are following Centers for Disease Control and Prevention (CDC) guidelines, and we have strong infection control policies, procedures and systems in place. As recommended by the CDC, our clinicians are screening all patients and employees for fever and respiratory symptoms, as well as administering a rapid COVID-19 test prior to admission.
A pre-admission acceptance is a preliminary determination that indicates you are appropriate for admission to our facility. Based on your presentation upon arrival or during your stay, it may be determined that a different facility may be more appropriate.
Visitation Policy:
For the safety of all patients, family members, visitors and staff, visitors may only enter an ARS facility during designated visitation times. A patient's treatment team must approve any visitor, and visitors are required to wear a facemask at all times. Patients in the medical detox or inpatient programs do not have in-person visitors to focus on their recovery.
Packages Policy:
Packages are accepted to be received only from Monday – Friday at 8:00 a.m. to 5:00 p.m.
Questions or Concerns?
If you have questions or further concerns about any of our policy updates, please check back frequently, or you can reach out directly by calling 855-387-3291.
Next Steps
Now that you've decided to begin treatment at The Recovery Village Columbus, it's time to prepare for your stay. Knowing what to bring, what to leave behind and how to reach our Columbus facility sets the stage for your lifelong recovery.
What to Bring
This guide ensures you have everything you need while you're with us, so you can focus on what's really important — healing. We recommend that new residents pack the following items:
Bring no more than two (2) bags/pieces of luggage. (Anything more than what may fit in two pieces of luggage will be denied.)
Documentation:
Picture ID: State/Government valid ID/Driver's License/Passport
Necessary travel documentation
Relevant medical records/list of providers with contact information
A list of family members and their contact information
Financial:
A form of payment (debit card, credit card, cash, or checkbook)
A small amount of cash ($50)
Credit card
Electronics:
Music: MP3, 1st Generation Ipod, Ear Buds/headphones (No Wifi Capability)
Clothing:
season-appropriate clothing for 14 days
sweater or jacket for indoors and outdoors
long pants, shorts, socks, undergarments
ladies' proper undergarments
men's proper undergarments
tennis shoes, flip flops, sandals
comfortable & discrete work-out wear
comfortable sleepwear
Personal Care:
personalized masks (optional, as facility supplies are available)
eyeglasses/contacts/sunglasses
dental flossers
hairbrush
unopened supplies (optional, as facility supplies are available)
alcohol-free mouthwash
toothbrush, unopened toothpaste
deodorant
shampoo and conditioner *alcohol free
face wash and moisturizer
lotion
lip balm
feminine products
contact lens solution *alcohol free
disposable razors (secured and checked in/out at specific times.)
blow dryer/styling tools (secured and checked in/out at specific times.) -Not allowed in detox level of care
Tobacco:
unopened. Please bring enough for the entirety of your stay
cigarettes carton
Personal Comfort (optional, facility supplies are available):
can bring a pillow in original packaging
hobby items (journals, sketchbooks, adult color books and pencil set, word games, etc.)
reading material
What Not to Bring
Rehabilitation is an opportunity to distance yourself from the people, places and ways of thinking that contribute to your drug or alcohol use. Because your focus is on recovery, certain items are prohibited from The Recovery Village Columbus. Items NOT permitted at our facility include:
Computers
Tablets
Video game consoles
Kindle e-readers or other devices that connect to the internet or take photos
Drugs or alcohol
Drug or alcohol paraphernalia
Pornographic material
Card decks, games and sporting equipment
Hygiene products that have alcohol listed as one of the first three ingredients (mouthwash, conditioner, etc.)
Aerosol products (hairspray, deodorant, etc.)
Cameras or handheld video or tape recorders
Hand sanitizer
Vaporizers (vapes) and electronic cigarettes
Dental floss (dental floss will be provided)
Opened toiletry products
Weapons (including pocket knives)
Clothing depicting drugs, drug paraphernalia, explicit language and/or images
Inappropriate, overly revealing clothing like short shorts and tank tops
Any device that can connect to Wi-Fi or Bluetooth
Travel Details
Wherever you're coming from, our intake coordinators at The Recovery Village Columbus make sure you arrive at our center in a safe and timely manner. During the admissions process, all necessary travel accommodations are booked and confirmed by you or your loved ones. If you're traveling by air, you'll be picked up from the airport and transported to the center.
Arriving at the Designated Times & Expectations After Arrival
Admission times are scheduled to ensure each person arriving at our facility gets the full attention of our care team, when not arriving on time this may cause you not to immediately be treated and may cause you to have a wait time. Please do your best to arrive at your scheduled admission time.
To ensure the safety and sobriety of both new and current patients, each resident must consent to a search of both their person and belongings upon arrival at The Recovery Village Columbus. During this search, staff members will collect any items not permitted during treatment and store them in a safe and secure place until your stay is over. Additional random searches may be conducted throughout your time at The Recovery Village Columbus.
Phone Use
Because healing is your first priority, keeping distractions to a minimum is key for recovery. For the safety and privacy of all patients, cell phones will be securely stored upon arrival and signed in and out by your therapist during specific sessions. After detox, you may use the facility phone three times per week for 20 minutes during non-clinical hours.
The Facility
Located in the heart of Ohio, just 10 miles from downtown Columbus, our facility provides a relaxing environment for healing. Franklin County is home to lush green spaces and public parks, perfect for reconnecting with nature during the early stages of recovery from substance use disorder. Visit our website to learn more about The Recovery Village Columbus, including the amenities and treatment programs.
Amenities and Therapies
Our amenities are part of what makes The Recovery Village Columbus so unique. The following are samples of the amenities and activities offered*:
Two exercise gyms
Shuffleboard, pool table, additional games and big screen TV in recreation room
Prepared meals
On-site laundry (done by clients)
General housekeeping services
Yoga therapy
Canine Therapy
Art therapy and studio
12-Step and SMART Recovery meetings
*Activities may change from time to time or from season to season. Access to these amenities varies depending on situational medical recommendations and level of care.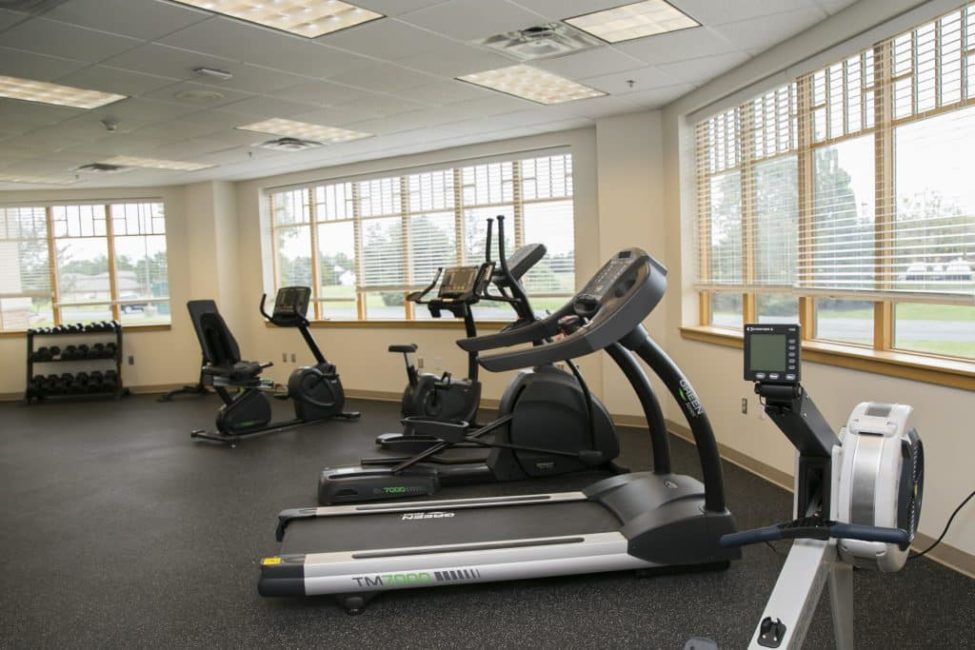 Food
Our facility features a full cafeteria with on-site meals prepared in a kitchen managed by our on-site chef. Typically, you will have a few different meals to choose from for breakfast, lunch and dinner, with vegetarian and vegan options available. Salad options are also available for lunch and dinner. Snacks are provided. No outside snacks or meals are permitted in the facility. If you have any food allergies, please let us know prior to your arrival so we can appropriately accommodate you.
Sleeping Arrangements
Rooms at The Recovery Village Columbus provide you with a comfortable place to rest during your recovery. Three patients typically occupy each room. Each room includes a bathroom shared with a roommate and the adjoining room for a total of four people. Each room has its own sink. The number of residents in each room may vary depending on your individual treatment stage and care needs.
A Day in the Life
Your days at The Recovery Village Columbus will be spent learning how to live a life free from drug and alcohol use. You'll find new hobbies, make lasting connections with others and rediscover your own personal interests without relying on substances.
As you move through the different levels of care, your daily life will change as you gain new insight and advance through treatment. Depending on the level of care, your day may include group and individual therapy sessions, recreational activities and more. While no two programs are exactly alike, you can expect personalized care and healing groups throughout your stay.
Types of Therapy
During your stay, you'll participate in a variety of personalized therapy sessions. These sessions are designed to help you heal from addiction by recognizing and overcoming triggers, personal scars and past struggles. Your treatment may include:
Cognitive behavioral therapy
Dialectic behavioral therapy
EMDR (eye movement desensitization and reprocessing) therapy
SMART Recovery
12-Step and Back to Basics
Individual counseling
Group therapy
Family Counseling
Relapse Prevention Planning
Family Visits and Therapy
During treatment, it's important to reconcile with yourself and your family. While some do better with long-distance family treatment, others may prefer to have visits from parents, spouses or other family members. Because connecting with your past is so important, therapy sessions for visiting family are generally offered, as clinically appropriate.
Off-Site Visits
While your treatment will take place at The Recovery Village Columbus, there may be off-site opportunities available. Off-site visit opportunities are determined by level of care and medical needs. With a range of recreation options, including yoga, exercise gyms, a recreation room and more available on-site, there are plenty of activities available to aid in your recovery.
Update on Offsite Travel & Activities Policy: For the safety of all patients, Advanced Recovery Systems is actively restricting offsite travel and activities until further notice.
Smoke Breaks
The Recovery Village Columbus allows residents to take periodic smoke breaks during designated times. The timing and frequency of these breaks will be determined based on programming. If you smoke, you will need to bring enough unopened cigarettes or tobacco products for the anticipated length of your stay. Smoking cessation products may be offered during your treatment. Please note that vaporizers are not permitted.
Please note: patients under the age of 21 will not have the opportunity to purchase tobacco products during their stay. Our staff is not able to provide or purchase tobacco products for patients under the age of 21.
The Treatment Process
There are a variety of treatment programs at The Recovery Village Columbus, ranging from around-the-clock medical detox and residential care to intensive outpatient care. The treatment programs that you participate in will depend on your own personal needs. Care often starts with medical detox, an intensive process that typically takes between five and 10 days. From there, you'll either move to residential care, partial hospitalization or intensive outpatient care, where you'll continue treatment before formulating an aftercare plan with your medical, clinical and case management team.
The entire treatment process varies in length based on individual needs, but often lasts between 35 and 45 days. After treatment, you'll return home equipped with the tools and resources you need to continue your recovery at home, work and everywhere in between. Your treatment may include:
Medically Assisted Treatment
Depending on the substance, quitting cold turkey can be dangerous and life-threatening. That's why The Recovery Village Columbus provides a regulated medical detox plan and 24-hour care for those in residential treatment. Individualized clinical care and tapering medications ensure that you have a healthy and comfortable transition. Before leaving The Recovery Village Columbus, our staff will provide you with a list of local resources and clinics for continuous care as you start your substance-free life.
Alumni Program
During your treatment, you'll become part of a dynamic recovery family. But that camaraderie doesn't end when you leave The Recovery Village Columbus. After treatment, you'll have access to local physicians, 12-step groups and clinicians. Staying connected with others who understand your struggle can be a strategic and essential part of continuous recovery.
Our Staff
The Recovery Village Columbus Drug and Alcohol Rehab's leadership team is comprised of full-time medical and clinical staff who are passionate about empowering people to pursue recovery.
Insurance and Your Obligation During Treatment
As you are probably aware, nearly all health insurance plans require you to pay some out-of-pocket costs in order to access your healthcare benefits. These expenses may include Deductibles, Co-Pays, Coinsurance % and Maximum Out-of-Pocket Expenses (collectively, the "Patient Responsibility").
Your individual Patient Responsibility will vary based on a number of factors including:
Your individual benefits plan
Length of stay at center
Type of services received during treatment
Other services offered at center, but not covered by your insurance provider (lab tests, non-covered prescriptions, etc.)
Reasonable boarding fees (should you decide to stay with the facility for treatment at outpatient levels of care)
An intake coordinator will review your Patient Responsibility with you at the time of admission or as soon as possible once you are medically stable. They will explain that the deductible is due upon admittance to the facility and the co-insurance amount and out-of-pocket balance will be billed and paid for after treatment once services are complete. On-site financial counselors will again review your financial responsibility during treatment with case managers who can help you navigate FMLA and short-term disability.
It is your responsibility to check with your insurance provider prior to admitting at The Recovery Village Columbus to understand your individual benefits plan. Please note that your insurance plan may not be a "participating provider" with The Recovery Village Columbus. You are responsible for all non-covered and out-of-pocket costs related to your treatment stay.
Medical Disclaimer
The Recovery Village aims to improve the quality of life for people struggling with substance use or mental health disorder with fact-based content about the nature of behavioral health conditions, treatment options and their related outcomes. We publish material that is researched, cited, edited and reviewed by licensed medical professionals. The information we provide is not intended to be a substitute for professional medical advice, diagnosis or treatment. It should not be used in place of the advice of your physician or other qualified healthcare providers.