Mental Health in the Time of COVID-19
Mental health professionals are reporting a surge in mental health symptoms in the wake of the COVID-19 pandemic.
Professionals Report Dramatic Increase in Symptoms
The COVID-19 pandemic has disrupted American life in an unprecedented way, leading to skyrocketing unemployment, long periods of self-quarantine, social distancing and interrupted or deferred school, travel and schedules. These proactive measures to prevent the spread of the coronavirus have left many people facing increased stress and uncertainty with limited access to supports, social activities or other outlets outside the home, including recovery resources.
Mental health experts have already voiced concerns that these measures, while necessary, maybe the perfect storm for a wave of secondary effects from COVID-19, including increased substance abuse, addiction rates and adverse effects on mental health.
The Recovery Village previously surveyed Americans on past-month drug and alcohol use to better understand how the pandemic is currently affecting substance use. We also recently surveyed 440 mental health professionals to better understand what they're seeing on the frontlines of behavioral healthcare in the aftermath of the coronavirus. We'll be conducting these surveys and sharing the results monthly to identify trends and raise awareness about the secondary effects of COVID-19.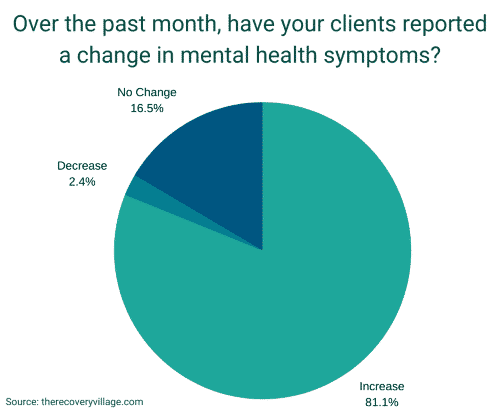 The Recovery Village Mental Health Professionals Survey Results
We surveyed mental health professionals, including licensed mental health counselors, social workers, psychologists and other clinicians and medical professionals about their patients' reported mental health symptoms and substance use in the past month. Note: Some questions asked respondents to select each option that applied, so in a few instances, the total percentage will be greater than one hundred.
The results show:
81% said clients are reporting an increase in mental health symptoms
Anxiety, depression and stress were among the most common symptoms with

95% of respondents reporting an increase in anxiety
85% report an increase in depression
82% report an increase in stress

65% of professionals say anxiety was the most commonly reported symptom
53% say their clients are reporting increased substance use
When asked which substances clients are reporting an increase in 90% said alcohol, 55% said marijuana, 27% said heroin/fentanyl and 26% said benzodiazepines
Result Details
When asked if their clients have reported a change in mental health symptoms over the past month, the overwhelming majority reported an increase, with just 2.36% reporting a decrease in reported symptoms.
The survey asked the professionals which symptoms their clients were reporting an increase in and to choose which symptom was most reported. Anxiety, stress and depression were all commonly reported with anxiety being the most commonly reported symptom.
Mental health professionals also reported a significant increase in their clients' substance use, with 53% reporting an increase.
The survey asked which substances their clients were reporting increased usage and to choose which substance was most commonly used. Alcohol and marijuana were commonly reported along with benzodiazepines and illicit opioids (heroin and fentanyl). Alcohol was by far the most commonly used substance over the past month, with 66.99% of participants selecting that response.
What the Results Mean
The survey results show that many people are experiencing negative effects on their mental health from COVID-19 and some are turning to alcohol or drugs to cope. When individuals use drugs or alcohol in an attempt to self-medicate the symptoms of a mental health disorder, they increase the risk of exacerbating their symptoms or developing a co-occurring substance use disorder.
As the nation moves to re-open more facets of the American economy and daily life, the true aftermath of COVID-19 will be revealed. Addiction recovery and mental health support services will be critical to assist people through these transitions and help them re-establish normalcy.
If you or a loved one is struggling with mental health symptoms or have turned to substances to cope, help is available at The Recovery Village. Contact us today to learn about treatment options that can work well for you, including teletherapy for mental health conditions.
Other COVID-Related News & Resources
Medical Disclaimer
The Recovery Village aims to improve the quality of life for people struggling with substance use or mental health disorder with fact-based content about the nature of behavioral health conditions, treatment options and their related outcomes. We publish material that is researched, cited, edited and reviewed by licensed medical professionals. The information we provide is not intended to be a substitute for professional medical advice, diagnosis or treatment. It should not be used in place of the advice of your physician or other qualified healthcare providers.