Survey: Nearly 60% of School-Age Kids Anxious About Going Back to School in 2021
A majority of parents say the ongoing COVID-19 pandemic has impacted their child's mental health and that their kids are nervous about going back to school, even as more children plan to go back in person.
The COVID-19 pandemic has forced communities, educators, parents and students to practice flexibility, patience and innovation as they navigate a dynamic and fluid public health crisis. As the 2021-2022 school year starts, we wanted to better understand how the ongoing pandemic is affecting school-age children's mental health and back to school decisions.
The Recovery Village Survey Results
We surveyed 1,000 parents of school-age children about their kids' mental health symptoms and attitudes about going back to school. Note: Some questions asked respondents to select each option that applied, so in a few instances, the total percentage will be greater than one hundred. This survey was also conducted in August 2020.
The results show:
More children will attend school in-person this school year (50%) compared to last year (38%).
19% will remain virtual and 20% plan to use a combination of in-person and virtual. 10% were still undecided.
Overall, 46.4% reported that their child/children who are ages 12+ have received the COVID-19 vaccination.
Of those who have decided to attend school in-person, 32% have received the COVID-19 vaccine while 30% are unvaccinated. Another 38% reported their children were not old enough to receive the vaccine yet.
59% reported that their children have expressed concern or anxiety about going back to school.
School-age Children and Teens Remain Stressed and Anxious
We asked parents about their children's mental health and which symptoms they've noticed.
74% of parents say that the ongoing COVID-19 pandemic has impacted their kids' mental health, with 39.4% reporting a "significant impact." This is an increase from 27% last year.
Fewer parents (17.3%) reported that COVID-19 has not impacted their child's mental health compared to this time last year (20.3%).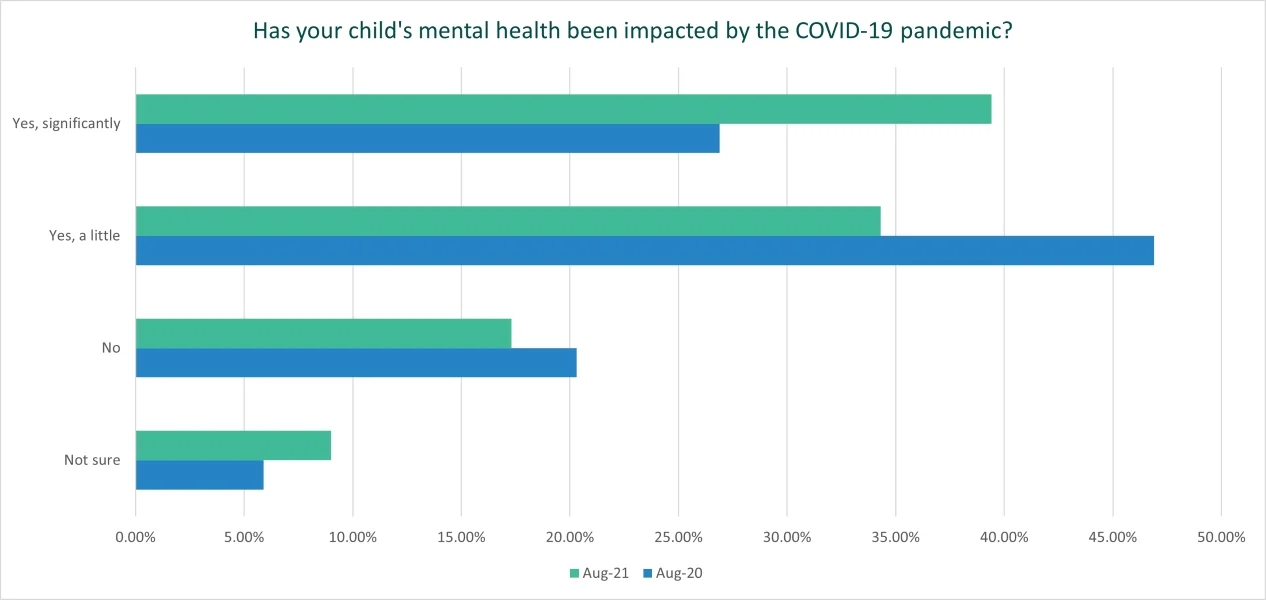 Compared to last year, rates of anxiety and depression have held steady. Anger and sleep issues have both increased.
Nearly 60% reported their children demonstrated symptoms of anxiety
50% showed symptoms of depression/loneliness
40% showed signs of stress
38% noticed symptoms of anger/agitation and sleep problems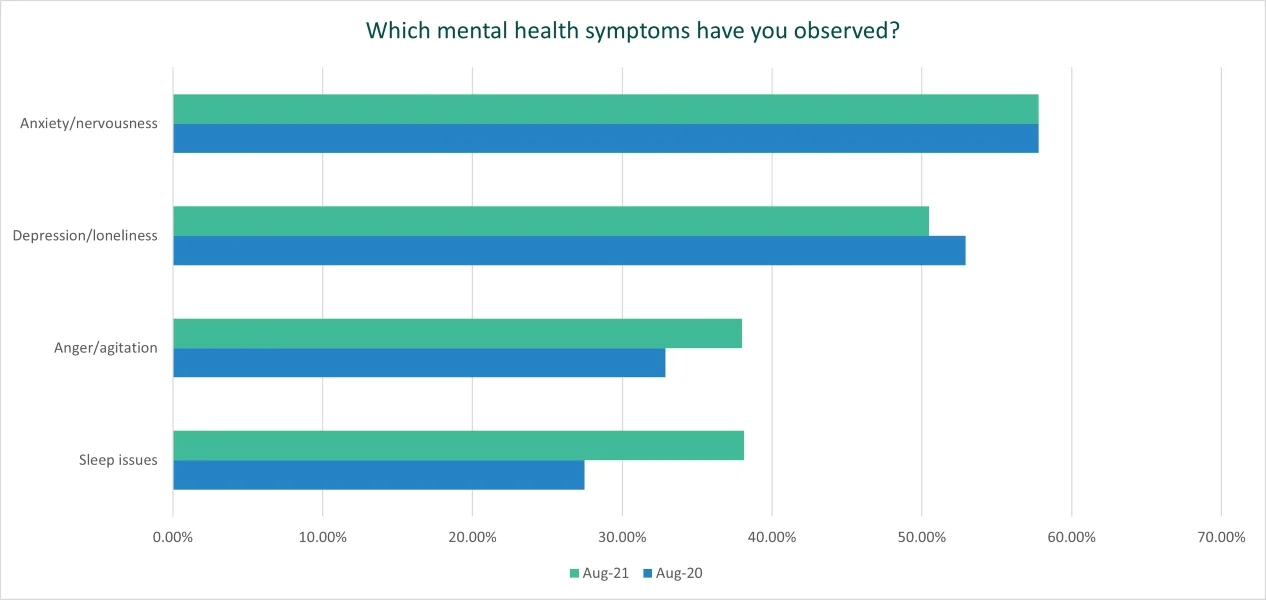 Not only are the majority of parents reporting that COVID-19 has impacted their child's mental health, over 60% of parents have noticed their child/children engaging in at least one risky behavior.
28% observed their child/children withdrawing or isolating themselves from family and friends
26% observed drinking
26% observed disordered eating behaviors such as binge eating, purging or limiting food consumption
19% reported drug use
While behaviors like disordered eating and withdrawing or isolating are clearly linked to mental health issues, drinking and drug use can also point to mental health symptoms as substance use is a common way that people choose to self-medicate troubling emotions and thoughts. Over time, this kind of problematic substance use can exacerbate underlying mental health symptoms like anxiety and depression or even develop into a substance use disorder. The rate at which these behaviors were identified is a clear warning sign that school-age kids' mental health needs to be urgently prioritized and addressed.
Parents are Struggling with Mental Health Too
Our survey also asked parents about their mental health and substance use. A majority (65.4%) reported experiencing adverse mental health symptoms during the last six months. Parents also reported high levels of anxiety and depression.
66% reported anxiety
57% reported depression
39% reported anger or agitation
49% reported sleep problems
48% reported feeling stressed
Parents expect their mental health to improve once school starts.
51% reported their mental health typically improves once school starts
34% said they weren't sure what to expect this year
Half of the parents surveyed (51.2%) reported some kind of substance use (either alcohol or illicit drugs or misusing a prescription medication) during the past month. The majority used alcohol (66.4%) but over a quarter reported some kind of drug use/misuse.
Marijuana (34.38%)
Prescription Opioids (34.18%)
Heroin/Fentanyl (28.71%)
Prescription stimulants like Adderall, Ritalin, etc. (26.76%)
Cocaine (26.56%)
Benzodiazepines like Xanax, Ativan, etc (25.78%)
Methamphetamine (24.02%)
Parents attributed their substance use to a wide range of reasons.
To cope with stress (57.81%)
To cope with mental health symptoms like anxiety or depression (50.2%)
To cope with parenting demands (34.38%)
Boredom (35.94%)
To treat pain (33.01%)
I'm physically dependent (24.02%)
Recreational/social (30.66%)
It's part of my daily routine (22.46%)
These results show that families – both children and their parents – need healthy coping strategies to deal with day-to-day stress, mental health challenges and other life demands.
Getting Parents and School Kids the Mental Health Help They Need
When asked if their children were currently in or if they were considering therapy for them, 24% of parents say they're now considering treatment (38% were already in therapy prior to COVID-19 or are currently in therapy following the emergence of the virus). Another 13% say that treatment is not an option for their family at this time, demonstrating the continued need for increased access to mental health resources for families.
If your teen needs help with mental health symptoms or substance abuse, The Recovery Village can help. Our experienced medical staff and clinicians work with ages 13 and up to address and treat mental health concerns and substance use disorders.
More than a third of parents in our survey said they were turning to substances to help cope with the demands of parenting and nearly a quarter reported being physically dependent on a substance. The Nobu app can help parents learn about mental health and develop healthy coping strategies with free features like journaling, sleep sounds, yoga and meditation. It can also connect those in need of additional support with a licensed mental health professional through messages and teletherapy. The Recovery Village can also help parents struggling with dependence and addiction to safely detox and begin a path to a healthier, substance-free life.
Contact us to learn more about treatment options that can work well for your family.
Medical Disclaimer
The Recovery Village aims to improve the quality of life for people struggling with substance use or mental health disorder with fact-based content about the nature of behavioral health conditions, treatment options and their related outcomes. We publish material that is researched, cited, edited and reviewed by licensed medical professionals. The information we provide is not intended to be a substitute for professional medical advice, diagnosis or treatment. It should not be used in place of the advice of your physician or other qualified healthcare providers.