Workers' Mental Health is Getting Worse, Not Better in 2021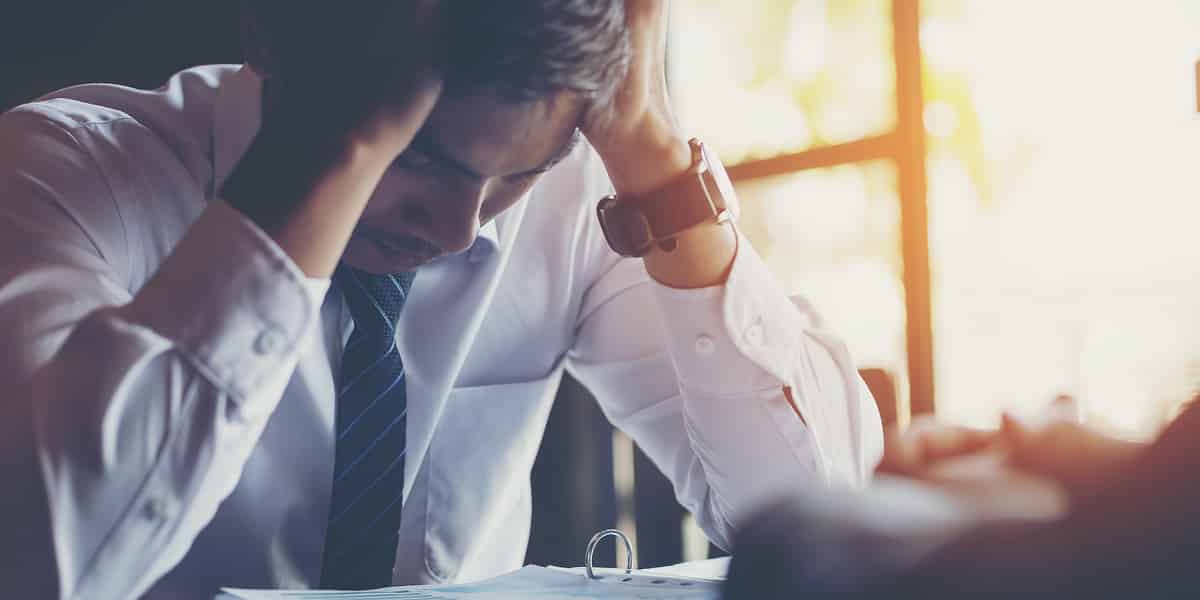 We recently surveyed 2,000 American workers about their mental health to better understand how mental health has changed in the last six months.
Nearly halfway through the year, American workers have been faced with a myriad of choices about work and their health, including whether or not to get vaccinated, returning to work in-person and how to fight feelings of languishing and other mental health symptoms.
While one of the positive things the COVID-19 pandemic created was a noticeable increase in conversation around mental health, we wanted to know if people are actually getting the help they need to address their mental health challenges.
In January, we conducted a survey of 2,000 U.S. workers about their mental health and available resources, during the pandemic. We recently conducted the same survey to see if there were any changes in their reported mental health symptoms and experiences. Here's what we found out.
Workers Are Even More Stressed & Anxious Than Just Six Months Ago
We surveyed 2,000 U.S. residents who are currently employed about their mental health over the past six months. Note: Some questions asked respondents to select each option that applied, so in a few instances, the total percentage will be greater than one hundred.
Participants were asked about their mental health over the last 6 months.
87% reported experiencing mental health symptoms compared to 74% in January 2021.
Mental health symptoms increased across most all categories from January to May:

80% reported feelings of anxiety/nervousness
68% reported feeling stressed
67% reported depression or loneliness
64% reported sleep issues
42% reported anger or agitation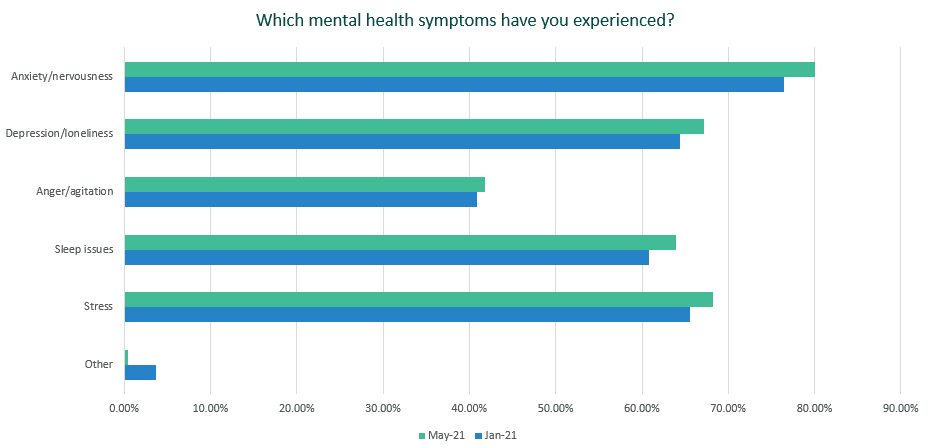 52% have been diagnosed with and/or treated for a mental health condition compared to 46% in January 2021.
There were also increases across the types of mental health conditions respondents were diagnosed with/treated for:

76% reported a diagnosis of depression
72% reported being diagnosed with anxiety
21% reported a trauma/PTSD diagnosis
These results suggest that while increased conversation around mental health may have helped to destigmatize mental health concerns, it's not translating into positive outcomes. It's understandable for people to experience stress and anxiety during times of uncertainty and transition. As the COVID-19 pandemic continues to evolve, employees will likely continue to experience adverse mental health effects.
Employer-Provided Resources Not Enough
Mental health directly impacts companies.
78% of employees miss work because of mental health issues.
Mental health-related "presenteeism" can cost companies even more than actual absences.
The CDC says that productivity loss due to absenteeism costs companies $1,685 per employee.
On the surface, our survey results suggest companies are doing a relatively good job providing resources for their employees' mental health needs.
A majority of respondents (62%) reported their employers offered some sort of mental health resource.
91% said they knew how to access those resources and 88% said they would be comfortable using them.
However, even though mental health symptoms were near universally reported (87% of employees), only 58% of employees have used the resources provided. Just 61% said they would feel comfortable talking to their boss/employer if they were struggling with a mental health challenge. Employee awareness and utilization of mental health resources can often be dependent on their role in the organization. We've previously found that management is much more aware and more comfortable using employer-provided resources.
According to U.S. Bureau of Labor Statistics data, there were 111 million American workers who are not managers, supervisors, and administrators in 2014. Employers have a huge opportunity to positively impact their business and their community by making mental health resources available and encouraging their use in this population.
"Similar to prior, large-scale traumatic events, we're likely to see long-term mental health effects, including a number of employees returning to work with increased stress, anxiety and other mental health challenges. As the pandemic has evolved under a cloud of uncertainty, this will continue to take a toll on employee mental health and productivity. Additionally, many employees may have taken time to create better work-life balance during the pandemic, developing expectations that may impact retention and larger decisions companies need to make about their policies, culture and accountability."

Angela Phillips, PhD, LICSW Clinical Product Manager
Investing in Mental Health Benefits Reaps Rewards
As mental health awareness and acceptance continues to rise, employers will face higher expectations. In our survey, 74% of respondents expect their employers to offer mental health resources. Investing in mental health pays off.
Over 80% of employees treated for mental illness reported improved levels of work efficacy and satisfaction.
A Deloitte study found that companies implementing major mental health preventative programs received a 162% return on their investment over 3 years and a 218% return for programs lasting over 3 years.
Employee retention is critical to organizations, especially in the face of hiring challenges that employers are currently facing. A Mercer study found that turnover costs employers 90-200% of the departing employee's salary. Earlier this month, the U.S. Chamber of Commerce told the public "the worker shortage is real—and it's getting worse by the day." Providing high quality, on-demand mental health resources as part of a comprehensive benefits package can be a way to attract and retain your best talent.
Employee assistance programs (EAP) are one of the major ways that employers have provided support to employees historically, but additional options like apps and teletherapy have emerged, especially in the wake of the pandemic.
Employers considering digital resources like apps and teletherapy should prioritize evidence-based programming and content that is backed by licensed mental health clinicians and other professionals, like Nobu. This helps to ensure you're providing legitimate, effective and reliable solutions to your team.
Contact us to learn more about our app Nobu and how we can partner with you to offer new or supplemental solutions to complement your existing mental health resources. Our team can work with you on a solution that offers a spectrum of resources to meet the full range of your team's needs.
For press inquiries, email [email protected]
Medical Disclaimer
The Recovery Village aims to improve the quality of life for people struggling with substance use or mental health disorder with fact-based content about the nature of behavioral health conditions, treatment options and their related outcomes. We publish material that is researched, cited, edited and reviewed by licensed medical professionals. The information we provide is not intended to be a substitute for professional medical advice, diagnosis or treatment. It should not be used in place of the advice of your physician or other qualified healthcare providers.