I've had the honor and pleasure of attending events like She Recovers in NYC, which brings together women in recovery from all over the world. In addition to offering breakout workshops, yoga session and more, these conferences often host world-renowned speakers like Marianne Williamson, Glennon Doyle Melton, Elizabeth Vargas, Nikki Myers, Elena Brower and Gabby Bernstein. Many of these women are in recovery themselves, which makes learning from them even more of a special treat.
There's so much we can learn from women in recovery, and even more from female leaders who are willing to speak up about addiction and recovery.
Here are five tips I've learned from these powerful women leaders.
1. Being open and honest about your recovery reduces stigma
Watching women who are acclaimed speakers, authors and lecturers are open and honest about their recovery reaffirm everything I believe about stigma: It thrives in the dark. When one person is open about their struggles and their triumphs, they give other people the ability to be open too. By putting their words and experiences out in the open, they automatically say to people who are in the same boat, "hey, me too." This is a powerful message.
They also show the world that you can be sober, you can recover and you can be successful. Addiction and recovery should not make you feel ashamed. You should be able to talk about addiction and recovery and not hide those parts of yourselves. Keeping those secrets contributes to the deadly addiction stigma. The more we talk about addiction, the more we create an environment for people to acknowledge their pain and heal instead of suffering in silence with no options.
2. Anything I use to escape the present moment can become an addiction
Nikki Myers, founder of Y12SR — Yoga for 12 Step Recovery — speaks about co-dependency, which she defines as "the disease of looking elsewhere." She reiterated that anything we use to escape the present moment can become an addiction – shopping, gambling, exercise, love, sex, other people, etc. Her recommendations for healing includes cultivating a healthy sense of self-esteem and boundaries, two principles women aren't often taught. Her message of emotional sobriety is so important because it's a topic that's overlooked after people stop drinking and using drugs.
3. How can you turn your struggle into triumph?
Author and woman in recovery, Ann Dowsett Johnson, says, "Write your recovery." We are told by society that addiction is something that happens to bad people and that's partly why it's so hard for people to ask for help when they need it. When speaking on writing about her recovery, one tip she shares is that authenticity matters.
This is the way I write about my own recovery. I like to be as honest as I can, sharing my struggles and successes while letting my followers know that not every day in recovery is all rainbows and butterflies. Overcoming an addiction is hard work and many of us find purpose in turning our struggles into triumphs. I believe this is an important lesson for anyone who is facing adversity: Use your pain, don't let it destroy you.
4. Nobody else will make your self-care a priority
I've heard Elizabeth Vargas, reporter and co-anchor of 20/20, speak about alcoholism and anxiety and how they coexist in women. She touched on meditation as a part of her recovery from anxiety and alcohol abuse, and how it allowed her to sit in her discomfort and analyze why she was feeling anxious. Elizabeth points to self-care as a pillar of her recovery program, and that includes making amends, taking responsibility, and learning how to cope with anxiety in a healthy way.
Vargas reminds us that, "nobody else will make your self-care a priority." It seems obvious, but these words hit me like a ton of bricks. The only person that can and should make your self-care a priority is you. We so often forget to put ourselves on our to-do list and take the steps we need to take care of our mental health. When I was drinking, I didn't even know self-care was a thing. I didn't want to waste my time taking a bath, going to bed early, or meditating for 10 minutes … I had a life to live! But sobriety has taught me otherwise and that's why I think Elizabeth Vargas' message is so important.
5. Show up for your pain
Gabby Bernstein often speaks about her 13+ years of sobriety and how even when sober, you can hit new emotional rock bottoms. Recovery is a process of healing and there are some experiences and things we avoid and deny until they come up. This happened to Gabby, even many years in. She taught me that the question is not, "how can I stop feeling this pain?" but "how can I show up for this pain?"
By using drugs and alcohol, we spend years running from our pain and numbing our emotions. We are taught from a young age that pain is bad and we should not feel it. But the power is in the healing. I'm so glad Gabby touched on this crucial piece of advice. By showing up for our pain, we can go through it and learn from it. Vocalizing our pain lessens our burden.
When women leaders show up for other women, amazing things happen. They inspire other women to be their authentic selves and live lives free from shame and guilt. When women in recovery speak out, they teach us that women can and do recover, that their pain is useful and that they're capable of changing the world.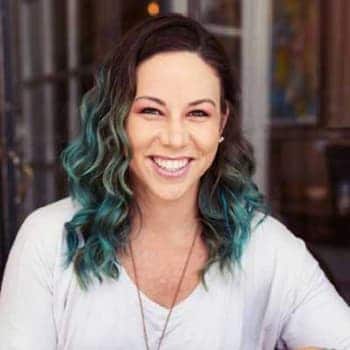 By – Kelly Fitzgerald
Kelly is a sober writer based in Cape Coral, Florida, best known for her personal blog The Adventures Of A Sober Senorita. She has been published across the web on sites like The Huffington Post, SheKnows, Ravishly, The Fix, and Buzzfeed.
Read more
Medical Disclaimer
The Recovery Village aims to improve the quality of life for people struggling with substance use or mental health disorder with fact-based content about the nature of behavioral health conditions, treatment options and their related outcomes. We publish material that is researched, cited, edited and reviewed by licensed medical professionals. The information we provide is not intended to be a substitute for professional medical advice, diagnosis or treatment. It should not be used in place of the advice of your physician or other qualified healthcare providers.